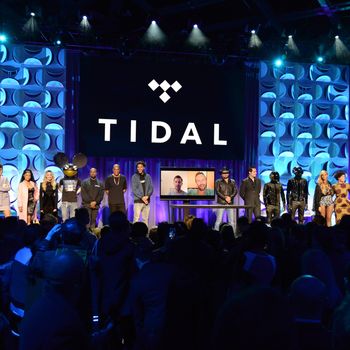 Tidal press conference.
Photo: Kevin Mazur/Getty Images For Roc Nation
According to a new lawsuit, Jay Z's music-streaming service Tidal fired an employee who had recently returned from maternity leave the day after she asked for a private room in which to pump breast milk.

Lisette Paulson of New York says that she began working for Tidal on a part-time basis in March 2015. In early May, she was asked by the interim CEO, Vania Schlogel, if she wanted to come back full-time after having her baby. She had a planned C-section on May 15; on June 30, she confirmed with chief operating officer Desiree Perez that she would be returning on September 8.

Paulson returned to work as planned and, on September 14, Paulson says she had a meeting with Perez to discuss various logistical matters: her schedule, where she'd be sitting at work, the working-from-home policy, her salary, and her desire to have a private place to pump breast milk.

Per the lawsuit:

Defendant Perez initially told Plaintiff to use a bathroom to pump. Plaintiff explained that this would not be feasible. She was also told that she could not use an office (that she had previously used to pump). In fact, Defendant Perez pressed the Plaintiff by asking her if she "had to do this?" Plaintiff explained in no uncertain terms that she had to pump. Frustrated, Perez then asked her if she "had to give her an office." 
Perez reportedly told Paulson that she would speak to human resources about it. Then, Paulson alleges, the following day, she asked to exit a meeting five minutes in by chief financial officer Joe Barrino, who then explained that he "did not know she was coming back." She was subsequently terminated.

Paulson is suing the defendants for violating title VII of the Civil Rights Act of 1964 — which protects against sex-based discrimination — as well as Section 7(r) of the Fair Labor Standards Act and Section 306-C of the New York State Labor Law, which both deal with the rights of nursing mothers.

The Cut reached out to Tidal for comment but has yet to hear back. We will update this post if any new information becomes available.