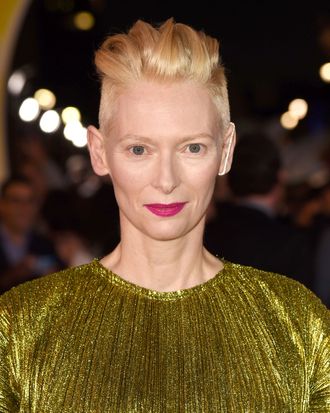 Photo: Kevin Winter/Getty Images
The Harry Potter series debuted nearly 20 years ago but still boasts a rabid fandom, probably due in part to author J.K. Rowling's persistent Twitter presence. So in the sea of $65,000 Harry Potter–themed weddings and sexy boudoir shoots, Tilda Swinton stands out with her criticism.

In a new interview with The Scots magazine, Swinton chalks up her dislike for Harry Potter to her own boarding-school experience at West Heath Girls' School.

I think they are a very cruel setting in which to grow up and I don't feel children benefit from that type of education.

Children need their parents. That's why I dislike films like Harry Potter, which tend to romanticise such places.

Meanwhile, at her home office in London, J.K. Rowling sits at her computer drafting a tweet. "Tilda Swinton," she begins, pausing slightly before continuing on. "= Dementor."