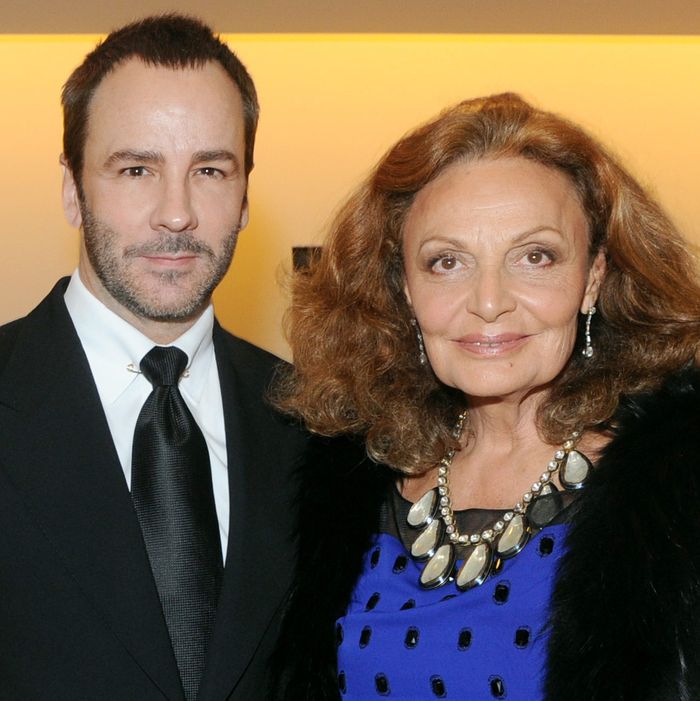 Tom Ford with Diane von Furstenberg.
Photo: Jamie McCarthy/Getty Images
Tom Ford is having a banner month so far: The fashion designer and filmmaker continued to bask in accolades leading up to the release of his much-anticipated second movie, Nocturnal Animals. Last night, he was honored with a WSJ. magazine 2016 Innovator Award at a name-packed dinner.
Ford's good friend and collaborator Colin Firth, who received an Oscar nomination in 2007 for his role in Ford's first movie, A Single Man, presented the honoree's award. In his pre-filmed awards reel, Ford did say, "Because I started out as a fashion designer, I keep film and fashion separate," but that didn't stop him from making an impact on Firth's acting career and personal style simultaneously.
"I'm personally, comprehensively renovated," Firth said about Ford's influence. "I don't dress the same. I don't smell the same. I don't think I act the same. I don't see film the same way. I don't see art and politics in the way I used to."
The BAFTA winner also offered a peek behind Ford's "King of Sex" public persona. "He's a wit. A flamboyant raconteur. A devastating mimic," Firth continued. "I've seen him throw his back out in a London restaurant attempting to imitate Diane von Furstenberg in a seated pose."
Wait, what? We need a visual on that one because, after all, von Furstenberg's revealing, leggy wrap-dress pose has been smoking ever since the days of Studio 54. Ford walked up to the podium to accept his award and graciously answered the audience's hopes to see this impression live — minus any injuries, of course.
"Have you seen Diane do that with her legs?" asked Ford, contorting himself into what looked like a semi-reclined eagle pose onstage. The entire room burst into laughter. "It's amazing."
And: "Yes, I did throw my back out," he confirmed.