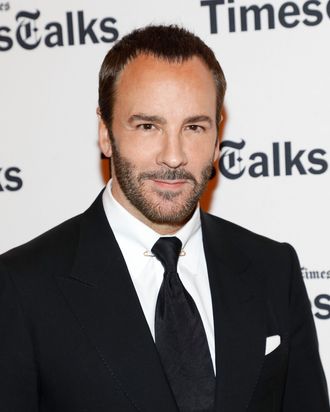 Tom Ford is not a fan of Melania Trump's.
Photo: Taylor Hill/FilmMagic
Melania Trump: a person people have particularly strong opinions about — except when it comes to most fashion designers, it seems. Since Sophie Theallet issued a statement saying she wouldn't work with or dress the future First Lady, precious few of her peers have piped up, at least on the record, to state their opposition to doing so. (Tommy Hilfiger had the opposite viewpoint, saying last week that "any designer should be proud to dress her.")
But Tom Ford was ahead of this debate years ago, in his Tom Ford-ish way. Today on The View — which played him on to the strains of his eponymous Jay Z song — the designer said he actually refused to dress Melania Trump when asked to years ago. "She's not necessarily my image," he said.

Ford added that he's a Democrat who voted for Hillary Clinton, and is "very sad and disappointed that she's not [going to be] in office" — but that his political views weren't at the root of his disapproval. "Even had Hillary won, she shouldn't be wearing my clothes. They're too expensive" for someone in the world of politics, who's supposed "to relate to everybody," he said.

A caveat: He did dress Michelle Obama once, for dinner with Queen Elizabeth at Buckingham Palace. "That, I thought, was appropriate. I live in London, and so that made sense."
And as for whether he thinks her successor should be wearing expensive clothes? "I'm gonna leave that to Melania," he said. You can watch his full segment below.