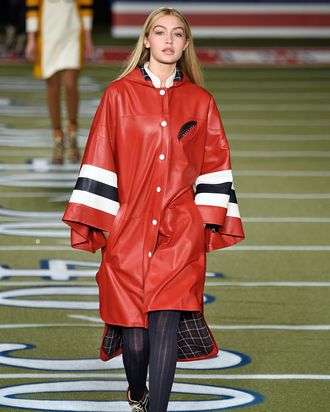 Gigi Hadid walks the Tommy Hilfiger runway in February 2015.
Photo: Victor VIRGILE/Gamma-Rapho via Getty Images
Gigi Hadid and Tommy Hilfiger are evidently the best of pals — they just collaborated on a see-now, buy-now collection, complete with a carnival theme. But the designer wasn't always as sold on the model's marketability. Hilfiger said in an interview with Yahoo Style that when she walked for the brand in February 2015, "Our casting director said, 'She doesn't really fit because she's not quite as tall as the other girls, she's not quite as thin. So they put a red, white, and blue poncho on her. It covered a lot of her body, unfortunately, but it received millions of hits."
In fact, those "millions of hits" coupled with the fact that she is, as he puts it, an "All-American girl next door with an exotic twist to her look," led Hilfiger to suggest the collaboration between the two on Gigi x Tommy.

Hadid has discussed the fashion industry's assumptions about her body type before, including posting a defiant open letter to her online body-shamers on Instagram a year ago.

Update, November 2, 2016 11:05 p.m.: In response to the original article, Tommy Hilfiger released a statement clarifying his earlier interview. It reads:
"Gigi is truly the definition of a 'Tommy Girl' – her magnetic personality is bright, confident and always optimistic. I've known her for many years, and am extremely proud to have her as the ambassador of my brand and as a collaborator of our collections. Any statement to the contrary is completely false. The headline from the interview with Yahoo was misleading and has since been corrected."