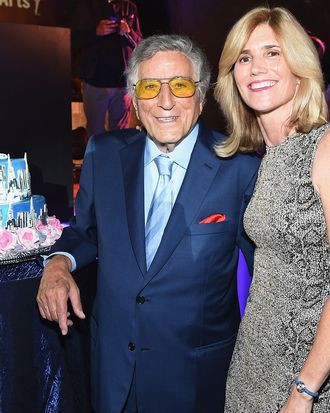 Tony Bennett and Susan Benedetto.
Photo: Larry Busacca/Getty Images for Exploring the Arts, Inc.
Tony Bennett is 90, while wife Susan Benedetto is only 50 — a vast age difference, sure, but not completely unheard of. The couple wed in 2007, but "met" way, way before that: In a meet-cute story that somehow tops SNL's biting "Meet Your Second Wife" sketch, Bennett reveals that he first encountered Benedetto when she was in utero.

In his new book, Just Getting Started, Bennett writes of meeting his future wife's parents, Marion and Dayl Crow, back in 1966 when he was 40 years old. The Crows, fans of Bennett's, took a photo with him backstage after attending one of his shows in New York City.

"As fate would have it, Marion was pregnant at the time with … Susan! It's a photo we all laugh about, knowing the incredible turn of events that followed," Bennett explained.

You may now resume your previously scheduled activities, with this new knowledge to haunt you forevermore.