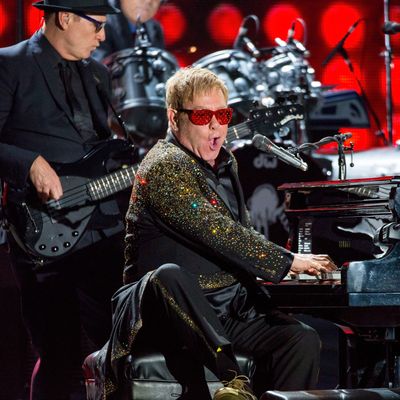 Elton John.
Photo: Scott Legato/FilmMagic
On Wednesday, Anthony Scaramucci — a member of Donald Trump's transition team and a vice-chair of the presidential inaugural committee — told the BBC that Elton John would play a concert on the mall in honor of Trump's inauguration. Scaramucci, who touted his own record of donating to pro-LGBT causes, said the concert "shows our commitment to gay rights." He added, "This will be the first American president in U.S. history that enters the White House with a pro–gay rights stance."
But a representative for Elton John told the New York Daily News that the musician would do no such thing. In a statement to the paper, the rep said, "Elton John will not be performing at Trump's inauguration."
John came out in support of Hillary Clinton earlier this year when he performed at a fundraiser for her campaign, and in the final weeks before the election, he called her "the only candidate supremely qualified" to be elected president of the United States. He also took a dig at Trump: "America is already great, and Hillary is a part of the reason why."
During his speech at the Republican National Convention, Trump promised to "protect our LGBTQ citizens from the violence and oppression of a hateful foreign ideology." He made no mention of the ideology closer to home.