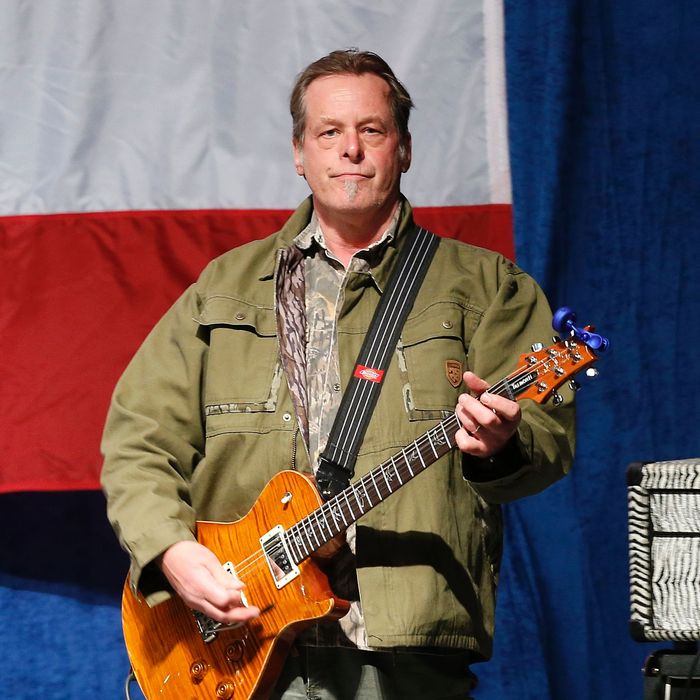 Finally, an act the kids can appreciate too.
Photo: JEFF KOWALSKY/AFP/Getty Images
Aides reportedly took away Donald Trump's Twitter privileges in an attempt to keep him focused during the final days of the campaign, but Hillary Clinton found a way to thwart their efforts: campaigning with Jay Z and Beyoncé on Friday night.
The Republican presidential nominee is known to have very delicate sensibilities, and it seems he cannot get over Jay Z's use of profanity during his performance in Cleveland, Ohio.
Trump worked Jay Z into his stump speech during a competing rally on Friday night, saying, "I didn't have to bring … Jay Z [to get a big crowd] … I'm here all by myself. Just me, no guitar, no piano, no nothing."
Apparently Trump spent the night ruminating on Jay Z's use of the N-word, the F-word, and motherfucker in several songs. During a rally on Saturday in Tampa, Florida, the candidate remarked, "I actually like Jay Z, but the language last night, ohhhh … I was thinking, maybe I'll just try — should I use that language for one of mine?" The crowd booed.
"Can you imagine if I said that?" Trump continued. "So, he used every word in the book … last night. He used language last night that was so bad, and then Hillary said, 'I did not like Donald Trump's lewd language.' My lewd language? … I've never said what he said in my life! But that shows you the phoniness of politicians."
Trump campaign manager Kellyanne Conway suggested that Clinton is a hypocrite on Twitter. Clinton has attacked her opponent for using foul language at rallies, though she seems to have no problem with hearing cursing at her own events (from a performer who is not on the ticket). "What Jay Z says it [sic] up to Jay Z," a Clinton aide said earlier in the week, when asked if the rapper would tone down his act.
By Sunday, Trump was still so beside himself that he failed to realize someone invited Ted Nugent — who's threatened to kill President Obama and Hillary Clinton on numerous occasions, sparking a Secret Service investigation — to his rally in Michigan on Sunday.
The "Motor City Madman" warmed up the crowd in Sterling Heights by performing several songs intercut with his profanity-laced musings on politics. He explained that Michigan has the "hardest working s—kickers mankind has ever known."
"I got your blue state right here, baby," Nugent said, grabbing his crotch. "Black and blue."
Trump, still reeling from the filthy lines in the chorus to "Dirt Off Your Shoulder," didn't even realize what went down at his own rally.
Then Trump reiterated his concerns about foul language, and claimed (erroneously) that droves of people left the Clinton event because they were shocked by the lyrics to Jay Z and Beyoncé's biggest hits.
And by the way, my language is much, much cleaner as you known than Jay Z and Beyonce, boy. Did you hear what, I mean honestly, did you hear that the other night? And so many people were insulted, they left. Because she can't draw a crowd. So she gets stars. But they were so insulted. You know, they're political people. They went in to hear a political something and they hear the worst words, the worst language ever. So they mostly left. By the time Hillary was left to speak, there was practically nobody there, but that's okay. That's okay … Because the other stuff, frankly, is demeaning to what we all represent. It's demeaning.
Won't somebody please think of the children? (Or at least, the ones wearing Trump shirts?)