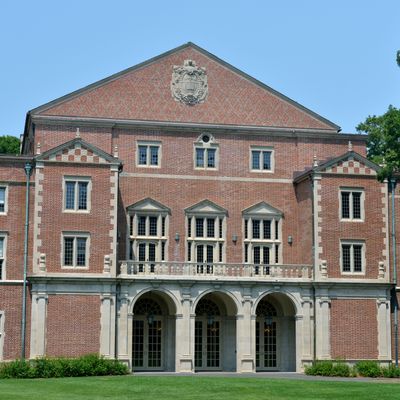 Wellesley College, where two men drove a pickup truck with a Trump flag.
Photo: aimintang/Getty Images
Less than a day after Donald Trump was named president-elect of the United States, some of his supporters reportedly celebrated by using racial slurs otherwise intimidating women and minorities, according to multiple accounts. Journalist and Black Lives Matter activist Shaun King's Twitter feed is filled with stories of intimidation from across the country, where the president-elect's campaign rhetoric appears to be manifesting in ugly ways.
At a Walmart, one Muslim woman said another woman pulled off her hijab and threatened to hang her with it. At New York University, the door to the prayer room for Muslim students was defaced. A young Muslim woman in Virginia tweeted that she was harassed by two people who told her she "wouldn't be there for long."
Trump supporters in Simi Valley, California, followed an Asian-American man into a convenience store asking him if he spoke English. According to his Facebook post, they told him, "pure America is finally going to come back." In Napa Valley, another man reportedly told an Asian woman pumping gas to "get the fuck out of my country."
A group of white men tried to touch a woman inappropriately on the subway — when she screamed, they laughed. At York Tech High School in Pennsylvania, students marched down the hallways holding Trump signs and chanting, "White power." Another student reportedly grabbed a girl's breast yesterday and said it was "his right."
Muslim women were targeted with hate speech and violence in Illinois and New York.
And black women were targeted in Indiana, Delaware, and Atlanta, Georgia.
In North Carolina, a same-sex couple found a threatening note on their car.
And in a letter to parents, the superintendent of Council Rock High School North in Pennsylvania said a number of incidents had occurred at the school that day, including two swastikas being drawn on a bathroom stall, a note in another bathroom that read "I love Trump" and included a gay slur, and a Latina student finding a note in her backpack that told her to go back to Mexico.
The female friend of a San Francisco Chronicle reporter was on the subway when another woman heard her speaking Assyrian on the phone. The woman repeatedly called her a "stalker" and said she hoped she would get deported.
At Wellesley College — Hillary Clinton's alma mater — two white male Trump supporters who attend Babson College, a private business school next to Wellesley, reportedly drove around campus in a pickup truck with a Trump flag yelling "make America great again."
"This is not my America," one Wellesley student wrote. "This is Trump's America filled with hatred and bigotry. This is what he has provoked."
This post has been updated throughout.