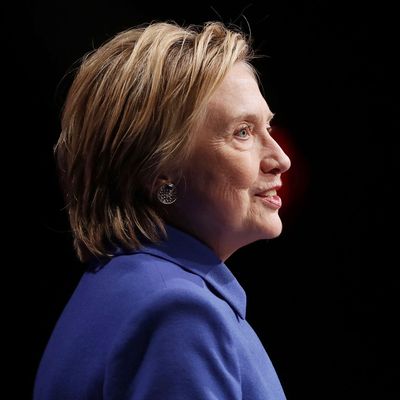 Hillary Clinton won't be investigated by the Trump administration.
Photo: Chip Somodevilla/Getty Images
In the waning days of Donald Trump's campaign, he hinted heavily that, if he won the election, he'd appoint a special prosecutor to look into Hillary Clinton's use of a personal email server while she was secretary of State. His supporters went with it, enthusiastically chanting "lock her up" at rally after rally. But on Tuesday, MSNBC's Morning Joe reported — and Trump surrogate Kellyanne Conway confirmed — that Trump won't investigate Clinton in an effort to "help her heal."
An unnamed source told Morning Joe that Trump felt Clinton had "been through enough," and Conway commended Trump for the decision. "I think when the president-elect, who's also the head of your party, tells you before he's even inaugurated that he doesn't wish to pursue these charges, it sends a very strong message, tone, and content," she said.
She went on to say that Trump's decision was for Clinton's benefit: "If Donald Trump can help her heal, then perhaps that's a good thing to do."
She added that Trump is moving away from his campaign rhetoric as he transitions into the White House, saying, "I think he's thinking of many different things as he prepares to become the president of the United States, and things that sound like the campaign are not among them." Trump has yet to comment on the move himself.