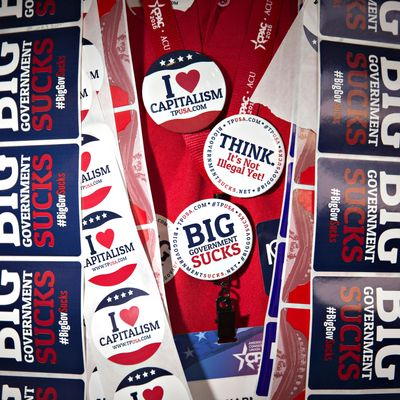 A Turning Point USA supporter at CPAC 2016.
Photo: Andrew Harrer/Bloomberg via Getty Images
On Monday, Turning Point USA launched a new site called Professor Watchlist with the mission to "expose and document college professors who discriminate against conservative students, promote anti-American values, and advance leftist propaganda in the classroom." Conservative anxiety over college campuses being liberal hotbeds is nothing new — take David Horowitz's extensive list in the 2006 book The Professors: The 101 Most Dangerous Academics in America — but Donald Trump's impending presidency has galvanized the right wing, while their targets fear for a crackdown on free speech.

There are currently 197 academics on the TPUSA list; featured professors' perceived offenses vary across the board and include having socialist leanings, saying that climate-change deniers are incorrect, addressing the concept of white privilege, and calling for stricter gun-control laws. More specifically, one professor landed on the list for reportedly saying Ted Cruz's "New York Values" comment was anti-Semitic, while another allegedly "instructed students to write 'Jesus' on a piece of paper, then stomp on it." A more bizarre entry calls out a professor for hosting an "'EcoSexual Sextravaganza' in which participants 'married the ocean.'" For a group that frequently decries safe spaces and censorship, putting professors on a "watch list" for exercising their right to free speech is an interesting move.

So what exactly does Turning Point USA do when they're not calling back to McCarthyism and making lists of college professors who have offended their conservative sensibilities? Here's some background information on the group behind the Professor Watchlist.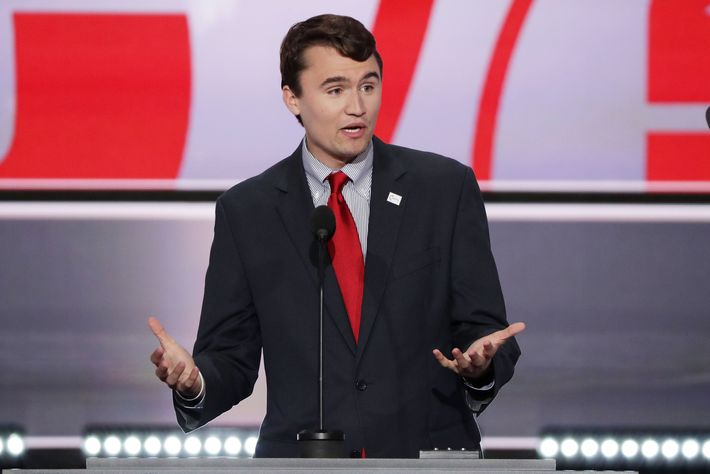 1. They were founded in 2012 by then-18-year-old Charlie Kirk.
Per a story in the National Journal, founder and executive director Charlie Kirk impressed Bill Montgomery — who was then in his 70s and retired from his marketing career — so much that Montgomery helped Kirk establish TPUSA when he was only 18. Kirk, an Illinois native, has not attended college despite being at the helm of one of the largest organizations of campus conservatives. In that same National Journal story, major donor Peter Huizenga said that "[Kirk] has got all the qualifications that it takes to be president of the United States." Based on what Kirk claims on Twitter, he's also been inside Trump Tower this week. If he looks vaguely familiar to you, it may be because he gave a speech at the 2016 Republican National Convention back in July. (Or you're just thinking of that guy from your Stat 101 class who wore a suit and tie every single day.)

2. They hate big government and love capitalism.
TPUSA's mission statement is as follows: They educate "students about the importance of fiscal responsibility, free markets, and limited government. Through non-partisan debate, dialogue, and discussion, Turning Point USA believes that every young person can be enlightened to true free market values." They've distilled this all down to the catchphrase "Big Government Sucks," though "I Love Capitalism" is another popular sign choice for them. They work to register students to vote and organize like-minded activists, and have often been referred to as the MoveOn.org of the right. Besides fetishizing capitalism, they also adhere to several expected socially conservative beliefs — like that white privilege and the "war on women" both don't exist — per their own "Indoctrination Prevention" manual.

3. They have money and a widespread presence.
A Bloomberg story from May 2015 reports that TPUSA raised $1 million in 2014 from donors that include "Illinois Republican Governor Bruce Rauner; Montana-based technology entrepreneur Greg Gianforte, a donor to Christian causes; and Mike Miller, a suburban Chicago jeweler who's given Turning Point $50,000." (They're a 501(c)(3) nonprofit and not required to disclose all their donors.) TPUSA also boasts that they have chapters at over 1,000 college and high-school campuses.

4. They also run their own site, Hypeline.
Hypeline.org, a conservative news-ish site targeted at millennials, is a bit like entering the uncanny valley in which buzzy listicles like "10 Things to Watch on Netflix Over Thanksgiving" (spoiler: They like Narcos too!) appear on the same page as "CNN Ignores Assaults on White People in Hate Crimes Story."

5. Their publications are hilariously bad.
Along with classics like "50 Ways Capitalism Improves Your Life," "10 Ways Fossil Fuels Improve Our Daily Lives," and "10 Ways America is the Best Country in the History of the World," TPUSA also tries to reach the youths with titles such as "Game of Loans" and "If the Founders Had Twitter." The latter, in particular, is like every terrible parody account rolled into one.

The Cut reached out to Turning Point USA for comment on the Professor Watchlist, but they did not immediately respond. We will update this post if any new information becomes available.