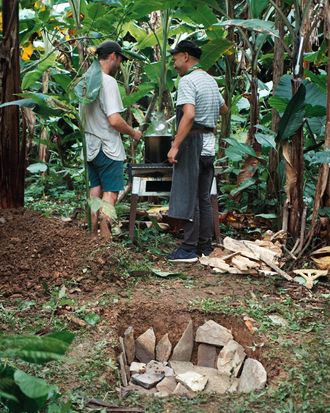 Weekend With is an ongoing Instagram series that features people we like photographing places we'd like to be. Follow @thecut on Instagram to join in, and tag your photos with #weekendwith when you travel somewhere new.
She's a self-described "general enthusiast" and after taking a look at Ana Montiel's Instagram, that seems like a good way to identify. With a combination of painting, photography, and all types of graphic design, Montiel documents life in Mexico through a variety of mediums. After spending most of her life in Europe — Logroño, Barcelona, and London respectively — she decided to embark on a spiritual and artistic quest in her homeland.
Hugo Duran received a degree in visual arts at Escuela Nacional de Pintura Escultura y Grabado La Esmeralda. After a long period in Germany he recently returned to Mexico City. Attracted by the local gastronomic culture, he takes an interest in the professional practice of the culinary arts. He's currently working on his first restaurant, which will open in 2017.