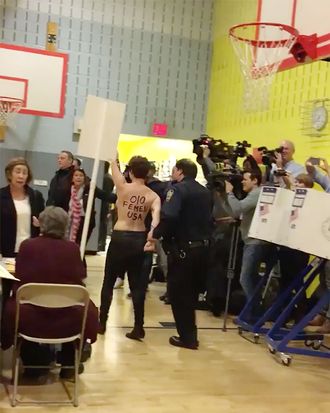 Photo: sharonclott/Twitter
Long before Donald Trump made it to his Midtown East polling site — P.S. 59 on East 56th Street — on Tuesday morning, there was a slight disruption by protesters. Two women age 28 and 30 arrived around 8:15 a.m., then removed their shirts to show that they were painted with the slogans "Trump, grab your balls" and "Hate out of my polls."

At least one of the women had "Femen USA" painted on her back, indicating that she may be affiliated with the controversial feminist-activist group known best for their infamous topless protests. The women reportedly yelled "Grab your balls! Off of my boobs!" before being arrested and escorted off the site.

Video of the incident shows that fellow voters, in true New York fashion, more or less completely ignored the topless protest happening around them.