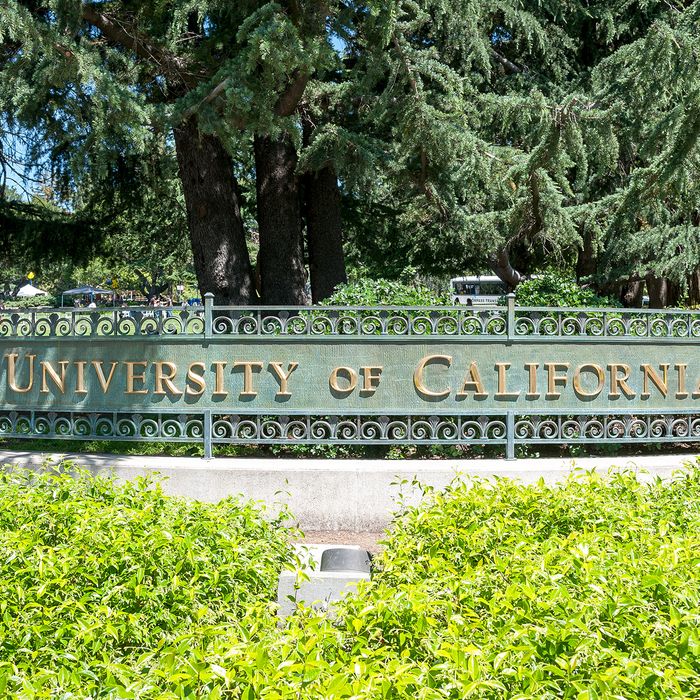 University of California, Berkeley.
Photo: Yiming Chen/Getty Images
Well, this is awkward. The University of California now is in a predicament. As it makes a concerted effort to amp up its campus policies on sexual harassment and assault, one of the regents on the board for the university system is apologizing for sexually harassing a woman at a company he owns. The regent, Norman J. Pattiz, was recorded asking an actress and host of a podcast whether he could hold her breasts while she taped a commercial about bras.

Heather McDonald is the host of the podcast Juicy Scoop, which aired the conversation during an episode last week. Pattiz is the chairman of Courtside Entertainment Group, which owns the studio where "Juicy Scoop" was previously recorded. McDonald took her podcast elsewhere after putting up with repeated comments from Pattiz about her appearance and inappropriate jokes, according to sfgate.com. The last straw for McDonald came when Pattiz interrupted her during a the taping of a commercial about a memory-foam bra. In the recording, she becomes flustered because of his presence (she says he'd made comments before) and says, "You're making me nervous now, let me do one more." Pattiz then says: "Wait a minute. Can I hold your breasts?" When she says that he can't, he adds that his hands "are memory foam."

Pattiz has since told the Los Angeles Times that he "regrets" the comments. "There is no excuse for any such comments or making anyone feel uncomfortable," he told the Times. "If I did that, I sincerely apologize, and it will be a valuable learning experience." McDonald, for her part, also told the paper that she doesn't accept the apology. "Sexual harassment is not a joke," she told the newspaper. McDonald, though, is reportedly not the only one who was subjected to sexual harassment. The Times also recounts anecdotes from other former employees who said that they'd witnessed or been on the receiving end of Pattiz's repeated comments on their appearance. He told one former employee she was the "hottest Asian" he'd seen, and added, "If I wasn't married, I'd be chasing you down a hallway right now." He later apologized to the employee after she walked away.

The episode comes at an especially awkward time for the University of California. Its board of regents recently revoked the tenure of a professor for violating the sexual-harassment policy and is facing a lawsuit from a former law dean who was removed from his position after similar allegations against him were made. As sfgate.com points out, it's unclear whether Pattiz, as a regent, has to abide by the university's campus policies.