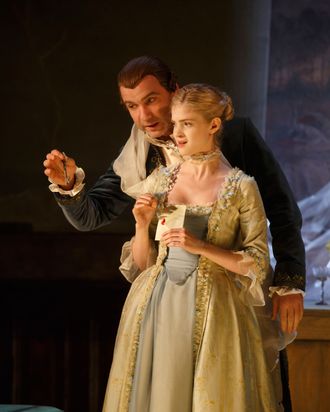 Liev Schreiber and Elena Kampouris in the Broadway production of Les Liaisons Dangereuses.
Photo: Joan Marcus
In the new Broadway revival of Les Liaisons Dangereuses — a play that inspired movies like Dangerous Liaisons, Valmont, and Cruel Intentions — one graphic scene could be considered rape. It's an agonizingly uncomfortable moment onstage: The lecherous Le Vicomte de Valmont, an affluent bachelor (played by Liev Schreiber) who entertains himself by taking advantage of women, seduces 15-year-old Cécile Volanges.
While Cécile (played by Elena Kampouris) is visiting his aunt, Valmont convinces Cécile to let him make a copy of the key to her room, promising to mail her secret letters to a suitor. In the middle of the night, Valmont enters her room and molests her despite her desperate pleas for him to stop. He asks how it will look if she tries to tell on him, arguing that she's the one who gave him the key. Cécile eventually relents and enjoys this "sexual awakening."
So is this rape? "I think so," Schreiber told the Cut at the play's opening-night after-party. "She asks him not to, and he does. I think whenever a woman says no and a man moves forward, we should consider that rape."
Director Josie Rourke noted that the play, based on a book written in 1872, is set in 18th-century France. "I think in modern terms it is, because it's nonconsensual," she said. "In 18th-century terms, it's slightly more complicated than that because you could argue that actually seeing that she's being married off nonconsensually, her loss of virginity is only ever going to be a nonconsensual loss of it."
The show's playwright, Christopher Hampton, who also wrote the 1988 film Dangerous Liaisons, explained the same scene was cut from the movie. "We had a big fight with John Malkovich [who played Valmont] about it because he didn't want us to cut it," Hampton said. "That scene struck a rather sort of ugly note a little too early in the film, so we took it out, but in the play it seems to be in the right place."
Hampton said the scene is a "pivotal" moment in the stage production. For the audience, it's one thing to know Valmont is an unprincipled man who seduces women throughout the play. But as he takes physical advantage of a 15-year-old girl onstage, in real time, the audience realizes how vindictive he actually is. "If the play's going right," he said, "you can sense in the audience a certain alarm and disquiet at that point, which I think is entirely appropriate."
The scene resonates with how modern society sometimes treats rape survivors. After she's been assaulted, Cécile confides in one woman who makes her feel responsible for what happened to her — it's like blaming a sexual-assault survivor for wearing a short skirt to a party.
Rourke, the director, said the play is about sexual pleasure, violence, and hysteria but believes today's world might be more full of sexual violence than the play is. "I think that certainly it's something that makes you think about what kind of right a woman exercises over her body, and what kind of expectations she can have, but it also makes you think very hard about what men's expectations are as well."