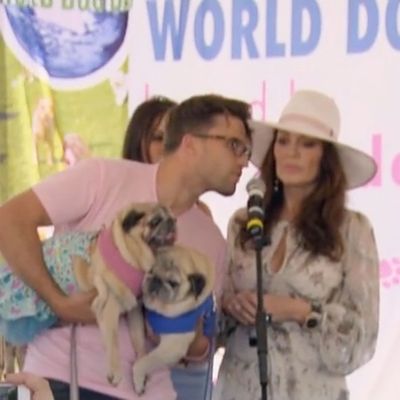 In the real world, we're reeling from Tuesday's election results and the frightening prospect of how a Donald Trump presidency will play out. But in the Vanderpump Rules universe it's still only May, a forgone time when the most pressing issue facing our blissfully unaware cast is Lisa's upcoming World Dog Day event.
At the start of the episode, Lisa has gathered Scheana, Brittany, Ariana, Jax, and new assistant Katie to run through the particulars of her big day, the aim of which is to stop the abuse of dogs worldwide. Lisa also uses this opportunity to show off Harris, her new Pomeranian, to the viewers at home — and he, without a doubt, makes Ken and animatronic robot Giggy wildly jealous.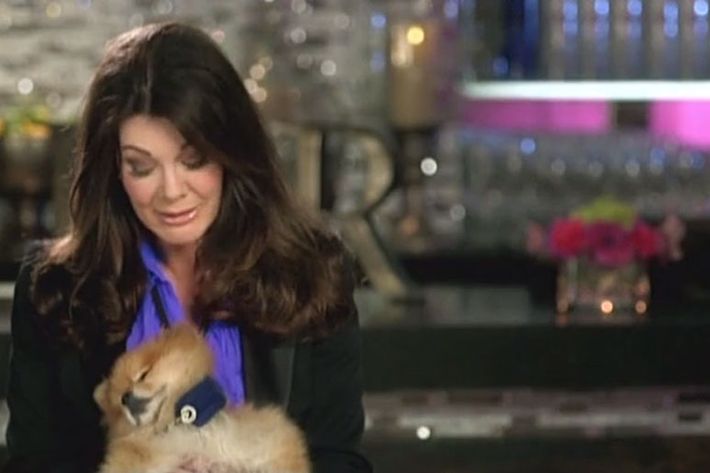 One recurring bit of tension in the episode is how much Katie and Schwartz have agreed to spend on their wedding, which is an incredibly boring thing to watch people argue about. In simultaneous scenes, the Toms have a spa day while Katie and Stassi talk wedding plans over cheese. Schwartz tells Sandoval he wants the wedding to be "frugal and fun," while Katie tells Stassi she's planning to spend $15,000 on flowers. Later in the episode, they resolve their wedding-related financial arguments for the most part, with Katie even agreeing when Schwarz brings up the idea of a prenup. "The only assets he has are thousands of dollars worth of sweatpants," Katie explains. This, at least, beats Jax, whose net worth is approximately three covered-up tribal tattoos.
Because Vanderpump Rules would be nothing without its enablers, Lala and her mom meet up for a drink. Lala starts crying about how she's turning into a "very vicious person," and expresses remorse over her past rudeness (me after a day on Twitter) while her mom reminds her that she was bullied in elementary school and calls her "tender-hearted." Could this be the beginning of Lala's redemption arc?
But as Lala softens, Jax hurtles full speed ahead with his sociopathic tendencies. With the entire staff of SUR, including Lisa, gossiping about Kristen allegedly going down on Brittany — a rumor Jax started about his own girlfriend — Brittany is rightfully humiliated and angry. Jax then gets mad at her for being mad, telling her "when you show upsetness then you're fueling the fire." (Upsetness!) She spends the night at Scheana and Shay's to get some space, then returns home to fight some more with Jax, who still cannot comprehend what he did wrong. "I have changed my entire life for him and he still will not admit that he's wrong. He's the biggest piece of shit," Brittany laments, not incorrectly.

In the next scene, busboy-DJ James Kennedy and Lala have a summit, which is not worth mentioning save to say that James went from meditating on his balcony to riding on a hoverboard to answer the door. Breathe in, breathe out, and take it all in.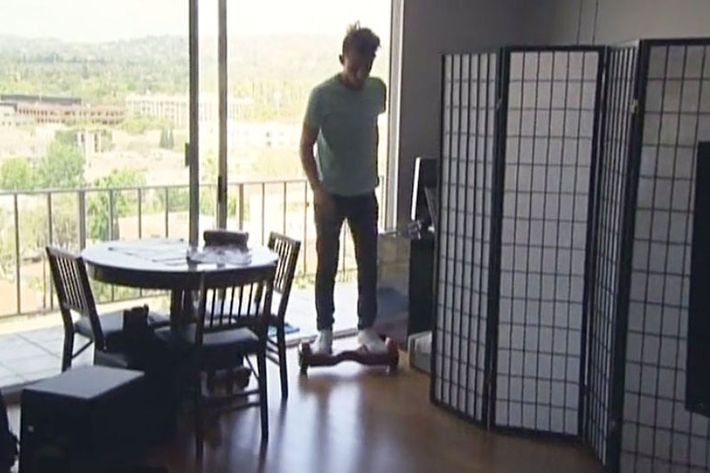 Finally, we arrive to World Dog Day. Much like their matching embossed dresses and penchant for crying in public, it becomes apparent that every single SUR staff member also has a similarly sized tiny little dog of the Toy variety – all of which have seen some serious shit.

Everything is going smoothly until manager Chad reveals to Lisa that James was put in a headlock by a patron during a cigarette break the prior evening. She's worried about him being a liability, but James is too busy explaining that people are "jealous" and out to get him. "I don't know what James thinks people are jealous of. He's a resident DJ at a restaurant. He's no fucking Calvin Harris or Steve Aoki," Sandoval says wryly, naming all of the DJs in existence. "I don't care if it's Dog Day or the club, I'm the one up, not them," James then brags, naming all of the important places in existence.
World Dog Day is a relatively drama-free success — Lance Bass and Leona Lewis balanced out Kristen and Stassi's presence, it seemed — and the crew takes the after-party to Kristen and her boyfriend Carter's place. Kristen and Carter pull Jax out to the balcony for a talking-to; both were present the night of the rumored incident he keeps pushing and say that it absolutely didn't happen the way he said it did, meaning it's now three against one for Jax's narrative. It's only a matter of time before TV's greatest gaslighter goes on to … learn absolutely nothing from his mistakes. How else would the reality-TV machine go on?