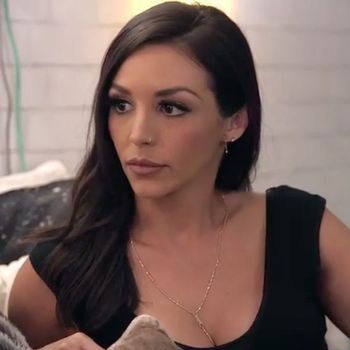 Scheana Shay.
Photo: Bravo
Is it just me or is this season of Vanderpump Rules — dare I say it — boring? Maybe it's hard to create anything fresh five seasons in, or maybe it's that the real world has descended into a hellscape that not even the most nefarious manufactured drama can measure up to, but I've frankly been feeling a consistent Ken-level of enthusiasm for the last few episodes.

For starters, Katie and Tom Schwartz's wedding planning is precisely as banal as regular, non-televised wedding planning. The season's third episode opens with Katie, Stassi, Scheana, Brittany, Kristen, and some other women whose names I forgot immediately upon learning them, so let's just call them Stassi II, III, and IV. Katie has called them all to the hallowed brunch table to ask them to be her bridesmaids via an elaborate Rube Goldberg–on-a-Pinterest-bender machine that consists of a gallon paint can topped with handmade felt succulents, which contains a balloon that must be popped to reveal a ton of glitter and a note that reads "will you be my bridesmaid?" Even thinking about it renders me completely exhausted and we haven't even reached the part of the episode where Katie wants to send out customized tea towels as wedding invitations.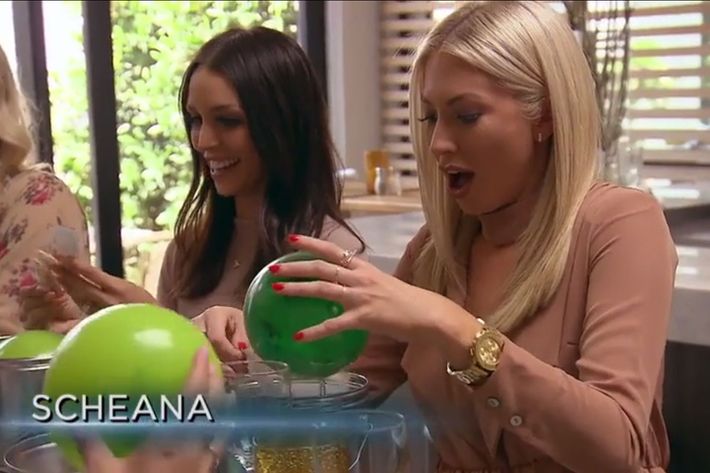 Ariana is conspicuously absent, which Katie confirms is because she has committed the grave error of treating the demon Lala like a human being. Later at SUR, Katie awkwardly lets Ariana know that she won't be asking her to be a bridesmaid and Ariana could not care less, presumably because bridesmaid duties would cut into time that could be better spent doing improv, or whatever it is that Ariana does.
Tom Schwartz has Jax and Tom Sandoval over for dinner to ask them to be his groomsmen, a process which does not include any paint buckets. Jax wears a bow tie and an aggressively unbuttoned shirt, making for one of the many moments of the show during which you're forced to pause and remember that he is a 38-year-old man who has committed himself to all of this — which then leads you to consider your own mortality and life choices. (Jax isn't getting any younger, and neither are you.)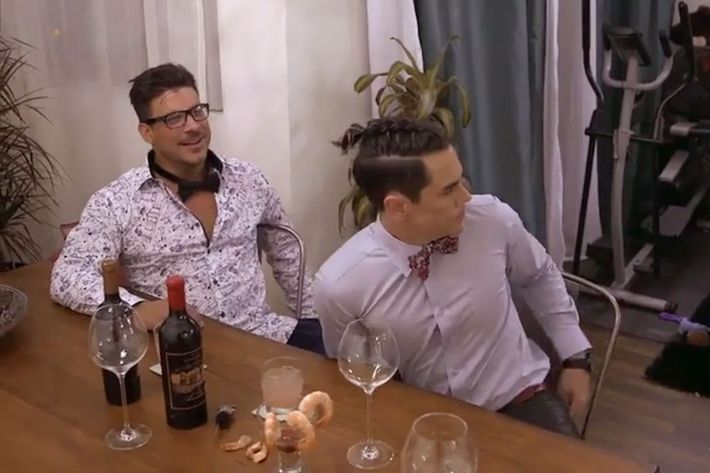 Anyways, Schwartz makes a nice dinner of steaks and shrimp cocktail and waits until Sandoval and Jax are done devouring it to slip them envelopes filled with photos of himself from mere hours before, the shrimp and steaks they just ate marinating on his bare buttocks. Schwartz! I did not know you had it in you.
At SUR, Lala approaches Scheana to apologize but Scheana won't even talk to her unless she makes it right with Katie. So Lala pulls Katie aside in the SUR back alleyway — a place that has seen so much — too much, really — explaining to the camera, "I don't like Katie, but what I have said about her is very fucked up. Just human being to human being, I owe this bitch an apology." Katie refuses to accept Lala's olive branch, and continues to call her a whore for allegedly sleeping with a married man, while Lala says that her parents have been bankrolling her, not a sugar daddy. Either way, can everyone cut Lala a little slack? She just wants to wear her crop tops and read Ayn Rand in peace.

Later, Katie and Schwartz prepare for their housewarming party, a process that involves Katie fastidiously rolling up slices of Trader Joe's deli turkey for a charcuterie plate. During the party, Jax is found sitting on the couch, commenting that the size of Scheana's butt has decreased due to her recent weight loss — and this is after insisting that they hire "transvestites" for Schwartz's bachelor party. Brittany misses Jax being a total goblin, as she's in the kitchen comforting Stassi, who's partially crying out of sadness over her on-again-off-again relationship with Patrick, but mostly crying out of relief because she's finally found someone who'll listen to her complain about her on-again-off-again relationship with Patrick.
But back to Scheana — because while she's out in the living room getting her butt appraised by Jax and insisting that she's 100 percent team Katie — Stassi, Kristen, and Katie are holed up in Katie's bedroom gossiping about Scheana. Her grievous offense? Katie thinks she saw her talking and smiling with Lala, when in fact she was just telling Lala to go apologize to Katie. Remember when Scheana opened the season saying she was in "such a good place" with those three? Were we ever so young?
Read past Vanderpump Rules recaps here.