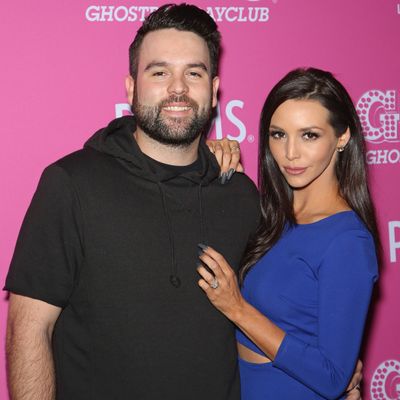 Scheana Marie and Mike Shay.
Photo: Gabe Ginsberg/Getty Images
Two years after getting married and two seasons after putting their wedding on Bravo, Vanderpump Rules stars Scheana Marie Shay and Mike Shay are getting divorced. In a joint statement to America's foremost chronicler of reality TV drama, Us Weekly, the couple said they plan to stay friends.
"While we have made the difficult decision to move forward separately, our story will continue on through the love and mutual respect that we have cultivated throughout our 15-year friendship," the couple said in the statement. "Much of the recent speculation and reporting on our relationship has been misguided, and we have come to an amicable decision on all matters. We might have failed at our marriage, but we are committed to succeeding as friends and will continue to support each other's personal happiness and professional success."
Earlier this month, Mike Shay reportedly absconded with Scheana's money and went "MIA." He later posted a photo of himself on Instagram with the caption, "I am not missing. I am sober. I am Happy!!! Don't believe everything you read. I love my wife and will always love my wife. Whatever is going on between us will stay between us! I love my family and my family loves me and a lot of things have been said out is protection and anger by many people. I just ready for the next chapter in my life!" And so the story continues.