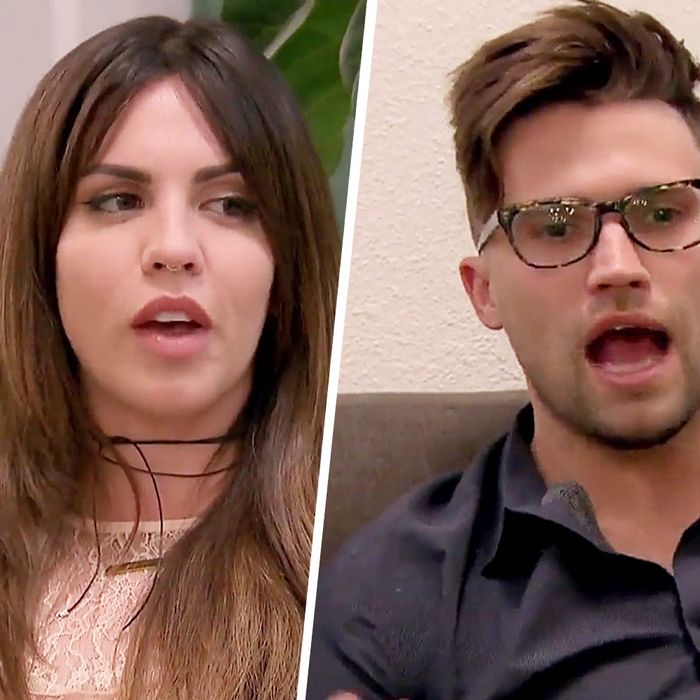 Katie Maloney and Tom Schwartz.
Last week I was bemoaning that this season of Vanderpump Rules has felt stale, which can partially be blamed on social media. We know that Katie and Tom Schwartz do eventually get married. We know that Brittany and Jax stay together. We know that DJ James Kennedy is still a DJ. But the show must go on, and so we continue to willingly suspend our disbelief so we can fully enjoy televised arguments between people we don't know.

This episode gets a brunch open with Ariana, Tom Sandoval, Lala, and Ariana's younger brother, Jeremy, who has moved in with his sister and her boyfriend for the time being. Jeremy is man-bunned and a little spacey, and it quickly becomes clear that he's too good and pure for this world (Bravo TV). It's a relief when the conversation turns to James' girlfriend, Raquel, who's moved to town for the summer.

Cut to Raquel and James hanging out at his apartment. Raquel is a beauty pageant contestant and student living in Sonoma for her senior year of college, and it seems like she hasn't quite considered the potential ramifications of her brief reality-TV stint until the very moment the cameras are rolling. I say this because of her perpetually nervous smile and because she questioned why a lot of people don't like James. On the other hand, she could go the way of Vail, season-three SUR hostess and Princeton alum, who's all but forgotten — though they say that on the darkest of nights, you can hear her name carried in the wind in the alleyway behind SUR.

Meanwhile, the Kristen, Katie, and Stassi vs. Scheana because they're all vs. Lala fight is getting embarrassing for everyone involved, especially us, the viewers. At one point we are forced to witness Scheana explain to Lisa — who is, again, her boss — that Lala had the gall to make small talk with her in the workplace. Then we have to watch Scheana get scolded by Kristen, Katie, and Stassi while they're helping Kristen recover from getting veneers with copious amounts of sparkling wine. Most of all, I can't stop staring at Katie's leopard-print-patch tattoo — it has a way of following you around the room.

And when Katie's not fighting with Lala or Scheana, she's fighting with Tom Schwartz. Schwartz goes off to see Dr. Engler, who once helped the two of them out with couples therapy, for a solo appointment. For a brief second, I had her confused with Dr. Winkler, Jax's therapist who so transparently hated him. I'd watch an entire spinoff show of those sessions. Good times.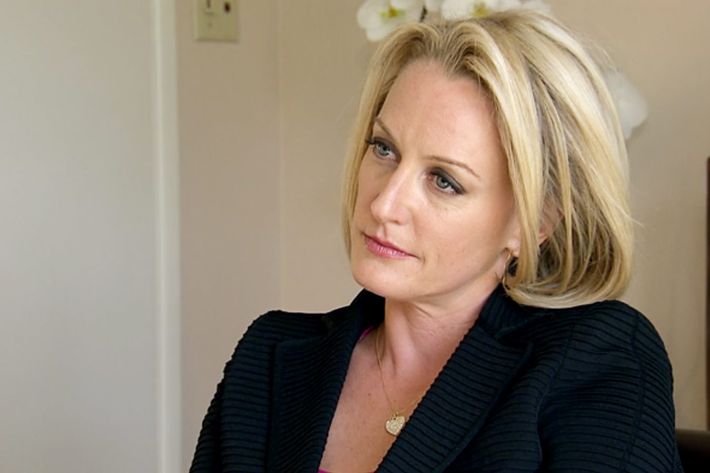 Anyway, enough about my pitches to Bravo producers. Schwartz returns home from a therapy session in which he expressed doubts about his forthcoming marriage to Katie, who is drinking white wine and coloring an adult coloring book. Contrary to the purported claims that adult coloring books are calming, Katie gets angry at Schwartz when he questions whether or not there's a "nugget of truth" to when she gets blackout drunk and tells him she doesn't want to be with him. "It's like being in a relationship with a fucking wall," she says, throwing up a middle finger and returning to her adult coloring books in the same breath. Again, they will be fine, or as fine as two people who have spent several years having their lives filmed for a C-list show can be.

Schwartz calls alcohol the catalyst of his problems with Katie, unsurprising as it's long been a handy tool for reality-TV producers to amp up the conflict. It's certainly been addressed as an issue for James over and over, who finally faces the professional fate that was coming for him. After GG, a SUR hostess, reveals that she slept with James after he started dating Raquel, Jax uses this information to provoke James into a fight that includes the line "I'm a rock star and you're a bartender." A while later, Lisa walks in on James and Tom Sandoval taking shots. She pulls him outside, where Ken — expressing more emotion than he has in five seasons combined — screams at him, calling him a "little fucker." The next day, Lisa unceremoniously fires James.

But before all this, Schwartz asks Ariana to be a groomsman without telling Katie — who again, deliberately left her out of her bridal party — because on Vanderpump Rules, the fights must always go on.

Read past Vanderpump Rules recaps here.