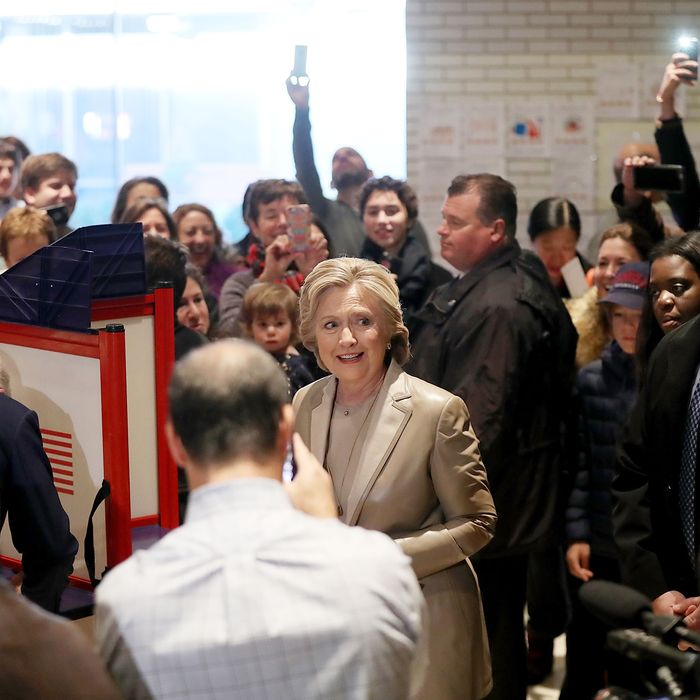 Photo: Justin Sullivan/Getty Images
Regardless of the outcome of this year's presidential election, today is a historic day for women: It's the first time anyone has ever gotten to vote for a woman for president as the nominee of a major party. What that means is: It's the first time there's ever actually been a chance in hell that a woman is going to be president.
And though it maybe shouldn't be completely surprising, many women are expressing some shock at the emotions they felt as they cast their ballots today. Here are some reactions from the staff of the Cut.
Stella Bugbee, Editorial Director:
"I woke up at five, got up, and got in line to vote at 5:45 before the polls were open. I was practically running. When I had submitted my vote I walked out with tears. Every person I've seen today wearing their "I Voted" sticker is making me tear up all over again."
Catie L'Hereux, Associate Managing Editor:
"For me it was seeing the "Women's Equality" over Hillary's name on the ballot."
Lauren Starke, Director of Public Relations:
"I brought my two daughters with me to vote this morning, and was surprised to find myself wiping away tears as soon as I got in line. I saw other women doing the same thing. I think it was a mix of relief and pride."
Jen Gann, Senior Copy Editor:
"My 7-month-old woke up at 4 a.m. this morning. It would have been easier to leave him with his dad, run over to the polling place by myself, then switch. But I really wanted to do this as a family, and so we did. My heart sped up as soon as I saw Hillary Clinton's name on the ballot; somehow, it was hard to believe the moment to vote for her had actually come. I didn't expect it to feel so physical — the rush of the actual act, holding my son with one arm and voting for Hillary Clinton with the other."
Tara Abell, Social Media Editor:
"My eyes started welling up when I was in the privacy booth, but I didn't start crying until I saw my mother enter her ballot after me. She grabbed my hand. I looked at her and said, 'A hundred years ago our family escaped a famine and we just voted for a woman to be president.' She hugged me and I think she started crying, too."
Laura June, Staff Writer:
"I'm not a crier, I swear! But as I stood there with my ballot waiting for a booth to open up, I saw a very small woman maybe in her late 70s or early 80s, impeccably dressed, walking away from her own booth. She sniffled a little and wiped at her eyes with a tissue, and that was it for me. I've voted for Hillary Clinton in two primaries, but today was very special for me."
Marissa Cetin, Social Media Editor:
"I knew voting absentee would be anticlimactic (no 'I Voted' sticker for me), but filling out my ballot and mailing it the next morning was unexpectedly emotional. Even just sitting on my bed after work, I found tears coming to my eyes when I filled in that circle, and again when I voted for the other women down the ballot. I couldn't help but take a dorky picture of my envelope before plopping it in the mailbox near my office, too. I may not have gotten the full voting-booth experience, but it was still a special moment to me."
Leah Rodriguez, Producer:
"My polling place was relatively empty. I learned my sisters weren't voting and a wave of emotion and fear washed over me as I thought about how big this moment is — but how still many people didn't care."
Erica Murphy, SEO Editor:
"When I was reading about the latest poll updates yesterday, I started thinking about sitting at my desk back in my U.S. history class in high school, at this point nearly ten years ago. I thought about myself reading through this gigantic history book, about all the details that have made our country what it is today. And then I thought, What is it going to be like for kids to read about this historic moment, and this historic election? What's going to get left out of the next edition of history books to make room for what could be a first in our country's history? While waiting in line at the polls this morning, I got cut by three different people. Normally, this would have really ticked me off and I would have immediately said something about where the back of the line was. But today, I held my tongue, instead deciding to appreciate this moment and this day and this right that I have as an American woman."
Lena Rawley, Online Editorial Intern:
"I didn't switch over to New York in time so I had to go home to New Jersey to vote. This turned out to be a great opportunity — I got to vote for Hillary with my mother. I felt so emotional being able to vote for possibly the first female president with my mom. I can't even begin to imagine how she, and my two grandmothers, must feel today being able to cast their votes for Hillary; especially my one grandmother who has spent nearly every waking hour of this election cycle campaigning for Hillary and working with the League of Women Voters in Pennsylvania."