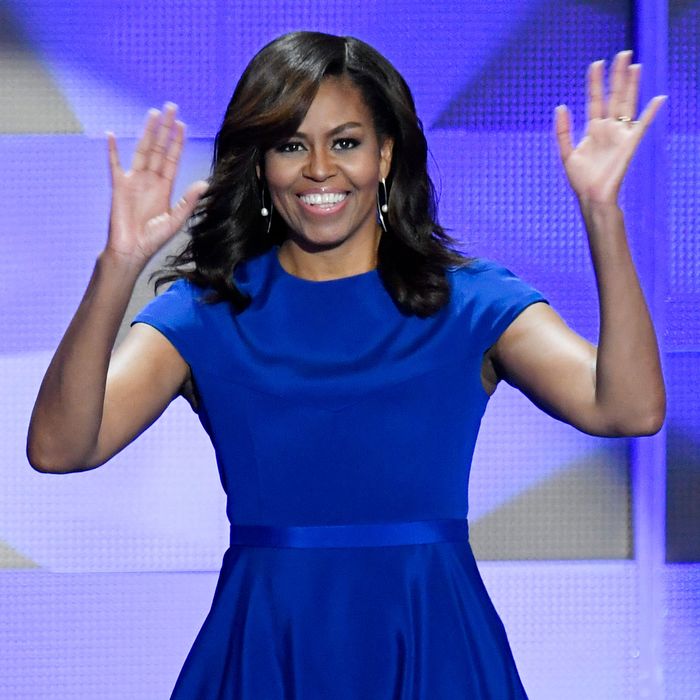 Michelle Obama at the Democratic National Convention.
Photo: Bill Clark/Getty Images
A nonprofit director and a mayor in the town of Clay, West Virginia, are each out of a job after coming under fire for a racist Facebook post about Michelle Obama, according to the Charleston Gazette-Mail. Pamela Ramsey Taylor, who was the director of Clay County Development Corporation — a local nonprofit — reportedly posted a status after Donald Trump was elected president on Tuesday saying she was looking forward to having Melania Trump as First Lady.
"It will be so refreshing to have a classy, beautiful, dignified First Lady back in the White House," she wrote. "I'm tired of seeing a [sic] Ape in heels."
Clay's mayor, Beverly Whaling, reportedly commented on the post, "Just made my day Pam."
The post and comments were later deleted, but screenshots of the post have been widely shared on social media. At the time of writing, an online petition to remove both women from office had received almost 95,000 signatures. Taylor lost her job on Monday. By evening, CNN reported that Whaling resigned from her post as well.
According to NBC affiliate WSAZ, Taylor issued an apology on Facebook. In a statement to the Washington Post, she insisted her comment was not racist. "My comment was not intended to be racist at all," she wrote. "I was referring to my day being made for change in the White House! I am truly sorry for any hard feeling this may have caused! Those who know me know that I'm not in any way racist! Again, I would like to apologize for this getting out of hand!" She told WSAZ that the public response to the post is "a hate crime against me."
Joe Murphy, the vice-chairman of the Clay Democratic Executive Committee, told the Gazette-Mail that his organization "strongly oppose[s] any form of racism or hate speech," and described Michelle Obama as one of the "most graceful and articulate first ladies in American history."
Update, Nov. 15 11:16 p.m.: This post has been updated to note that following the racist exchange on Facebook, Mayor Beverly Whaling has resigned from her position, according to CNN.