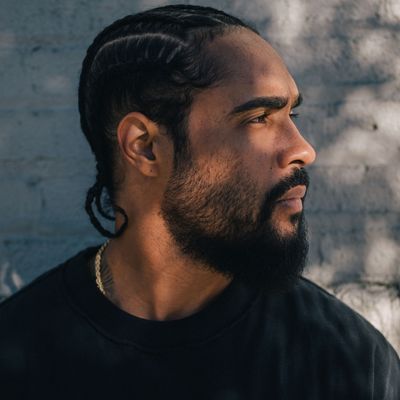 This past May, the line to the VFiles store in Soho stretched from the shop's Mercer Street entrance and snaked all the way to Sixth Avenue, as the curious intersection of hysterical Justin Bieber fans and apathetically cool streetwear acolytes lined up patiently. The reason? A pop-up store serving as the first place people could buy Bieber's Purpose World Tour merch outside of a venue. Consisting of tees, sweatshirts, and hoodies inspired in equal parts by designers like Vetements and Raf Simons and interspersed with Biblical references, the collection sold out immediately. Its seemingly discordant appeal stems from Jerry Lorenzo, the man behind the label Fear of God, who had helped design the merch.
The name Fear of God is literal. "I grew up with Christ as the center of my household," says Lorenzo. "It was intertwined with everything we did." But Lorenzo's faith was only recently galvanized. "I was not always a God-fearing man," he admits. "I came to L.A. and tried to find my own footing, and in doing so started throwing parties. I used my middle name — Jerry Lorenzo — because I didn't want to tarnish the Manuel name."
The beginnings of Lorenzo's Fear of God label coalesced at a time when he was refocusing his life and his faith. Launched in 2013, the clothes are heavily influenced by the limited secular references Lorenzo was exposed to as a kid. Rebellious figures like John Bender from The Breakfast Club, Nirvana front man Kurt Cobain, and NBA bad boy Allen Iverson left indelible images in his head.
Those inspirations manifest in seasonless pieces like red-plaid flannels with side zippers layered over waffle-knit thermal shirts, baggy drop-crotch heather-grey sweatshorts with raw edges, and oversize bomber jackets with ruched sleeves. The clothes are made of high-end fabrics from Japan and Italy, and at times use vintage materials, like repurposed military sleeping bags. And they command a very high price — from $150 for a Japanese cotton T-shirt with dropped shoulders to $1,095 for a silk-lined oversize nylon bomber jacket.
Lorenzo describes them as "solution-based" garments, the kind of clothes anyone can throw on without putting too much thought into it. It's a modular way of dressing where each layer complements the one beneath it. It also accurately captures the current wave of seemingly casual yet deceptively pricey clothing.
Unlike most traditional fashion brands, Lorenzo releases collections on his own schedule (and his followers take note of each drop). The latest, titled Fourth Collection, was presented through a film set to the Chris Tomlin-penned worship song "How Great Is Our God," Lorenzo describes the label as "God's brand." This is not to categorize it as Christian clothing, but rather to take the emphasis off himself. Lorenzo is fueled by that same sort of humility demonstrated by prominent Christian athletes like Russell Wilson, who give God credit for their touchdowns.
As devout as he is, Lorenzo is quick to dismiss the idea that his clothes are a direct expression of his faith, or that there's an ulterior motive to convert non-believers through fashion. Rather, he insists he's creating what he wants to see more of in the mainstream market. "This is not a Christian brand," he says. "It's a brand that represents stuff I like. God just happens to be one of those things."
It's odd then, that Fear of God has a mass appeal yet is rooted in Christianity, a religion more often than not in the news for the things it's adamantly against (gay marriage and a woman's right to choose, for example) than what it wholeheartedly endorses. The street culture Lorenzo is a part of often stands in sharp contrast to traditional Christian values, but is no stranger to recontextualizing its imagery. Skate magazine Thrasher has remixed both the Satanic pentagram and Christian Jesus fish symbols on its merchandise. Supreme recently sold a T-shirt riffing on religious pamphlets. And runway-worthy labels like Givenchy and Virgil Abloh's Off-White often reference classic Caravaggio paintings and religious Renaissance art.
Perhaps the keyword, then, is authenticity. The underlying appeal of the kind of brands Fear of God gets compared to, like Supreme, John Elliott, and Stampd — usually lumped under the catchall term "streetwear" — is a certain self-knowledge and realness. These brands have a clear narrative and language that defines them, and that's really what fosters their special connection to consumers. Fear of God just happens to be the outlier who dares to say it's perfectly fine to be a believer in God and a believer in taste.
Lorenzo doesn't consider himself a "designer" per se. Like the movie and music references he mines for inspiration, he's more of a cultural sampler. He makes things he likes and remixes vintage pieces with just enough modernity, like an extra zipper on a pair of drawstring trousers so they stack better over a pair of boots or high-tops, or ensuring a denim jacket's wash is distressed in a cool, not overly processed way. This approach places him in the same paradigm as seminal cult labels like Stüssy and Supreme, which built their graphic backbones on the recontextualization of old skate, punk, and reggae graphics. He has a formidable collection of vintage tees from heavy metal bands like Metallica, White Zombie, and Black Sabbath, many of which he repurposes with "Fear of God" or biblical screenprints into one-offs for his own collection.
"I like Metallica, and if someone wants to shoot holes in that, I'm sorry — I think they're dope," he says. "I'm taking pieces of the culture typically associated with darkness, and using them for light."
Lorenzo's line caught the attention of Kanye West in 2013, who recruited him as part of the design team for Yeezy Season 1. West's oversize dystopian aesthetic perfectly aligned with Lorenzo's grunge-meets-Allen-Iverson style. The two also shared spiritual beliefs. After all — one of West's first singles was "Jesus Walks."
"The simple fact that I was able to work so closely with him elevated my self-belief," says Lorenzo. "That has been really empowering for me, and I'm forever grateful."
Last year, Lorenzo partnered with California-based retailer PacSun on a more accessible line, F.O.G. The timing seemed right — and more importantly — it was a way for him to connect not just to younger fans of the brand who couldn't afford his luxury-priced offerings, but also legitimize what he was doing on a broader scale.
"I have more family members that shop at PacSun than at Barneys, to be frank," he says. "I wanna be where my cousins can go see me and be proud of me."
The collaboration was so well-received that its second iteration remains sold out on PacSun's website.
Lorenzo got his biggest co-sign to date in 2015 when he began working with Justin Bieber. He worked with Bieber's team, including longtime stylist Karla Welch and manager Scooter Braun, to help define Bieber's looks on the Purpose tour, coming up with outfits like an elongated cut-off flannel shirt worn over a vintage Tupac Shakur tee, paired with a near-tattered pair of jeans — a variation of Lorenzo's personal style. He also had input on the merch, which was infused with multiple influences from high-end street-informed labels like Vetements to Bible verses and staff shirts. A black-and-white portrait of Bieber with "SORRY" channeled Raf Simons' recent collaborations with photographer David Sims.
Whereas Lorenzo's previous reinterpretations of heavy metal tees didn't have an agenda other than representing bands he was into, there was a clear intent in repurposing the imagery of Marilyn Manson for one tour tee. A screenprint on the back read "Bigger Than Satan."
"That's a proposition I'm proud of," says Lorenzo. "It's sending a message that Justin Bieber has overcoming a lot of strongholds in his life. I'm changing the meaning of what Marilyn probably had for it, and I'm giving it to this kid that is now living a life of purpose, and doing it in a super dope, unique way."
The Purpose line changed the concert merch game by making the goods available beyond the venue. It turned throwaway souvenirs into covetable fashion, and fueled the rise of Bravado, the merchandising arm of Universal Music Group that also happens to work with Kanye West, another artist that's redefined consumers' relationship with tour tees. Not only was Purpose merch made available at several pop-up shops at stores like VFiles, but it was also elevated with a full-on Barneys collaboration, where it was stocked next to exclusive Fear of God pieces made specifically for the retailer. And in a brilliant move that mirrors Lorenzo's Fear of God/F.O.G. lines, if fans didn't have the cash for Barneys, they could also head straight to Forever 21 for similar tees, jackets, and hoodies.
Despite Lorenzo's tendency to shy from the spotlight and give credit to God, his success has garnered him plenty of followers — over 500,000 on Instagram — and opportunities to work with a new breed of influential pastors like Rich Wilkerson Jr., who officiated Lorenzo's wedding last year (as well as the nuptials of Kim Kardashian and Kanye West), and Carl Lentz of Hillsong Church, a religious network credited with helping cultivate a "cool Christianity" movement.
"The message is that everyone should be okay to be who they are, and to uniquely walk out to be who God called them to be," says Wilkerson Jr. in a Complex article on stylish pastors. Last year, Lorenzo even spoke with Wilkerson Jr. at the Trinity Vous Conference, where Wilkerson Jr. posited that Lorenzo's approach to fashion is a way for him as a Christian to have a greater impact on culture.
"We're so humbled by this platform that we've been given. What are we supposed to be doing with this?," Lorenzo says. "Knowing how fickle fashion is, and knowing that I can be hot today and gone tomorrow, while I am here, it's important that I represent for who I know put me here."
So when Lorenzo launched his recent Vans collaboration with PacSun, consisting of a black-and-cream suede Sk8-Hi and a low-top pair of Eras covered in a black-and-white Fear of Godprint inspired by Spicoli's checkerboard slip-ons from Fast Times at Ridgemont High, he saw an opportunity to do some good.
He and some of his team filled up two trucks full of the sought-after collaboration and clothes, and headed down to Los Angeles's Skid Row to hand them out to the homeless. It was Lorenzo's way of reassessing the value of the shoes, which sold at retail for $100 and currently demand up to $700 on the resale market. To him, that was a more fulfilling way of releasing extra stock than seeding select pairs to friends or social media influencers.
"I don't have the desire to be a $100 million fashion house," says Lorenzo. "I don't have any investors. I don't have any partners I have to answer to, and if I want to take all this stuff and give it away downtown in Skid Row, I can do that."
Lorenzo insists there's no amount of money he would take to sell Fear of God. But as far as the future is concerned, he wouldn't be surprised if he finds himself led out of the fashion industry and into an even higher calling.
"I'm fearful of leaving behind a fashion legacy," he admits. "I want my legacy to be how I lived my life, how I loved my family, and how I honor my wife. That's what I'm trying to do."