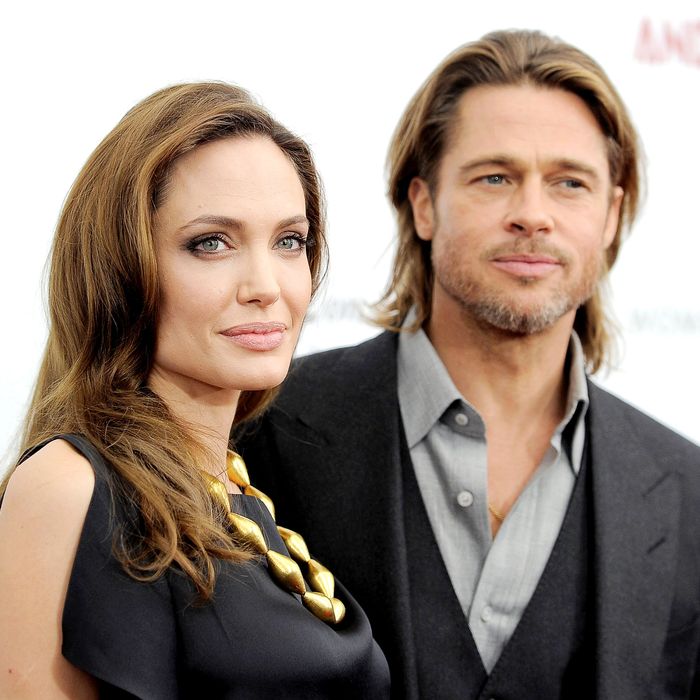 Angelina Jolie and Brad Pitt.
Photo: Jemal Countess/Getty Images
Late last night, on the eve of one of the most contentious American elections in history, Angelina Jolie dropped the biggest news to come out of her divorce with Brad Pitt so far. Her representative released an official statement to the Associated Press announcing that Jolie and Pitt have reached a custody agreement for their six children. Jolie "will continue to have sole custody," her rep said, and Pitt will continue to have "therapeutic visits" with the kids. With this announcement, it seems Jolie has ambushed Pitt yet again: Pitt declined to comment about the agreement to the AP, and his sources are now calling the whole story "BS."
Pitt's tabloid of choice, People, reported early this morning, "Sources close to the situation maintain the two have not reached any new agreement, nor have they permanently settled their differences and Pitt still plans to push for joint custody." Us Weekly and E! followed with similar stories suggesting that Pitt has not agreed to a long-term custody plan. Even TMZ, Jolie's preferred gossip outlet, claimed this morning that the AP's story is "total BS" and "makes no sense on its face."
This is because Pitt officially filed for joint custody of the children on Friday, while Jolie's rep told the AP that the custody agreement was reached "over a week ago." Clearly, there is some discrepancy here. Why would Jolie go on the record about a custody agreement when it seems Pitt has not actually agreed to the terms? In her rep's statement, Jolie reminded everyone why this divorce had to happen in the first place: Pitt did something on the family's private plane in September. The statement is clear on that point (emphasis added):
We can confirm that child-care professionals have encouraged a legal agreement accepted and signed by both sides over a week ago. In accordance with this agreement, the six children will stay in their mother's custody, and the children will continue therapeutic visits with their father. This has been determined by child-care professionals to be in the children's best interest. We are not in a position to discuss the details. We hope now that it is clear that the events which led to the dissolution filing involved minor children and their well-being, there will be understanding of the sensitivity of the family situation. We believe that all sides are committed to healing the family and ask for your consideration during this difficult time.
The Los Angeles Department of Child and Family Services is reportedly still investigating Pitt's behavior on the plane. Previously, the department recommended Jolie get sole custody in a temporary agreement, so this "new" agreement could simply be an extension. Jolie is presenting it as a definitive settlement, however, and Pitt hasn't gone on the record to contradict her.

Lainey Lui of Lainey Gossip notes that Pitt's movie Allied premieres this week. Pitt is expected to be at the premiere, and he could certainly talk to reporters there, if that is something he wants to do. So Jolie's statement may simply be a warning or a "preemptive strike."