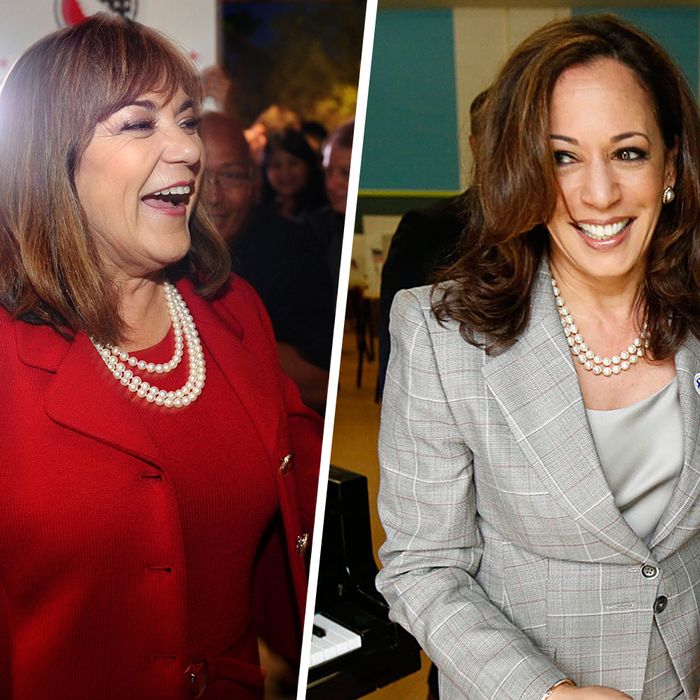 Loretta Sanchez and Kamala Harris.
Photo: Getty Images
While Donald Trump and Hillary Clinton dominate national headlines, in California two Democratic women are competing to fill the first open Senate seat in a quarter of a century. Thanks to California's unusual top-two rule, Kamala Harris, the state's attorney general, and Loretta Sanchez, a congresswoman from Orange County who's served ten terms, are running against each other.
Both women are fairly united on issues such as equal pay, abortion, and Social Security, but they differ slightly on what they'd choose to emphasize in areas such as foreign policy and immigration. And while Harris is polling ahead of Sanchez and has nabbed endorsements from heavy-hitters like President Obama and Barbara Boxer (the former Senator whose seat she's seeking to fill), Sanchez is seeking to drum up support from undecided GOP voters, who could swing the election in her favor.
Immigration
Sanchez is generally in favor of loosening immigration; in the past, she's voted against building a fence along Mexico's border and in favor of granting more visas to skilled workers. She told the Los Angeles Times that she'd like to incorporate Deferred Action for Childhood Arrivals (DACA) principles — which allow children who enter the U.S. before they're 16 to receive a renewable two-year work permit and be exempt from deportation — into immigration reform. Sanchez is counting on Latinos to vote for her, but recent polls show they're warming to Harris.
Harris's views on immigration are more or less in line with Sanchez's. She notably told a crowd of union farm workers that "an undocumented immigrant is not a criminal," and she stands behind President Obama's executive orders on immigration, including DACA, according to her website. She, too, is in favor of comprehensive immigration reform, and she would support a federal DREAM act, which would give immigrants who serve in the military or who graduate from high school and pursue higher education a more straightforward path to citizenship.
Foreign policy and national security
Sanchez's voting record indicates she's generally opposed to foreign entanglements and is in favor of expanding the military. She voted against the Iraq War and more recently voted to remove U.S. troops from Afghanistan. In recent months, in a play for GOP support, she's spoken out about her ability to deal with "the threat of Islamic extremists." Within the military, Sanchez revised the Uniform Code of Military Justice to include a statute that protects sexual-assault victims, and she's successfully pushed to track military men and women with histories of sexual assault.
Harris's stance is a little harder to parse, but in her post as attorney general she has aggressively gone after foreign drug cartels and fought to end human trafficking. If elected, her website reads, "she will be a strong advocate in the Senate for developing strategies to counter efforts by terrorist groups to promote hate and radicalization online." It also mentions the need to "counter governments that actively sponsor terrorism," which indicates she'll vote in favor of both terrorism- and nuclear-related sanctions.
Criminal-justice reform
Both candidates told the Los Angeles Times they'd like to see the criminal-justice system overhauled, and Harris specified that she supports the longstanding efforts of Senators Cory Booker and Rand Paul to keep nonviolent offenders out of prison and to give them the chance to clear their criminal records. Sanchez also said she wants to reform the nation's drug-sentencing laws. Unlike Harris, Sanchez supports Proposition 62, which would end the death penalty in California.
Equal Pay
In California, Harris has supported the Fair Pay Act, which strengthens the state's Equal Pay Act by making it illegal for employers to pay workers of different sexes different wages for similar work. According to her website, she'll make it a priority to pass the Paycheck Fairness Act in the Senate, which aims to make the national Equal Pay Act more enforceable, thereby closing the gender pay gap. Harris also supports a national paid-family-leave policy and wants to raise the minimum wage, although during a debate back in May, Sanchez implied Harris had been slow to embrace a $15 minimum wage.
Sanchez is also in favor of closing the gender pay gap — she co-sponsored the Lilly Ledbetter Fair Pay Act, which makes it easier for individuals who've been paid unfairly to hold their employers accountable. She voted to give federal employees four weeks of paid paternal leave and is ostensibly in favor of paid family leave. In addition, she's in favor of raising the federal minimum wage to $15 an hour.
Abortion
When anti-abortion activists published hidden-camera videos alleging Planned Parenthood officials in California sold fetal tissue, Kamala Harris's office authorized the search of David Daleiden's apartment and the seizure of relevant possessions, including his laptop. Her support for Planned Parenthood drew criticism from pro-life organizations, and her official campaign website includes a petition to restore funds to Planned Parenthood. The pro-choice organization NARAL gives her a 100 percent rating for her pro-choice voting record.
Sanchez also has a 100 percent rating from NARAL, and she's consistently voted against legislation that would strip funding from family-planning centers or ban certain abortion procedures.
Social Security
Both Harris and Sanchez are opposed to tying Social Security benefits to cost-of-living adjustments through a Consumer Price Index — a method that would ultimately dole out Social Security benefits at a slower rate and save the government about $130 billion over the next decade. And both candidates support lifting the cap on Social Security taxes, meaning people who make more money would pay more in taxes toward the program. Harris said she would focus on driving proposals to lift the cap through Congress, while Sanchez added that she would seek to expand Social Security to cover people who leave work to care for a sick family member.
Environmental issues
Harris and Sanchez are pretty much in lock-step here; both support President Obama's Clean Power Plan, but both would like to see comprehensive legislation passed that addresses climate change and clean energy. Where California's drought is concerned, both told the Times they'll pursue sustainable methods to collect and convey water to various regions of the state.
The Trans-Pacific Partnership
Harris told the Times that she doesn't support TPP in its current form. She added that trade agreement — which aims to deepen economic ties between 12 countries by reducing tariffs — risks "invalidating California's landmark climate change and environmental laws" and is a threat to U.S. workers.
Sanchez also opposes TPP; she too believes it won't adequately protect American workers or American intellectual property. "The TPP will force American workers to compete with workers in countries that offer little to no employee protections, in addition to poor human rights records," she told the Times. "This will undermine development and manufacturing in California and I oppose it."