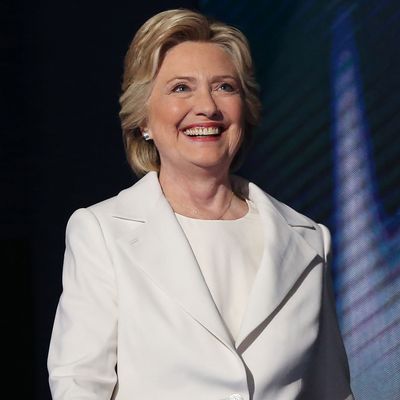 Hillary in white.
Photo: Daniel Acker/Bloomberg via Getty Images
In the early 1900s, suffragists wore white as they fought for women's right to vote in America. And now, certain Hillary Clinton supporters are planning to sport white to the polls to cast their vote, the Boston Globe reports.
Clinton wore white at the Democratic National Convention in Philadelphia in July, where she accepted her nomination as the first female candidate of a major party. The New York Times noted that she likely wore that particular pantsuit because white, purple, and gold were the official colors of the suffragist movement and the National Women's Party. Likewise, Geraldine Ferraro also wore white to the 1984 Democratic convention when she accepted her nomination as the first female vice-presidential candidate.
Women across the country are following suit (pun intended) by wearing white as they vote in this election, which has been marked by misogyny. The Globe spoke with several women who are planning on wearing white, including Michelle Gajda, a college instructor in Tampa. "I wanted to show my children that they are witnessing history," Gajda said. "It's a wonderful tribute to a historic campaign and what will hopefully be a wonderful presidency."
Luckily there's still time to pick up a white pantsuit before Election Day.