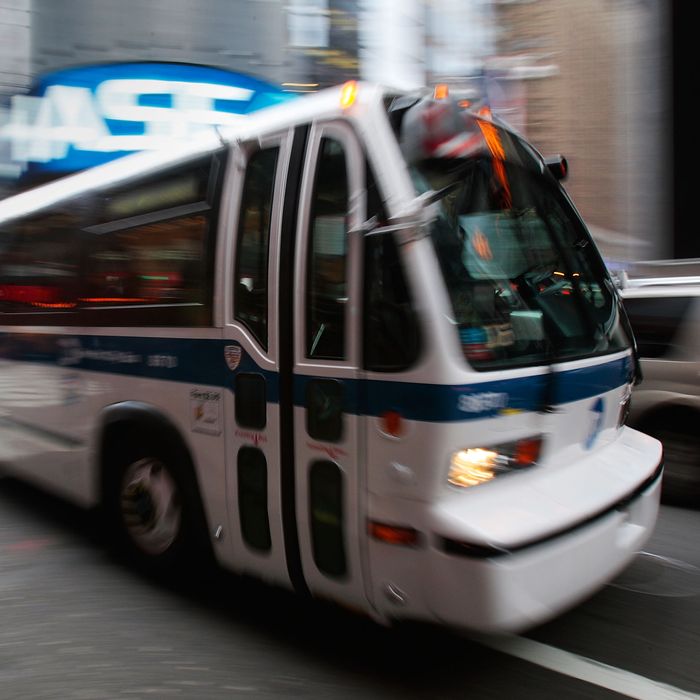 Photo: Chris Hondros/Getty Images
Fariha Nizam took to Facebook to write about a terrifying experience she had on a New York City bus this past Thursday, just two days after Trump won the presidential election. Nizam was taking the bus into Manhattan that morning when a white couple boarded the bus and began verbally attacking her.
"The two of them started yelling at me, shouting to me to take off my hijab, yelling that it is not allowed anymore. My reaction, complete fear and anxiety. I broke out into tears, frustrated at myself for exhibiting so much weakness but unable to do anything else. I was crying incessantly, looking away, but they did not stop. They started yelling at me and telling me to take off the disgusting piece of cloth on my head, saying that it wasn't allowed anymore."
Although other riders got angry with the couple and tried to intervene, Nizam wrote, "The woman got angrier and came closer towards me, attempting to grab my hijab and yank it off of me. I was so scared, compelling myself to calm down so that I could move away. I got off the bus, and walked home from where I was, crying the whole way home."
Nizam, a 19-year-old student at Hunter College, added in her post that the Metropolitan Transportation Authority (MTA) didn't help her during the incident. She told the New York Daily News, "I've never encountered something like that until after the election," she said.
The Southern Poverty Law Center, a nonprofit group that tracks and litigates hate crimes in the United States, released a report on Friday that there had been "201 incidents of election-related harassment and intimidation" since the election Tuesday night.
"These range from anti-Black to anti-woman to anti-LGBT incidents. There were many examples of vandalism and epithets directed at individuals. Often times, types of harassment overlapped and many incidents, though not all, involved direct references to the Trump campaign," the SPLC reported. Some reports were sent directly to the SPLC.
The SPLC is one of many worthy charities that people have been donating to in the wake of Trump's election. Here are a few more.