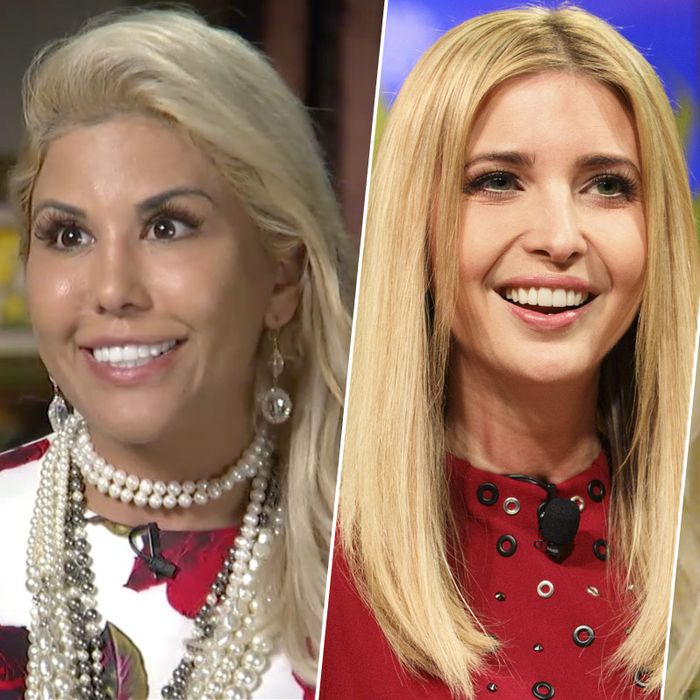 Ivanka Trump has long been considered the most poised and glamorous member of the Trump family, though her support of father Donald during his presidential run has put her in the spotlight in some unfavorable ways. For others, it's made them only more aware of her — more specifically, as an inspiration for their plastic surgery transformations.

ABC News' Nightline recently covered two women, both Texans, on their quests to look more like Ivanka. Thirty-three-year-old Donald Trump supporter Tiffany Taylor says she's had her breasts and nose done and got injections and fat grafts in her cheeks, a mini eye lift, and liposuction in an effort to emulate the eldest Trump daughter — all at a cost of $60,000. When asked what she'd say to any critics of her Ivanka-inspired plastic surgery, she responded, "Why don't you go try it, because you're gonna be so happy. I mean, don't judge until you try it."

Jenny Stuart, 36, shelled out $30,000 for breast implants, a Brazilian butt lift, and injections for her face. After all that, she's still voting for Hillary.

Dr. Franklin Rose, the plastic surgeon who did both women's work, said he's seeing more and more women come in and ask for the Ivanka look, with her breasts and nose being the most requested looks.

You can watch the full video on the latest bizarre side effect of the 2016 election here.