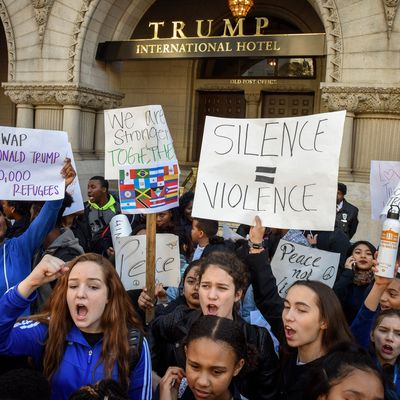 Photo: Bill O'Leary/The Washington Post/Getty Images
Since the election results came in last week, people around the country have been actively protesting and expressing their disdain for the new president-elect, Donald Trump. Now, women and "allies" are organizing an even bigger protest: a strike and a boycott, to be held on December 12.
The protest has gained momentum through Facebook, and explicitly invites women and allies to take the day off work. From the invite:
Women and Allies:
(This includes but is not limited to:
People of Color, LGBTQA/GNC, Immigrants, Disabled Persons, and any other marginalized communities, and allies)

If you have felt targeted, threatened, triggered, afraid, or embarrassed by the outcome of the 2016 Presidential Election [you are] encouraged to join us on December 12, as we STRIKE and BOYCOTT.

In addition, we will withhold all spending on December 12. Keep your dollars and save your pennies. Remind them how powerful we are by withholding ALL spending.
Women in Iceland have a sanctioned day every year for this kind of protest, and women in France protested the gender pay gap by leaving work early recently. In 1997, at least 500,000 people marched on Philadelphia to protest the marginalization of black women in American culture and society. If you have the luxury to take the day off, this might be a good time to do it.