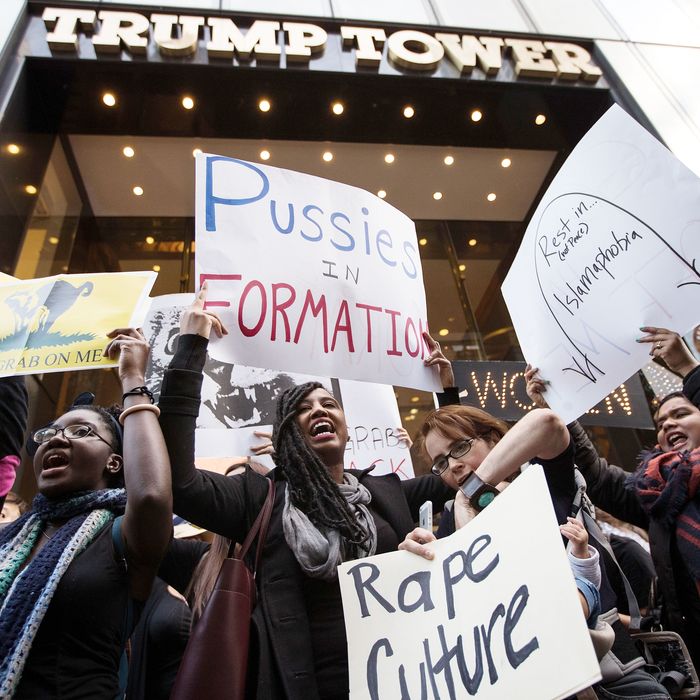 Women protest outside Trump Tower.
Photo: Drew Angerer/Getty Images
On Tuesday night, women who had supported Hillary Clinton watched in horror as Donald Trump earned enough electoral votes to be named president-elect of the United States. "Trump's win felt like a personal attack," Colette Sartor told the Cut. "I honestly thought … all the sexual harassment he's so casually committed would matter."
Now, just a few days after the election, women across the country are coming together to organize a Women's March on Washington the weekend Trump is sworn in as president. "A lot of women got up the second day with the same idea," Bob Bland, a New York–based organizer, told Reuters. The march is planned for January 21, 2017, at Washington, D.C.'s Lincoln Memorial. About 16,000 people are RSVP'd on Facebook right now, and according to what one organizer told Reuters, the numbers are continuing to grow.
During his campaign for president, Donald Trump insulted his opponents based on their looks, implied a female journalist was on her period, and surrounded himself with surrogates who made sexist remarks. Then, in early October, a 2005 tape surfaced that contained footage of Trump bragging about sexually assaulting women.
After the tape surfaced, more than half a dozen women came forward with stories of Trump groping them or touching them inappropriately without their consent. And his presidency promises to be damaging to women in a whole new set of ways.
"We need to be working together in a coherent, supportive way over the next four years, to activate more women into leadership positions, to be more politically active," Bland said. "We cannot allow ourselves to give up, put our heads down and not hold this administration accountable for any violation of human rights or women's rights."