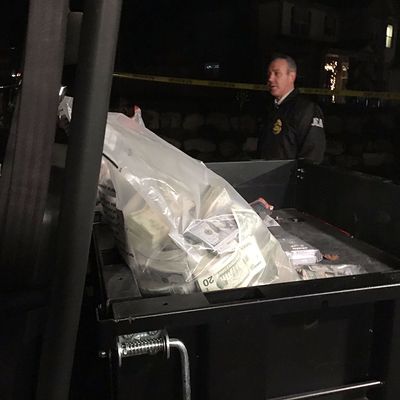 Photo: Courtesy of Twitter/ashleykewish
Aaron Michael Shamo is having an abysmal start to the Thanksgiving weekend. The 26-year-old Utah resident was arrested Tuesday and charged with possession of fentanyl with intent to distribute, according to the Salt Lake City Tribune, which reports that DEA agents raided two Salt Lake City–area homes and uncovered an elaborate counterfeit-pill operation believed to be helmed by Shamo. Nearly 100,000 fentanyl-laced pills bearing the names Oxycodone and Xanax were confiscated, in addition to giant garbage bags filled with cash.
A month beforehand, Shamo launched a GoFundMe donation page to finance a "wine adventure through California." Maybe he just wanted to get away from the pressures of his alleged drug operation, you know? He asked for $8,000, but as of today, has raised $0 in donations.
If convicted, Shamo faces up to 20 years in prison and $1 million in fines. Perhaps he should start exploring other ways of collecting the cash now.