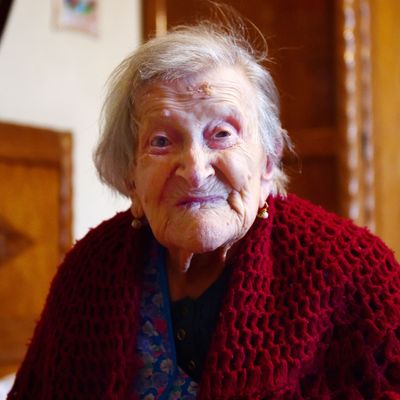 Emma Morano.
Photo: OLIVIER MORIN/AFP/Getty Images
Cuffing season is upon us, but instead of spending the next four months shacking up with the first viable Tinder match you meet, consider taking a page out of Emma Morano's book. As the oldest person in the world, Morano turns 117 years old on November 29 — and attributes her longevity to being single, staying in, and going to bed early.
Morano is a brandy-drinking Italian woman who was born in 1899, and is thought to be the only person alive who has witnessed three centuries, the Independent reports. When told last month that she made it into the Guinness World Records as the oldest person alive, Morano reportedly said, "My word, I'm old as the hills," which also basically cemented her as the most world's most charming, as well.
The supercentenarian has been single and living alone since 1938, when she left her abusive husband following the infant death of her only son. "I didn't want to be dominated by anyone," Morano told AFP last month. She also has been eating two raw eggs and one cooked egg each day since she was 20 years old, and doesn't eat meat because she's afraid it will give her cancer.
"I eat two eggs a day, and that's it. And cookies. But I do not eat much because I have no teeth," she said.
Morano previously supported herself as a factory worker and cook, but she hasn't left her Verbania apartment in 20 years and has also been bedbound for the past year. She's alert but "very deaf," and she has difficulty speaking and unfortunately cannot see well enough to watch TV. To celebrate her birthday, the town's mayor, journalists, and relatives are stopping by for a visit, while a local theater will be playing music from the three centuries she's been alive.