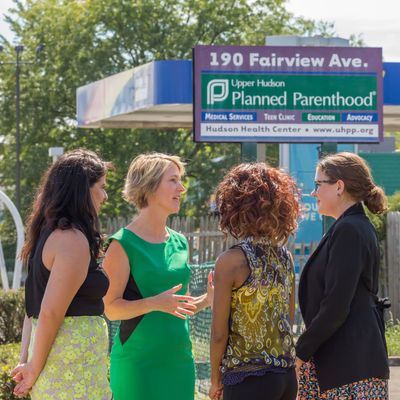 Zephyr Teachout addresses constituents outside Planned Parenthood.
Photo: Gerri Hernandez
Zephyr Teachout and I are seated on the patio of the Catskill Mountain Pizza Company. She's sipping an orange soda when a woman and her daughter approach our table. "Hello! We're — what are we? We're fans," the woman, whose name is Julia, tells Teachout. "We thought we'd say hi."
"What's your name?" Teachout asks the little girl, who can't be older than 10. It's Rosa.
"We were just talking about women in politics, Rosa," Teachout says. "Why is it important, Rosa, to have more women in politics?"
This is it: Rosa's moment to shine — her chance to blow us all away with an insight as brilliant as it is naïve. So of course, she shrugs her shoulders and says, "I forgot."
If only it were that easy for the rest of us. With a woman running at the top of the ticket for the first time in history, this election has thrown into sharp focus how underrepresented women are in politics, not only at a national level, but at state and local levels, too. The Rosas of the world need role models, particularly if they're to consider running for office themselves one day. But fighting for gender equality goes beyond fixing the lack of women in higher office, or stopping draconian abortion laws — it's woven into every aspect of policy.
Zephyr Teachout gets it. She also happens to be one of hundreds of progressive women running for office across the country. Writing in the Washington Post, Katrina vanden Heuvel called these candidates "the anti-Trump," and no matter who wins at the top of the ballot, the tidal wave of women running for office at every level — women like Teachout — represents a watershed moment not only for female candidates but for female voters.
Teachout is running for Congress in New York's 19th District — one of the state's largest — and her campaign schedule is packed with visits and meetings and town halls and rallies in every corner of its 11 counties. In June, Teachout trounced her rival, Will Yandick, in the district's Democratic primary, setting the stage for a highly competitive race with Republican candidate John Faso.
This year the 19th District is a so-called "battleground" district, meaning one of just a handful of districts across the country where a Democratic candidate could flip the switch, turning a traditionally red district blue. If Donald Trump loses the presidential race, and if Democrats win in enough battleground districts, there's a chance (albeit a slim one) Congress could come under Democratic control for the first time since 2010.
***
The first time Teachout ran for office was in 2014, when she ran a grassroots campaign for governor against Andrew Cuomo. She lost, of course, but she came away with one-third of the vote — an impressive showing. After the race, the New York Times noted that she was the "strongest challenge to an incumbent governor since primaries for the office were established in New York in 1970."
Since then, she's kept a relatively low profile, continuing her work as an assistant professor at Fordham Law School and taking over Larry Lessig's Mayday PAC, which did little to sway 2014 midterm races. But she moved to Dutchess County in early 2015, and about a year later she announced her bid for the 19th District's empty congressional seat. To hear her tell it, it wasn't premeditated: "I live here and the seat opened up," she told the Washington Post at the time. "I seriously did not expect this to happen."
She was prepared, though; she'd won the 19th District during her 2014 gubernatorial bid, and voters remembered her. Teachout was expected to win her primary, and she did so easily, raking in thousands more votes than Yandik. The race against Faso, however, has proved more challenging.
Teachout is a staunch opponent of Citizens United — when the U.S. Supreme Court ruled the bill constitutional, Justice Stevens cited one of Teachout's legal articles in his dissent — and one of her tactics in her campaign against Faso has been to call out his wealthy GOP backers. When billionaire hedge-fund manager Paul Singer donated $500,000 to a super-pac funding Faso, Teachout challenged him to a debate. "These are people, mostly men, who are basically just picking and choosing areas and buying people … to represent them," she said in a campaign video. "I think the people of the 19th District deserve to hear your actual voice."
With election day drawing nearer, Republican donors are pouring more and more money into the 19th District race — in all, they've reportedly spent $5.5 million to boost Faso. Teachout, meanwhile, has received just $1.98 million. It's this type of opposition spending, she said, that keeps women out of politics.
"Public financing of elections is a feminist issue," she noted. "I spend a lot of time recruiting women to run for office, and one of the things I hear is, 'I can't afford it.' And what you see is that in towns, cities, and states that have adopted [public financing], far more women run very quickly."
Her remarks echo the words of Nancy Pelosi, who recently told Politico, "The hard part is money, and incivility. And if you increase the level of civility and lower the role of money, you will get more women [in politics]." The incivility — and the confidence gap — is a different matter altogether. But Teachout's focus on money in politics is as much a feminist effort as it is a populist one. "When women aren't in the room, there's a real cost," she said. "It has a real impact on what you think of as highly relevant to people."
Like other Democratic women running for office across the country, Teachout is also using the man at the top of the Republican ticket against her opponent. "Trump audio doesn't sway Faso from support of GOP nominee," reads one press release from Teachout's office, referring to Trump's Access Hollywood tape. "Faso said he supports Trump, still won't say if he's voting for him," reads another.
But although she sees both equal pay and abortion access as important issues — "Choice is really important to me; I'm at a loss for words at how strongly I feel about it," she tells me at one point — they're not the key issues in her campaign. A large portion of swing voters in District 19 are Independent women. She's listened carefully to those women, she tells me, and has come to think of broader issues as "women's issues," too.
"I've had multiple conversations with women about health care," she said. "That's not a 'women's issue,' but it's an issue that totally affects women differently, because women end up taking the overwhelming share of the responsibility of taking care of elderly parents. There's an incredible amount of concern about safe water. There are two professions, nursing and education, that are dominated by women, and in both professions you've seen this aggressive move toward … the testing model of work, so [that] also affects women disproportionately."
Joan Mandle, a former activist and a retired Colgate University professor, founded a group called Women With Zephyr that brings women in the district together to discuss such issues. "I don't think, and Zephyr doesn't think either, that there are women's issues, per se," she told me. "Hillary Clinton, when she was in Beijing at the World Conference on Women years and years ago said that women's issues are human issues, and they are. But there are ways in which women are particularly harmed by the structure of power in this country. Men are sexually harassed, yeah, but a lot more women are sexually harassed. Men are raped, yeah, but lots more women are raped. So there are certain ways in which women are victimized, and we need to speak to those, and that's something that she really wants to do."
***
Later that afternoon, Teachout stood between a beverage cart and a baby grand piano in the living room of Susan and Stuart Auchincloss. Although it's near downtown Woodstock, the Auchincloss's house is hidden from the road by a patch of forest. But that day several dozen cars had found the place and squeezed into the gravel lot out front for a Women With Zephyr meeting.
After an introduction by Susan, Teachout stepped into the middle of the living room to address the group of 20 or so women seated on couches and in easy chairs. None of them appeared to be younger than 40, and a couple, like Susan, had brought their husbands. Echoing another prominent female politician, the first thing Teachout did was to tell them she was there to listen. "It's really important for me to hear from you," she said. "Because there's something in you that said, 'I want to engage in this political race,' and I actually want to know what that is."
This, Mandle said, is her specialty: "She's warm, she's passionate, she's sincere, and I think people believe she means what she says."
Although she shares many of his beliefs, Teachout is not — as some have written — a vehicle for carrying on the campaign of Senator Bernie Sanders. True, she and Sanders endorsed each other early-on, and Sanders recently stopped to stump for Teachout in New Paltz during his circuit of the country. But on the same day Sanders endorsed Hillary Clinton, Teachout also expressed her support for the Democratic nominee.
Progressive leaders weren't pleased. "Zephyr Teachout is a sellout," one organization wrote. America Rising published a post with the headline, "Zephyr Teachout Stands By Clinton Corruption Critique, But Proud to Support Her Campaign?" Like most Sanders supporters — 36 percent of voters under the age of 30, according to a recent New York Times/CBS News poll — Teachout's natural support base isn't thrilled with the prospect of Clinton at the top of the ticket.
Mandle, who said she's known Bernie Sanders for years, told me she doesn't like to talk about the presidential election very much. "I hope that, when push comes to shove, the people who support[ed] Bernie will vote for Hillary," she said. "But regardless of what happens, I think that's really important that they vote for the women who are running for Congress. This is women's time, and we can't just look at the presidential election. Unless a meteor strikes, Hillary's going to win New York, so a lot of people think, 'Well, we don't have to bother.' The real job is to make sure they go down the ticket. This is the year to elect progressive women to Congress."
As we talked, a couple walked up to Mandle, who was manning an information table that included an email sign-up form. The woman reached for the form and filled it out before handing it to her husband. He was indignant. "I can't sign that," he said. "Yes you can," Mandle shot back. "My husband is a charter member of Women With Zephyr."
He still wasn't sold. "It should say, 'Women With Zephyr, and Men Too!'" he insisted. At that point, his wife interjected: "It should say 'women and people,' or something. Here, Leonard — sign."
"Yeah," said Mandle. "Do what she says."