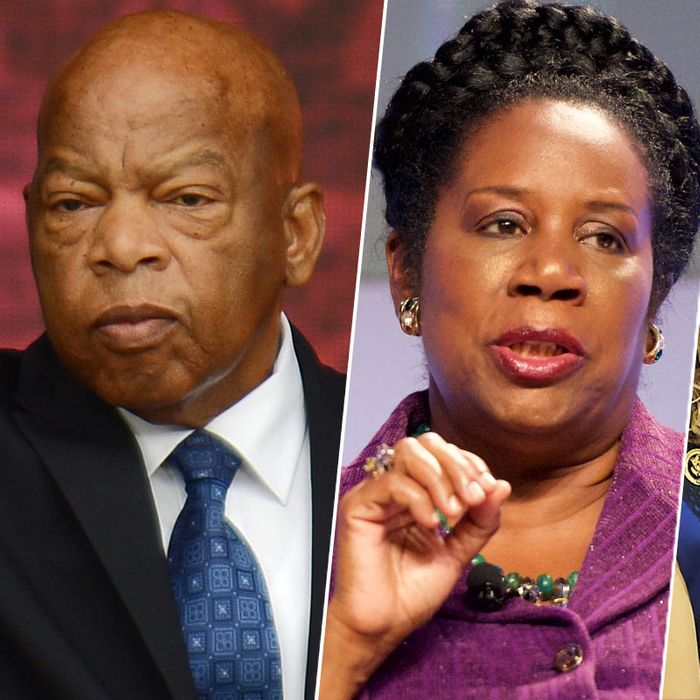 John Lewis, Debbie Wasserman-Schultz, and Sheila Jackson Lee were among three Democratic lawmakers who signed the letter.
Photo: Getty Images
In September, Donald Trump wrote a letter to anti-abortion leaders promising to make the Hyde Amendment — which prohibits women from using taxpayer money, including Medicaid, to fund abortions — into permanent law. If Trump follows through on his promise, thousands of women who rely on Medicaid because they can't afford health insurance will be forced to forgo their legal right to an abortion.
Democratic lawmakers addressed this fear on Monday, when more than 100 members of Congress signed a letter asking Trump to repeal the Hyde Amendment and to abolish other restrictions on abortion care and coverage proposed in his 2018 budget request. "These bans restrict the health coverage of millions of women of reproductive age across the country," they wrote. "For too long, low-income women and women of color have shouldered the burden of our country's restrictive reproductive health laws. We ask that you send a strong signal that this will no longer be the legacy of the United States."
Trump has also promised to defund Planned Parenthood as long as the organization continues to provide abortions; to nominate anti-abortion justices to the U.S. Supreme Court; and to sign into law the Pain-Capable Unborn Child Protection Act, which would ban abortion after 20 weeks. So it seems unlikely 106 signatures will sway the man who once described himself as "very pro-choice" when it comes to satisfying his pro-life coalition.