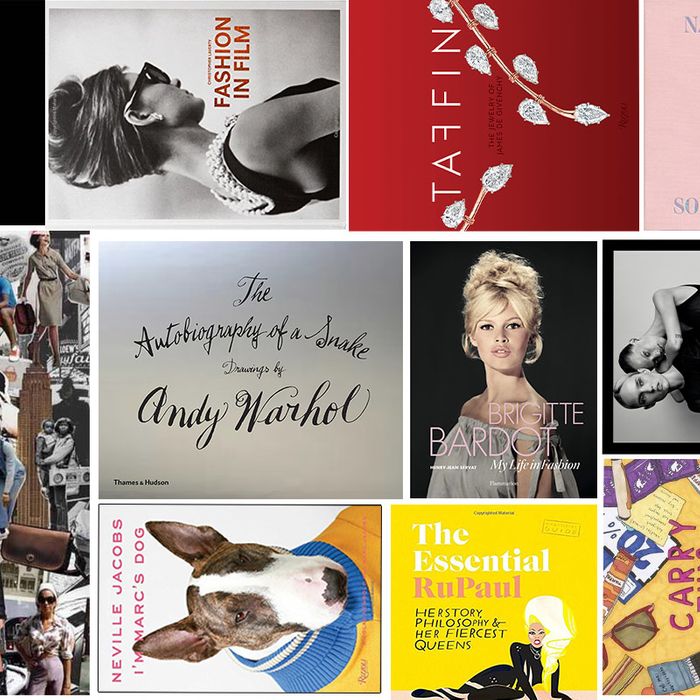 Figuring out what to buy everyone for the holidays is a never-ending task. There's a gift guide for almost everyone on your list — be they design junkies, your annoying boyfriend, or the woman who has very specific designer wishes. But sometimes a beautiful or funny book happens to be the most thoughtful present of all (especially when you're shopping at the very last minute!) With that in mind, here are 13 of our favorites from the past year. Rather than showing off its spine on a bookshelf, these books are meant to be left on a coffee table for constant inspiration. Scroll ahead to see our favorites — and thank the Amazon gods for prime shipping.
Phyllis Posnick created vision after vision spanning her three-decade career at Vogue. This book highlights some of Vogue's beauty editorials at their most creative. Posnick not only worked with some of the top models of the industry and the most prestigious photographers, but with models of the six-legged, eight-legged variety. She accompanies the series of photographs with behind-the-scenes stories and insight to the production and design of the shoots. Anna Wintour writes the forward of this rich collection of photographs.
On- and offscreen, Brigitte Bardot was a style icon of the '50s and '60s. Henry-Jean Servat creates a memoir of her life through photographs depicting the height of her celebrity. Servat's close rapport with the legendary actress unveiled a series of style choices that catapulted her to become a sex symbol and vanguard fashion revolutionary.
Know a Broad City fan? Star Abbi Jacobson wrote and illustrated the quirky Carry This Book. Imaginative and voyeuristic, Jacobson draws what she envisions might be in the suitcases, purses, handbags of fantastic people including Oprah, Michelle Obama, and Queen Bey. Add this book to somebody else's knapsack this year.
A minimalist cover with white serif lettering is an interesting contrast to the title of this compilation of Kim Gordon's body of work. The stark design introduces Gordon's multidisciplinary creations, bringing together music and visual art through her noise paintings and sculptures. This purchase also includes a limited-edition vinyl of Gordon performing on a museum's rooftop.
From the author who brought us #GIRLBOSS, Nasty Gal's founder Sophia Amoruso has complied this book of pictures, confessionals, and advice — a sort of scrapbook for her millennial audience. It reads like a mood board for fashion inspo, Instagram creatives, and young entrepreneurs.
This deluxe limited edition includes copies of signed Polaroids from the art world of the '60s and '70s. Berlin shares access to scenes inside Warhol's Factory and and other artists' hot spots of the time. A art-crazed collector's item, for sure.
Know someone who follows every Instagram-famous dog? They'll love this book that features Neville, a pooch that has the distinct honor of being Marc Jacobs's best pal. Carefully styled and orchestrated editorials of Neville will bring a smile to their face.
Fame-driven and obsessed with celebrity, Andy Warhol shamelessly sneaked his way into high society. His discerning insights about himself are complemented by a series of drawings in this visual collection that makes for a idiosyncratic autobiography.
The avant-garde in film and fashion are often one in the same. This book shares iconic looks and costumes from films dating back to the earliest days of cinema. Snapshots of film stills, outside the films' context, read just like a fashion editorial.
For devoted fans of the show and pop-culture enthusiasts, this book gives insight into the world of RuPaul — from her rise to celebrity and becoming a drag icon to her success hosting RuPaul's Drag Race, this is the ultimate insider look into her philosophies and contemporaries.
Carolina Herrera has inspired a litany of artists and designers over her three-and-a-half decade career defined by refined glamour and prestige. The book details a visual survey of her innovative designs through archived images, new photographs from her more recent work, and interviews with her colleagues and peers.
While we can't all give our loved ones diamonds for Christmas, we can certainly give them a taste of luxury with jeweler James Taffin de Givenchy's volume, Taffin. Flip through any one of the icon's 350 images for insight into one of fashion's most prolific artists: an individual who dared to play with patterns, designs, and materials of vast variation.
There's cool, then there's New York cool. For their 75th anniversary, Coach brings their readers on a journey through the brand's legacy of defining style and leading the fashion industry. The collage cover of fashion cut-outs evokes the timelessness Coach's influence.
If you buy something through our links, New York may earn an affiliate commission.