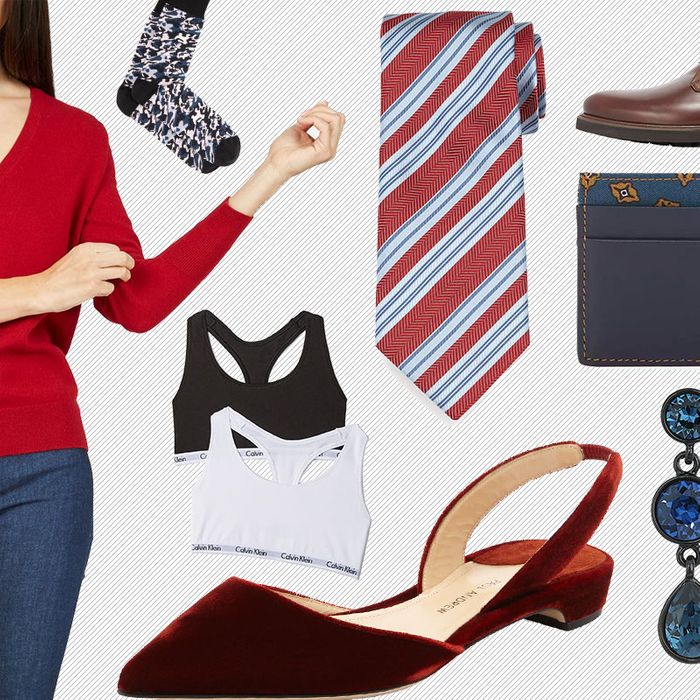 So it's literally days before Christmas and you still haven't bought a single present. That's okay — you're definitely not the only one. Technically it's not procrastinating if everything arrives in time to be wrapped, right? To help you with that, we decided to round up the best gifts to get at the 11th hour with guaranteed free two-day shipping. Whether you find a chic robe for your mom or a warm, stylish sweater for your significant other, you'll be able to pretend like you put a lot more thought into your purchase, as opposed to panic clicking before midnight tonight. Scroll ahead to see them all.
The only appropriate bras made for the too-cool, streetwear-inspired Instagram set. (Or better known as your younger sister who obsessively follows every Kardashian, Hadid, & Co.)
Socks aren't the sexiest gift, but we all need them, so you might as well get a cool pair that's meant to be shown off.
When in doubt, pretty earrings make for a foolproof gift. These look like you put tons of thought into them because of their unique color combination, but in reality, you're just taking advantage of your Prime subscription.
So you didn't get anything for your grandmother? Give her this pretty robe for when she's lounging and catching up on her favorite shows.
A festive (but not tacky!) holiday sweater that you can wear beyond Christmas dinner.
Give your brother, who just got his first major promotion, a power tie.
So he can finally stop wearing that blue gingham shirt.
To wean him off his overstuffed leather wallet, give him this sleek card case.
Caveat: There are only two sizes left in this blouse, and they're on the smaller side. But if they happen to be the right size for you, this printed blouse is a good buy. It's work-friendly, especially if you layer a thin camisole under, but also looks great with jeans for the weekend.
Velvet is no longer just a trend to wear during the holidays. Yes, you can pair these with a dress on NYE, but they'll look just as good with distressed jeans come March.
A cozy, pink faux-fur coat? Warm, stylish, and a welcome alternative to your standard black puffer.
What do you get someone who's label-conscious but incredibly picky about what he wears? A classic black sweater from a too-cool brand.
Given that the holidays are a great excuse to splurge a little, these boots (which are 50 percent off!) look expensive and will pull together his outfits.
There are few brands with fans ranging from Kate Middleton to Chrissy Teigen to Kristen Stewart. Given how different these women's styles are, this present is a safe bet.
If her favorite word is chic, she'll want this sleek clutch.
This is the most expensive item on this list, but it's also a classic black wool coat that he'll wear every day when it's cold, so consider it well worth the price.
If you buy something through our links, New York may earn an affiliate commission.