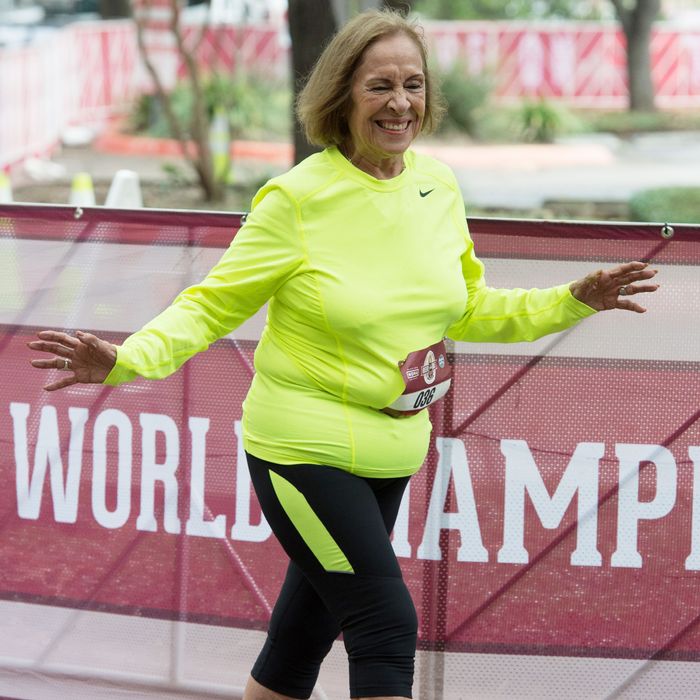 Elvira Montes at the FloTrack Beer Mile World Championships.
Photo: Scott Strance
At the FloTrack Beer Mile World Championships on Saturday, 82-year-old Elvira Montes kept two streaks intact: Not only was she the oldest finisher for the third year in a row, she once again beat her daughter.
Well, only technically on that last part. Her daughter, Renee Reynolds, didn't finish the event, which consists of drinking a 12-ounce beer (can or bottle) and running a lap on a pre-measured course a total of four times. (The beer must be a minimum of 5 percent ABV; shotgunning is strictly forbidden.) Montes finished within half a second of Reynolds in the inaugural race in 2014 but beat her by 50 seconds last year.
Reynolds is a 12-time finisher of the prestigious Boston Marathon, but her octogenarian Mom has the advantage in the drinking department. "She'd been telling me, 'Mom, I'm going to beat you this time. You're not going to win.' I said, 'Okay, go ahead, but I don't think so,'" the grandmother of three told the Cut. "She can run faster than me but she can't chug all that beer [laughs]. Otherwise, she'd beat me all the way."
Montes drank four Oskar Blues's Mama's Little Yella Pils (which she says "tastes like water") and finished in 20:47. The next oldest finisher was 67. "It's not an easy run, especially at my age," says Montes, who started running in her 60s at the suggestion of her daughter. "But I'll tell you, I have a lot of people cheering for me. I don't want to let them down, so I said 'I have to finish and I'm going to show those people that I can do it.' I think that's what motivates me most."
"It's hard to drink the first beer," she explains, but her secret is to take her time. "You see all the rest of the people chugging that beer quick — in seconds, they drink that beer," but she'd prefer to take a more mindful approach. "The first beer, ah, I think about it. And then the second one, it's looking a lot better. Then the third one: 'It's fine, I'll finish.'"
That said, she'd much rather drink scotch instead, specifically Chivas Regal. She told FloTrack after the race, "If they had a Chivas run I would be flying … It would be beautiful." She had scotch and wings after the race at Hooters, which is now something of a tradition. "Last year they gave me vouchers for the whole year for chicken wings and they would expire at the end of the month. We went to Hooters and we had a few drinks and then we went home." What did she drink? "Well, they don't have Chivas. I don't know what kind of scotch they gave me but it was alright."
Despite being such a hip grandma, she does feel a little out of place at the Austin, Texas, event. "Sometimes I feel like 'God, this old lady, what's she doing here?' There's a lot of young people there. But they're so happy to see me and everybody comes up to me and they take pictures with me … I meet all these people. They make you feel good."
That's why she aims to come back next year. "I'm planning on it. I hope I'm in good shape."