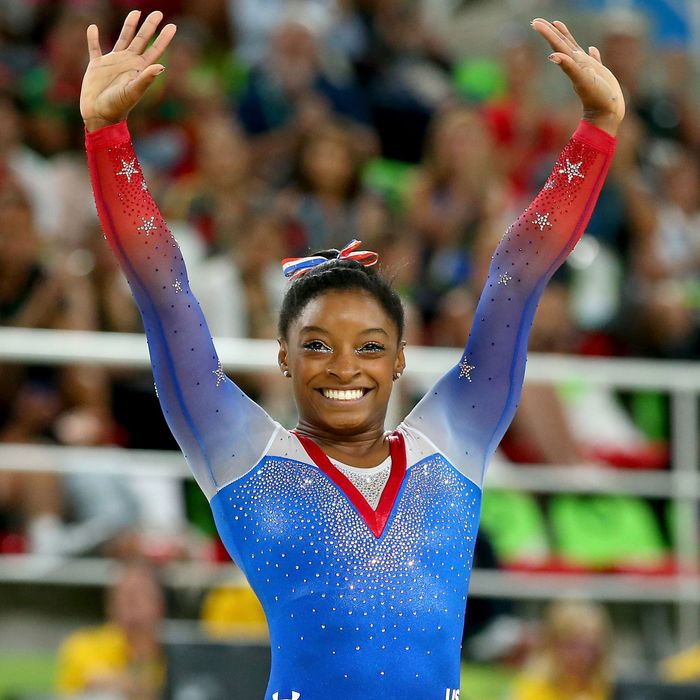 Simone Biles.
Photo: Alex Livesey/Getty Images
Last month, at a Yale library, a poster burned. It was a small poster, really, and kind of an eyesore (chintzy neon lettering hovered over a faded Tschabalala Self printout). Did the poster's background art enrage someone so much that it had to be torched? Maybe (it depicted cunnilingus, and I guess some people think that's gross). But a more likely version points to this: An anonymous vandal objected to the poster's message of "Black Joy." I guess some find that gross, too.
In 2016, black joy was in music, television, sports, and politics. It was everywhere, and boy, did we need it. The spotlight on America's black-body paranoia had been brightened once more. I can't tell you how many times I watched a black man die on a two-by-four-inch phone screen in 2016. The number is equal to the times I witnessed a white man escape punishment for his crime. It stunk, it hurt like hell, it made me feel broken from within.
Some would call that "black pain," which seems fitting. You can inflict black pain, sure, but you can't kill black joy. Black joy is a feeling, and it's warm and soft, like a pair of slippers resting under a vent. If it smells, it smells like grandma's cooking; if it has a taste, it tastes just south of too sweet.
Black joy doesn't ruminate over bougie nonsense like ambiance. In your broke-down Camry you can belt to Beyoncé's "Freedom," shove a middle finger at that morally bankrupt ex of yours via "Sorry," and move on to the next dick, boy, by way of "Don't Hurt Yourself," Beyonce's clamorous duet with Jack White. Or better yet, you can watch Beyoncé pay homage to Michael Jackson and the Black Panthers in her implausibly perfect Super Bowl performance, which was black joy, if it were sentient and grew feet.
Truthfully, music frequently punctuated 2016 with moments of black joy. For example, there's something about Chance the Rapper and listening to "Angels" that charges my entire body to bounce. (To call it dancing would be generous.) The song diffuses an energy into the air, and it pulses in revelry. Where did this guy come from? Black-joy heaven? Mars? (It couldn't be Chicago.)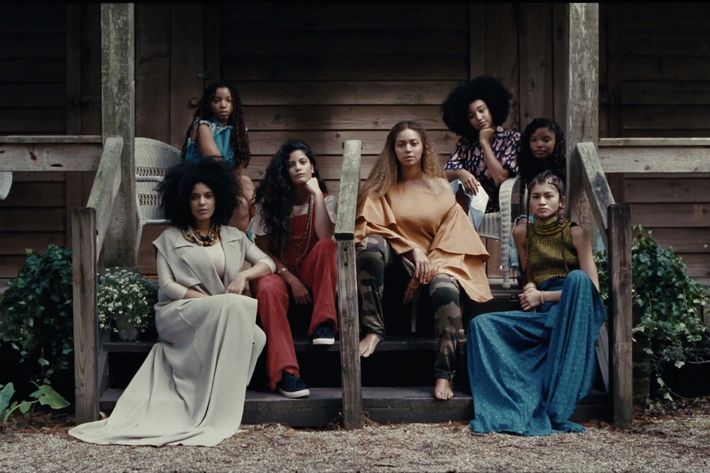 As if to sweeten the deal back in August, Chance posted a photo to Twitter annotated with the caption #BlackBoyJoy. He didn't coin Black Boy Joy, but the hashtag crystallized a branch of black joy that hit its stride as of late. Think of Jaden Smith and his gender-bending aesthetic. Maybe you don't get it, but he doesn't care. Or consider Cam Newton and his touchdown dabs. Have you ever seen someone so elated to excel at his job? (Some of you didn't, and elected to tear him down.) In June, I watched LeBron James collapse on the court floor after waging a virtually impossible win in the NBA Finals. Yes, black joy can draw tears, but they're the kind of tears that you wish for again, and again, and again.
The Olympics marked a defining moment this summer. A lot of nonsense took place, but none of it involved Simone Biles, who was perfect. She is the greatest gymnast of our time and there was no greater joy than watching her collect gold after gold. There was also Usain Bolt who, for crying out loud, was so exhaustingly fast that he found time to turn his head and smile before sweeping first place. And joyously commenting on it all was Leslie Jones, finder and seeker of the American Dream. Tweeting from the couch pivoted into an ad hoc Olympics correspondence job for Jones. Name something more American than that.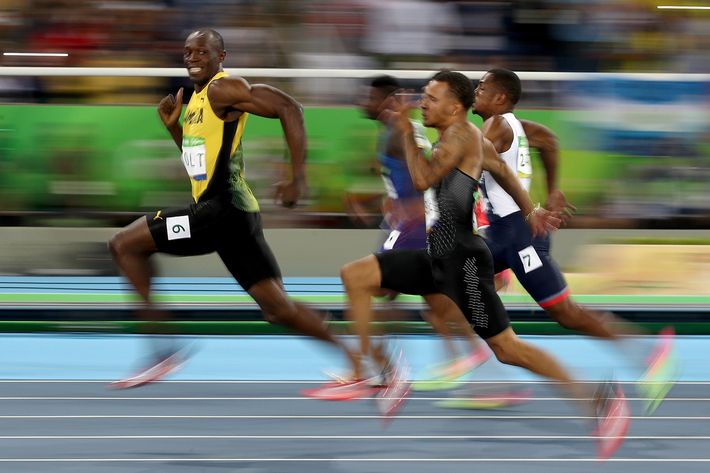 Another Olympian, Serena Williams, pretty much did it all this year. She made her music video début in Beyoncé's Lemonade, which is a hell of a place to begin, and she scored a few more shiny trophies, despite a lot of people saying that's she's getting kind of old. She seemed happy and she looked good.
Unlike 2015, Drake wasn't by Serena's side — he was back to pursuing Rihanna, and since there's a thrill in witnessing two people rekindle a romance, we all bought stock in the chase. It started in January, when the duo released two entirely different music videos for "Work." One would have been fine, but you know how young love goes. After that rumors swirled and came to a head just before the MTV Video Music Awards, where Rihanna was slated to be honored with the Video Vanguard award. Drake rented a billboard to congratulate her and declared his love for her at the awards. Afterwards they acquired matching tattoos and became Instagram official. It was all so awesome. And corny. And joyous.
Anti, by the way, was a really good album. Solange's A Seat at the Table, however, brought me to my knees. "Don't Touch My Hair" and "Cranes in the Sky" get the most airplay, but for me, "F.U.B.U." is it. It's an anthem of sorts, and the name says it all, For Us By Us. The lyrics were welded in a crucible of pain. Originally, Solange wanted to explore the great American tradition of fearing black bodies, but a turning point materialized when she was denied access to enter the gates of her own residential community. "I thought of F.U.B.U. the brand, meaning 'For Us By Us', and what kind of power it had and how normalized it became to wear that kind of symbolism every day," she said on her site. And from there, an empowering chorale emerged.
Truthfully, TV is my enduring source of joy. This year's viewing options breathed life into my old box. Donald Glover's Atlanta is smart, perfectly paced, and funny as hell. It exposes the canon of life — that it is kooky, unpredictable, and bullishly complicated. Throw an introverted rapper, a Princeton dropout, and a baby mama that you will always root for into the mix, and you've got a comedy.
Issa Rae's Insecure is grounded in a more familiar place. Also a comedy, Insecure balances on the fulcrum of Issa and Molly, Issa's best friend. Issa is your emblematic L.A. girl, except that her boyfriend is kind of a loser (maybe), her co-workers, as sweet as they may be, yield occasional racial microaggressions, and her ex wants to strike a match to their former flame. Molly is a beautiful, successful attorney who's trying to find love — something she could surely find if she weren't so damn self-sabotaging and toned down the uppity negro gag. But it'd be boring if Issa and Molly figured it all out. And certainly not as much fun.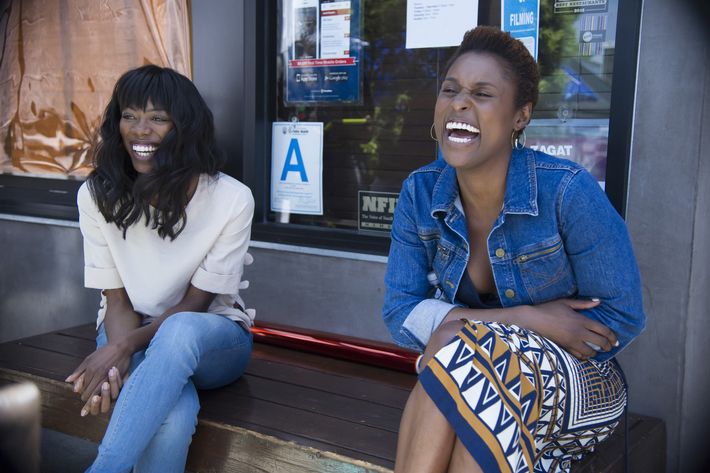 A sign of millennial times, Amandla Stenberg made a personal statement on Snapchat back in January. She announced she was bisexual, and believe it or not, that's still not an easy thing to do in 2016. I know this act — by a then-17-year-old, no less — brought about an incalculable measure of joy to little black girls who could relate. And to Stenberg, too. The freedom of you being you is joy in unadulterated form.
Snapchat is the internet foghorn for life's fleeting moments. Vine was the internet's church. At the pulpit stood black teens and every sermon made you smile. The lion's share of Vine's most illustrious videos were uploaded before 2016 (with 2014's "Fleek" marking the most influential); however, 2016 wasn't without its standouts. There was the hoverboard lunch lady, the video-game narrator, and the seat stealer, to pick a small selection. They're all attuned to the gospel of silliness and they'd be damned if they didn't garner a net positive in your happiness.
Black joy is also at home in a hashtag: 2016's sweetest was #ObamaAndKids. For eight years, we had hit the presidential jackpot. And wouldn't you know, this gift extended to the entirety of the first family. Sasha laid low for much of the year, but Malia took flight. Shortly after her Harvard acceptance she attended a music festival and possibly, maybe, smoked a joint. A month later she was photographed wearing a shirt with the handwritten note, "Smoking Kills," scribbled across. When you're a child of the president rejoicing in youth, the summer, and a promising future, this is how you say "eat shit" — and let me tell you, that cracked a few grins.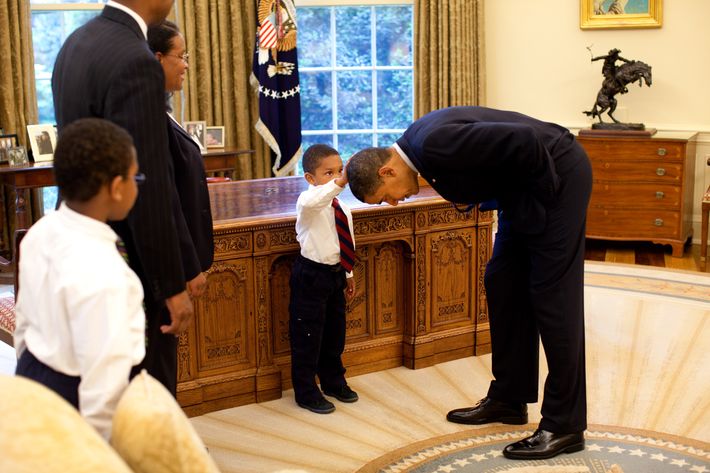 We won't have a First Lady as celestially glorious as Michelle Obama for a very long time. In the year that passed, she traipsed the globe with Meryl Streep, sang "Single Ladies" in the front seat of a car, and toasted tea sandwiches with Ina Garten. When we needed her the most (and we needed her a lot), she was our saving grace. Who could forget the urgently poignant speeches she dispatched during Hillary Clinton's campaign?
Miserable hacks tried to break Michelle, but they always failed. It was the intellect, the compassion, the charisma inside that willed her forward. It was the black joy in her. And in me. And in you.
What the arsonist at Yale didn't understand is that you can't destroy black joy. It can't be burned, beaten, or disarmed. Even under the most pernicious struggle, it thrives. It thrives. It thrives.