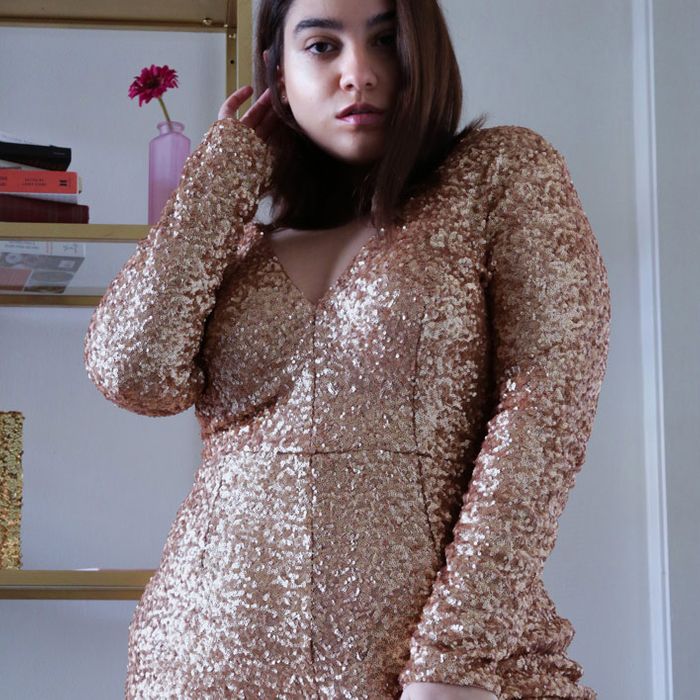 When you think about it, there's no good reason not to drape yourself in sparkle for New Year's Eve. If your style is usually more reserved, it's a safe time to get all glittery knowing that you won't be the only girl at the party dressed like a disco ball. And if you're more of a diva, well, a sparkly dress is just your natural habitat.
Scroll down for five of my favorite fun, size-inclusive looks for New Year's Eve — because there's still time to rush-order a special dress or romper before the end of the week.
Photo: Amado Almonte
If you're sick of little black dresses, go with navy. The color is flattering on virtually everyone and gives you a ton of flexibility in terms of your accessories and makeup. I'm also a huge fan of bateau necklines because they manage to look sultry and well-proportioned at the same time.
Photo: Amado Almonte
Burgundy is another flattering alternative to black, and this dress is a nice option if you want to show more skin. Of course, if you're cold, you can add a bodysuit or tights. I love Dress the Population because their dresses stretch better than most sequined options. They hug your body but still feel comfortable enough that you won't be counting the hours until you can take them off.
Photo: Amado Almonte
All that glitters isn't gold, but sometimes silver is even better. This metallic Asos dress is perfect for those who want a more toned-down look that could be worn again on a later date. It's slightly see-through, so I added a cute bra and miniskirt underneath — yes, layering can still be sexy.
Photo: Amado Almonte
Rompers are always fun because you can wear them out dancing without worrying about them riding up when you bend over. I've personally tested this one and can vouch for its staying-in-place abilities.
Photo: Amado Almonte
This dress isn't as short or formfitting as the others, but it's still sexy in a Kate Moss–in–the–'90s kind of way. I also love that it feels a bit more casual than the others, so you could wear it with a denim jacket and sneakers long after New Year's is over.
If you buy something through our links, New York may earn an affiliate commission.