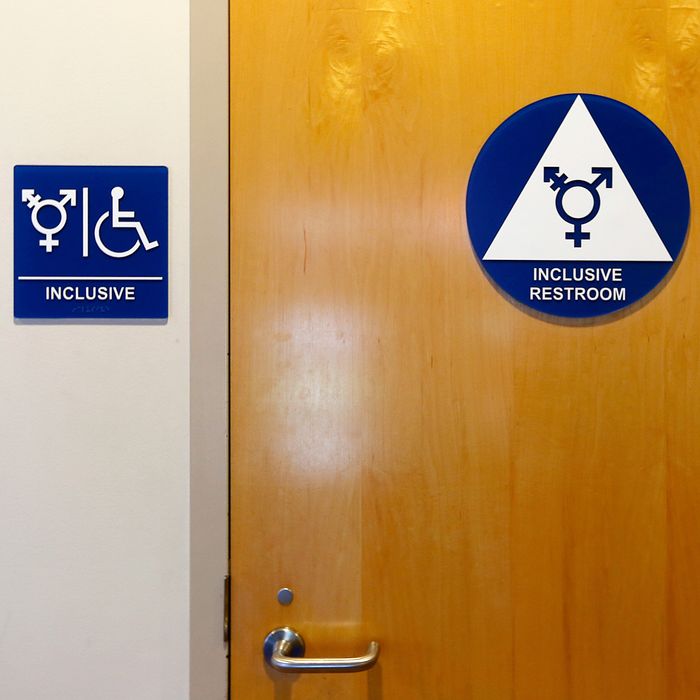 A gender-neutral bathroom on the University of California, Irvine, campus.
Photo: Lucy Nicholson/REUTERS
In the past year, almost 60 percent of transgender Americans have avoided using a public restroom for fear of being harassed, according to a groundbreaking new survey from the National Center for Transgender Equality. Transgender people are severely under-studied, and this survey sought to fill that data gap by questioning 27,715 participants, or roughly 2 percent of the country's trans population, according to Reuters.
Many of its findings revealed worrying statistics, such as the fact that 40 percent of transgender people have attempted suicide in their lifetimes compared with 5 percent for the U.S. population, and 7 percent had attempted suicide in the past year — nearly 12 times the rate for the U.S. population.
But researchers also asked questions specific to bathroom use — a challenge trans people faced on a daily basis even before discriminatory laws such as North Carolina's HB2 became the focus of national political discourse. (For the record, the survey was conducted before HB2 passed.) In addition to the 59 percent of respondents who said they'd avoided using a public restroom in the past year, 32 percent said they limited the amount they ate or drank to avoid using the restroom during the day. Twelve percent said they'd been verbally harassed while using the restroom, and 9 percent had been denied restroom access outright.
"These numbers are just astronomically high," Mara Keisling, director of the National Center for Transgender Equality, told Reuters. "This is what's really happening in bathrooms; trans people have been in danger in bathrooms." She added that former North Carolina governor Pat McCrory's administration, which claimed HB2 was put in place to reduce "the security risk of a sexual predator," was speaking "nonsense."
McCrory's views are shared by much of the incoming administration, which so far is uniformly against LGBTQ rights. But the Supreme Court is set to rule on the issue once and for all this term, which could set a precedent for how the Trump White House proceeds.