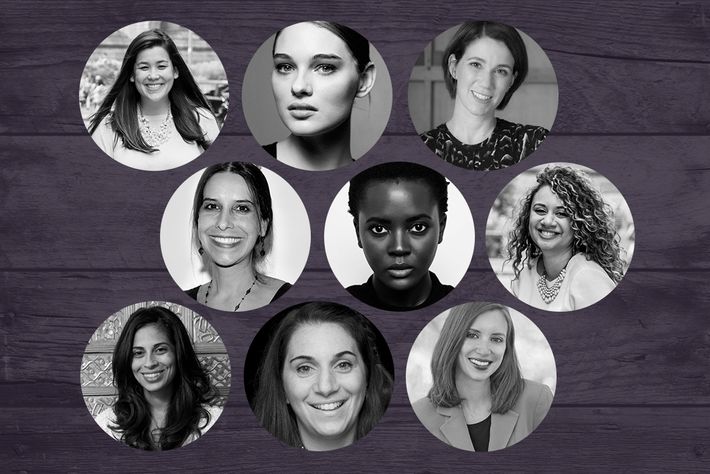 Right now, a lot of women are especially anxious to make change in the world. But even if you've taken first steps towards challenging the status quo, the road ahead can be daunting. Inspired by Broadway's The Color Purple and the journey of its indomitable protagonist, Celie, the Cut asked nine real-life change-makers for their advice on making it through times of adversity; how to make your voice heard in today's social climate; and what's key to self-actualizing as an impactful individual.
Read on for our trailblazers' lessons learned. Then snag tickets to see Celie's story brought to life (lead by Tony Award-winning Best Actress Cynthia Erivo) before this year's Best Musical Revival ends its run on January 8.

She's the First provides scholarships to girls in low-income countries who will be the first in their families to graduate from high school.
Elly Kaaya, a 24-year-old in Tanzania, is one of our amazing graduated scholars. She recently told us, 'Sometimes, you don't have to be okay. You just have to be strong.' When you scroll through social media, you're bombarded by photos and graphics that remind you to be happy — but that's not always going to be the case. Whether it's election results, a personal relationship, or a larger social issue, there are some things you're not going to feel okay about. Most of us are not okay with the state of politics and news headlines today, and we don't have to be. But just being angry isn't a solution. To effect real, lasting, long-term change, we have to be strong and determined to take actions that are part of a solution.

Shine makes wellbeing easier via its motivational Daily Shine texts. Through Shine Talk, users text with a real person who provides guidance on reaching life and work goals.
What lights you up? What are you obsessed with talking about over happy hour with friends? What topic moves you when you read about it? If you can, find a consistent and meaningful way to leverage that fire — in a side project, creative hobby, or if you're privileged enough, your full-time job.

Girls Write Now mentors underserved young women to find their voices through the power of writing and community.
When women are encouraged to share their brave stories, they are empowered, and we in turn are empowered as a society. Now more than ever, it's crucial that we mentor the next generation of women and showcase the voices that are not often heard, or worse, silenced. Our girls are among the most vulnerable today: high-need young women of color from all five boroughs, and originally from around the world, who bear the collective weight of social and economic inequities. Matched with volunteer mentors — professional women writers and digital-media makers — they are a force that can change minds, heal communities, and impact the world.

Kwao is a thoughtful representative of curvy women of color, and works with organizations like Women for Women International, which supports marginalized women in countries affected by conflict and war.
My mother is my rock, the one I turn to whenever I need advice. The best advice she has ever given me has been to stop, breathe, and reflect — especially if I'm going through a tough time. We're conditioned to believe we must always be strong and persevere, even when we're struggling. If you can't stop, take measure, and reflect, you run the risk of acting on impulse rather than sense. Life can be fast-paced and demanding; it's okay to pause. Self-care above all else.

Hot Bread Kitchen builds economic security for low-income, immigrant, and minority individuals by facilitating their employment in the culinary industry.
As a young woman starting a social enterprise before social enterprise was en vogue, I was frequently met with skepticism. But my entrepreneurial spirit and conviction that the world needed a response to inequity faced by immigrant women pushed me to persevere. Particularly in today's climate, it's critical that as women we make our voices heard by advocating through our actions — by what is right and just. And then, once you do it, remind people that it is the right way to do things.

Shine makes wellbeing easier via its motivational Daily Shine texts. Through Shine Talk, users text with a real person who provides guidance on reaching life and work goals.
Remember when you first started driving and your parents told you it wasn't you, but other drivers on the road they worried about? There's an important life lesson there: You cannot control others' actions, only your own. That's why things like envy, people-pleasing, and judgment of others can be so unproductive. Focus on being the most amazing version of you — always evolving, striving to be kind, and giving to others. Aim for authenticity and you'll get respect. Aim for likeability and it becomes really easy to lose sight of who you are.

Categorized as plus-size by the modeling industry, Runk's work advocating for inclusivity in fashion and beyond includes aligning with The Trevor Project, which provides life-saving services to LGBTQ youth.
For women to support one another, we must learn from each other's voices and unique experiences. Women are so powerful when we work together and join in each other's battles for acceptance and equality. Many women have experienced some form of discrimination; as a member of the LGBTQ community, I've felt this doubly. It is truly up to us to learn about each other, to experience our hardships together, and take up each other's causes. The fight of Muslim women to wear their hijab without threat of violence, of LGBTQ teens to have a safe place to live, and of women of color to know their children are safe should be the fight of all of us. So find someone who is different than you, listen, understand, and share their stories and struggles. Then urge them and those around you to do the same.

Female Founders Fund is a seed fund that invests in female-founded tech companies.
To be an entrepreneur or to make a difference in the world, you have to be comfortable with failing and asking for help. Your path will be full of ups and downs, and it is important to remember that all of these experiences will help you become a stronger leader over time. In my first entrepreneurial venture in the tech space, I had little to no experience with the fashion industry. However, I used my network to meet and connect with designers who ended up becoming our partners and advisors as we launched the company.

Crisis Text Line is a free, 24/7 text line for people in crisis. Lublin was recently CEO of global nonprofit DoSomething.org and founded Dress for Success, which helps women transition from welfare to work.
Best advice? Someone else doesn't have to lose for you to win. That's an outlook on life worth adopting.