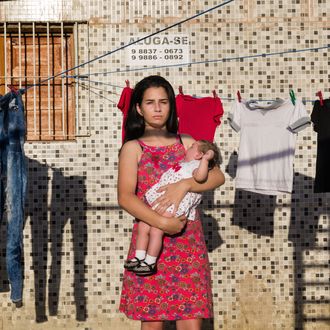 Ianka Barbosa, 18, grew up in Campina Grande, Brazil, an impoverished northeastern city that's been described as ground zero of the Zika epidemic. Her boyfriend, Thérsio Felipe Wanderley, 19, was also raised in Campina Grande. The son of a pastor, though generally "not a big church-goer," he met Barbosa at church four years ago — he'd gone for his father's birthday. Within two weeks, the couple was serious, and soon after, Barbosa became unexpectedly pregnant. They moved in together but didn't marry, much to the chagrin of family members. Their son, Emanuel, was born on April 20, 2014: He was happy and energetic as an infant.
"When we got Zika, we didn't even know what it was," Barbosa says. All three showed symptoms. "I only had splotchy red patches and a rash," she says. "Emanuel had it the worst. He was really sick." At the time, Barbosa was three months pregnant with their second child. Wanderley remembers running a fever, drinking lots of fluids — and then, after a few days, returning to life as usual. They began to worry only later, when they started hearing about Zika on the news.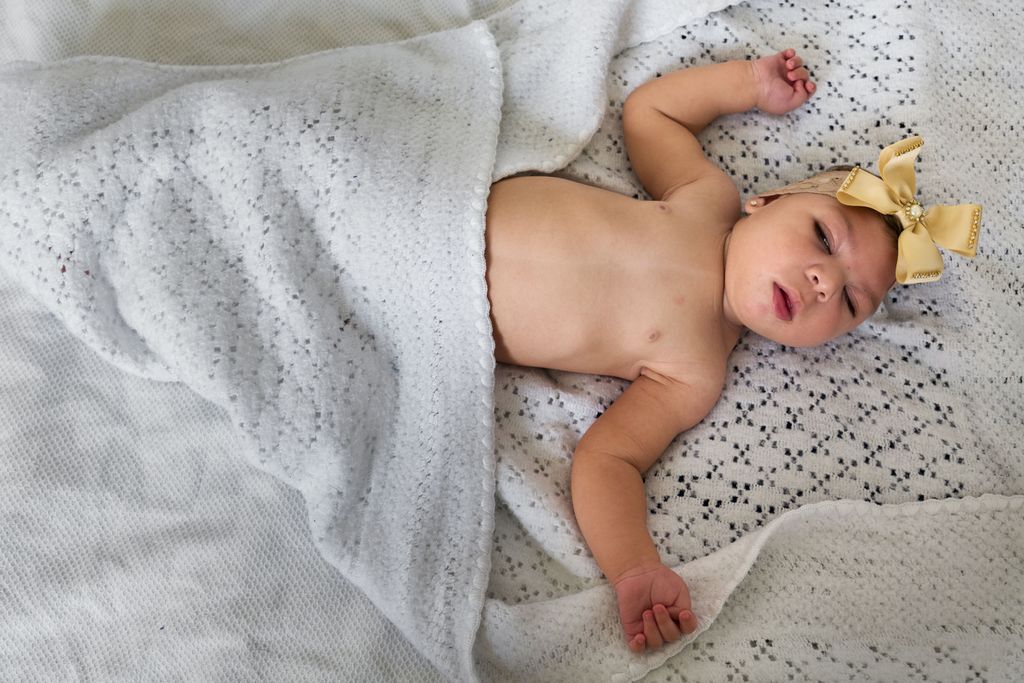 For most of Barbosa's pregnancy, regular ultrasounds showed that their baby was growing normally. But at seven months, "when they measured her head, it was different," Barbosa remembers. "The doctor says she might have Zika and then left me alone. Someone else came in and explained she would probably have microcephaly." One nurse noticed Barbosa's distress and tried to comfort her. "Oh, don't worry," she told Barbosa. "Most babies with microcephaly are born dead."
The diagnosis rocked the small family. "Thérsio left me then," Barbosa says. "You disgust me," she remembers him saying when they broke up. "I thought he blamed me." She took Emanuel and moved back in with her parents. Wanderley started smoking again. They all waited. "The way the doctors and nurses talked, it was like microcephaly was the worst possible thing in the world," Wanderley says. "Because of what they were saying, I wasn't really afraid about her having microcephaly," Barbosa says. "I was more worried that she would be born dead, or that she would die soon after her birth." Sophia was born on January 30, 2016 — with microcephaly, as the doctors had predicted.
"I was so happy she was alive," Barbosa says. "I was so excited to kiss her, and hug her, and hold her I didn't notice anything wrong with her head."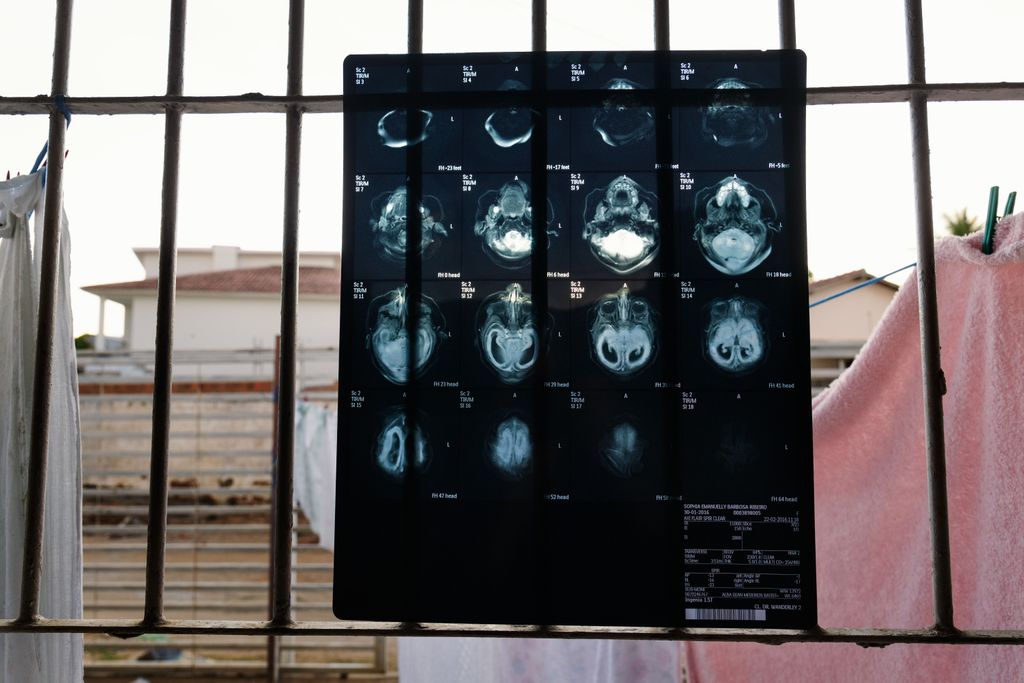 Wanderley and Barbosa got back together three months after Sophia was born. "I couldn't stand not seeing my children with their father," Barbosa says. The government-appointed psychologist for mothers at the local hospital's microcephaly unit had encouraged their reconciliation. For a while, the family lived with her parents, but two months ago, they moved into a rental apartment together. Barbosa calls it "a really good situation."
Microcephaly is a birth defect characterized by a lack of brain development and an atypically small head, and though the severity of its effects can vary, the condition typically involves significant neurological problems, intellectual disability, and developmental delays. There is currently no standard treatment for microcephaly, but physical therapy is common. (And, while the heads of babies like Sophia have become a potent symbol of the Zika epidemic, researchers fear that many infants who initially appear unaffected by in-utero exposure to Zika may eventually show other problems of their own.) An X-ray Barbosa and Wanderley have in their home shows irreversible calcification in Sophia's brain.
Though they're back together, Barbosa and Wanderley are still unsure about marriage. "For me, marriage has to be for life," Wanderley explains. "There is no room for regrets."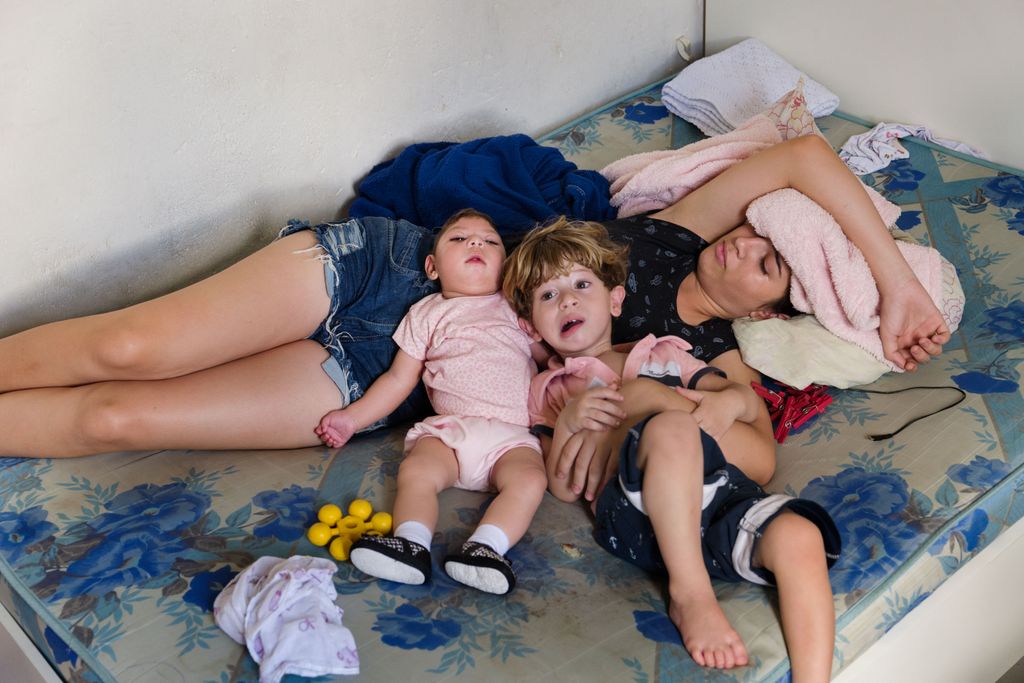 With nearly 65 percent of Brazil's population identifying as Catholic and abortion almost entirely illegal, the Zika epidemic has raised questions about birth control, abortion, and faith. Though Wanderley and Barbosa belong to an Evangelical church rather than a Catholic one, they've dealt with stigma surrounding sex before marriage. "We got shamed and yelled at, but mostly, for parents, it is about sex before marriage and not about using birth control," Wanderley says. "My mother was always very understanding. She says that having sex before marriage was wrong, but if we were going to do it, to use condoms or birth control." Like many other teenagers they know, Barbosa was able to get free birth-control pills from a local clinic. She was taking them when she became pregnant with Sophia.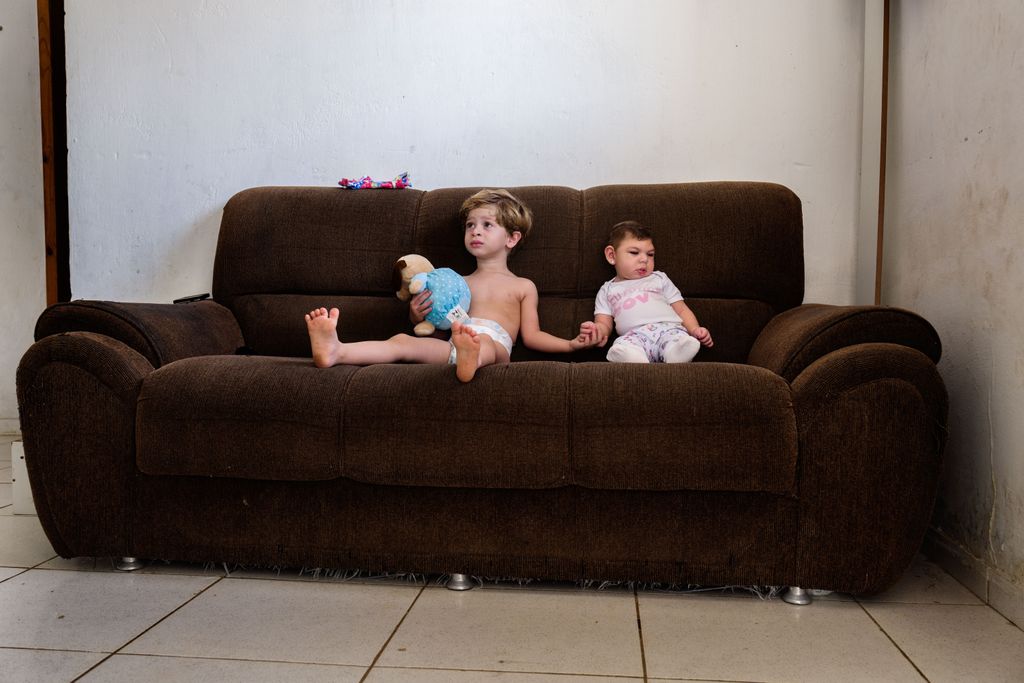 Emanuel immediately connected with his little sister from their first meeting at the hospital. "I couldn't imagine that he'd love her so much from the beginning, but he really did," Barbosa says. He especially enjoys taking care of her. "Sometimes I have to ask him if I can help with Sophia, but more often I'm saying, 'You're too young to do that. You can't give her a bath,'" Barbosa says. Emanuel is also fiercely protective. As Wanderley says, "whenever someone he doesn't know picks up Sophia, he says, 'Please give her back to my mama.'"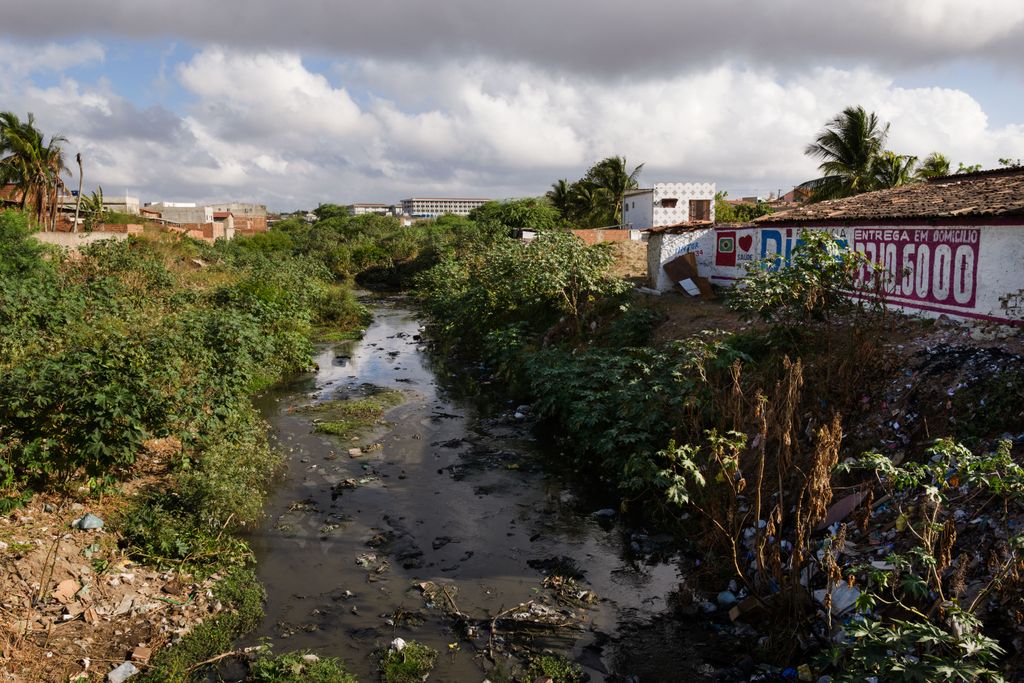 Malvinas, the neighborhood where Barbosa and Wanderley found an affordable apartment, was intended as middle-class housing when it was built in the early '80s. Construction stalled before infrastructure was complete, and residents soon moved into the vacant homes as squatters — though today there's running water and electricity. Still, like many of their neighbors, Barbosa and Wanderley live in an apartment carved out of an unfinished house. Wanderley has a scooter but not the money for a license, so he can only ride it in the neighborhood. "Transportation is really an issue," Barbosa says. "We don't get out too much. If we want to go somewhere, we usually have to wait until the evening, when Thérsio's dad can pick us up."
As recently as July, 90 percent of Brazil's microcephaly cases were reported in the small region of the country's northeastern tip where the family lives. Barbosa knows approximately 45 other mothers like her in their area. And it was in Campina Grande that fetal-health specialist Adriana Melo confirmed Zika in two patients' amniotic fluid, an essential breakthrough in establishing the connection between Zika and microcephaly.
Zika is spread primarily by mosquitoes: Standing water, like that seen here in Malvinas, provides a perfect breeding place.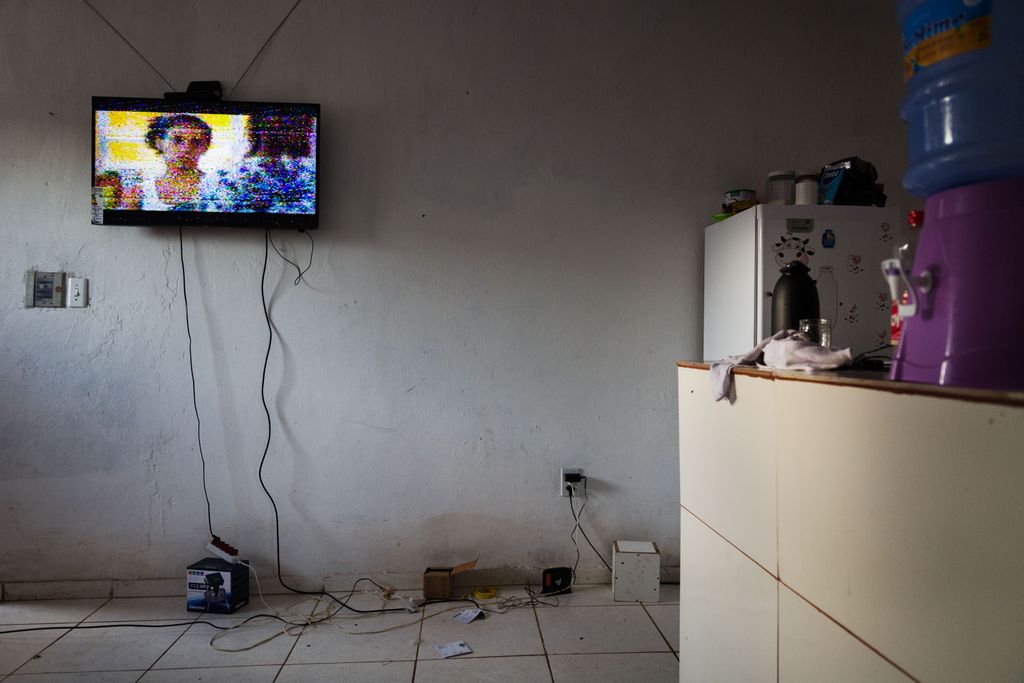 Wanderley's mother pays for the family's internet and Netflix subscription — they often watch at night, when Sophia has trouble sleeping.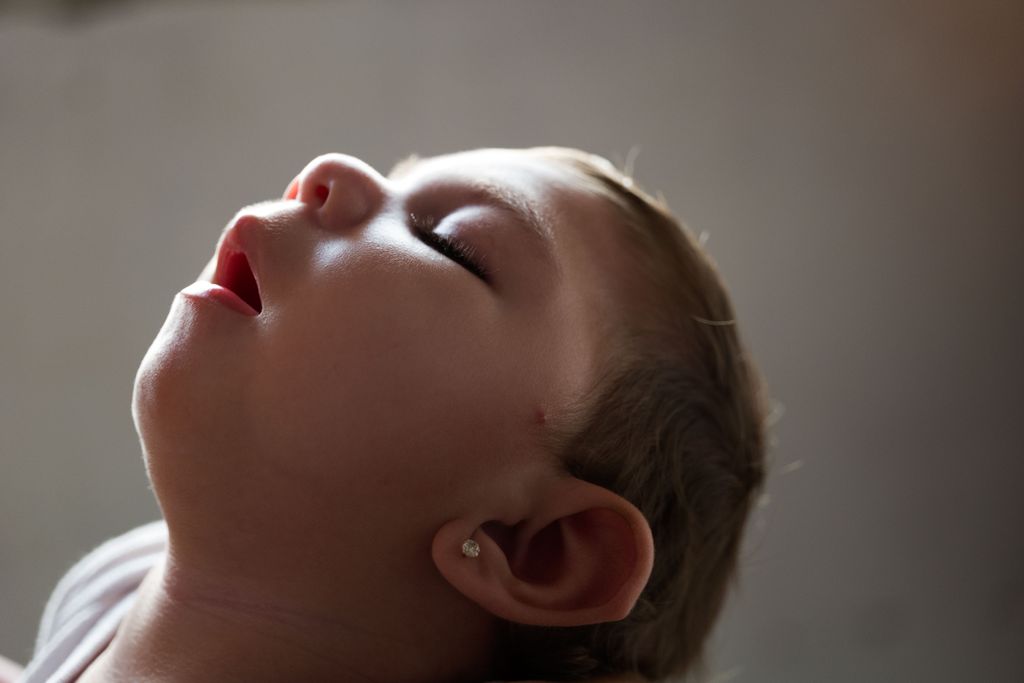 "It was very emotional for me to see Sophia for the first time," Wanderley remembers. "I'd heard all this bad news, but when I saw her, I knew she was my daughter no matter what."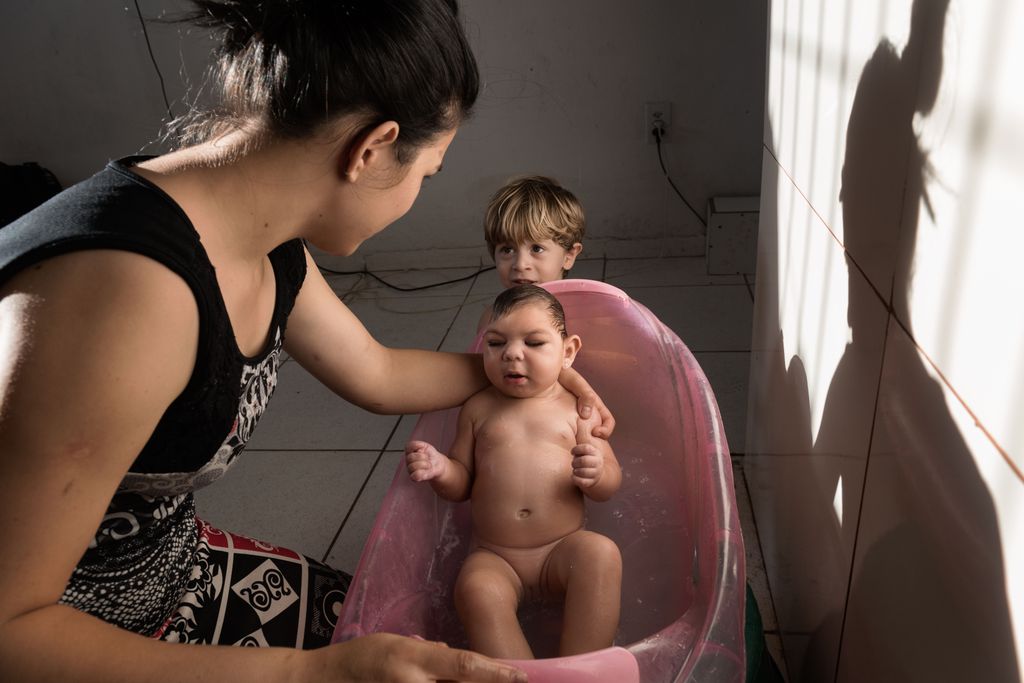 "When you become a parent, it is your job to learn how to parent your child best," Barbosa says. She bristles at any implication that her life is ruined or that Sophia is a disappointment, calling her daughter "the greatest joy." And as her daughter has slowly progressed, Barbosa herself has grown into the role of Sophia's champion. "I used to be more hesitant," she says. "But now I'm not afraid to ask for what I need for my children."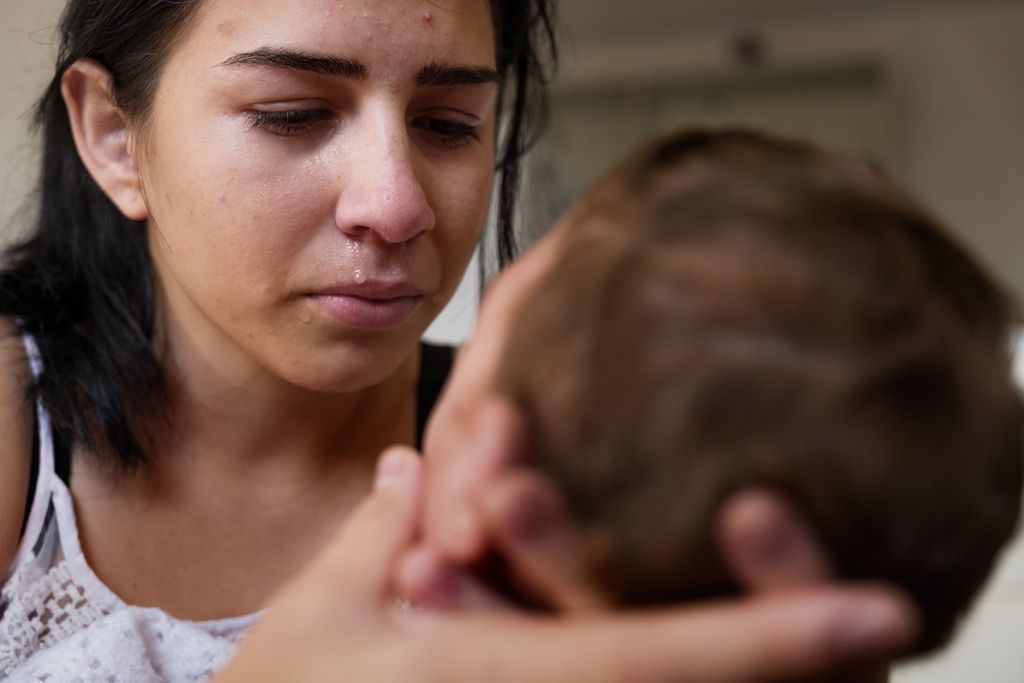 "Sophia has this way of being that is amazing," Barbosa says. "She has this willpower and this special way of looking at people. Everyone comments on the fact that even Sophia's cry has a soothing element. We don't understand — but that's the way it is."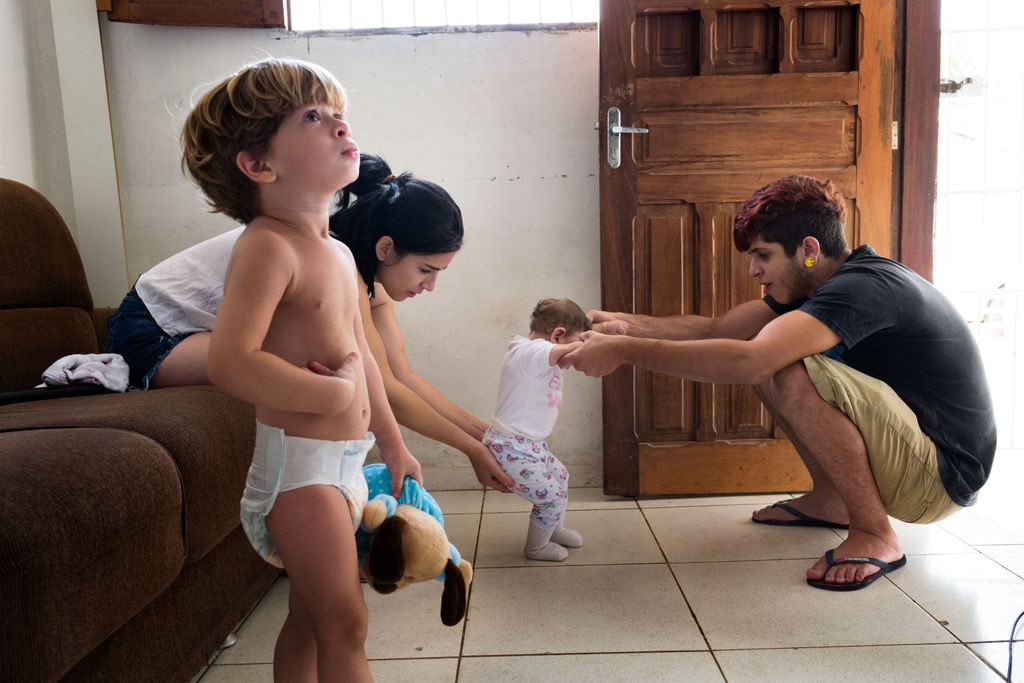 Because Sophia is still so young, her neurological and physical delays are hard to assess. As the babies with microcephaly in the community reach and then pass their 1st birthdays, it's still not clear when or if they'll walk and talk. "We can see where she lags by comparing her development to where Emanuel was at the same time," Wanderley says. At 10 months old, Sophia has trouble holding her head up, does not crawl, and cannot stand without support. But there are some signs of promise, too. Local doctors are heartened by the improvements they've seen with early intervention. And though Sophia is mostly calm and quiet, Barbosa has been encouraging her to speak: "Three weeks ago, I was trying to get her to talk, and when I stopped to pay attention to something else, she says 'Mama.' It was incredible — an unforgettable moment."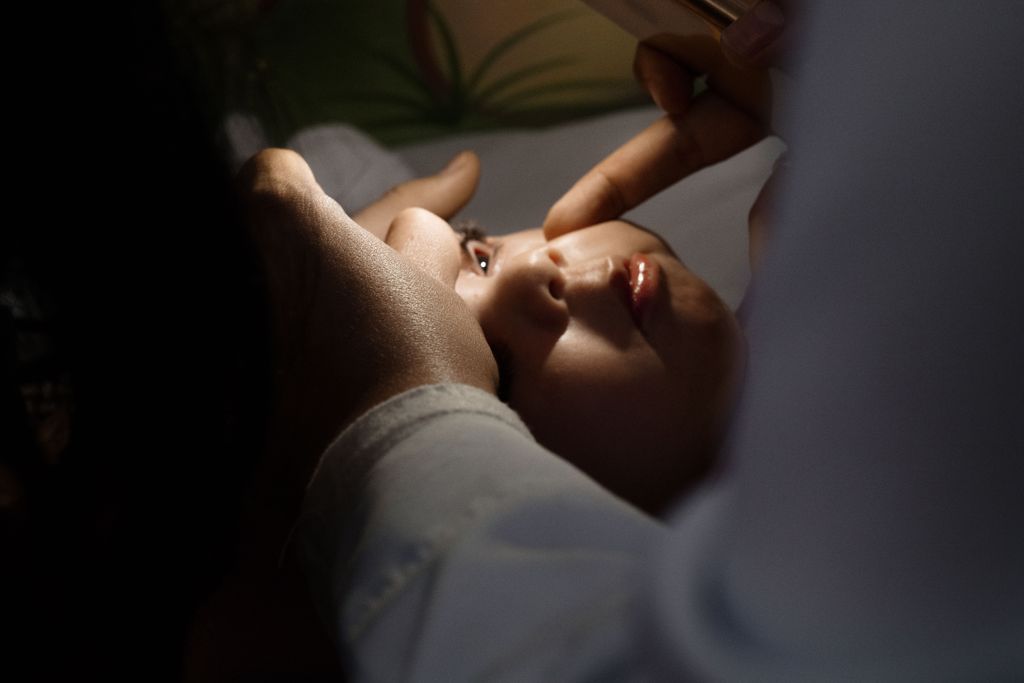 Zika's rise in Brazil this year sparked a global panic, with medical experts calling for the cancellation of the Rio Olympics and the World Health Organization labeling Zika an international public-health emergency. Incidence of microcephaly in Brazil shot up to 2,000 cases. But as Zika spread throughout the Americas, the anticipated explosion of microcephaly didn't follow: In Colombia, which has the second-highest rate of Zika in the world, doctors predicted 700 cases, but so far, only 47 have materialized. And while increased use of birth control, precautionary abortions, and slightly different counting metrics may explain some inconsistency between the two countries, such a vast disparity complicates the relationship between microcephaly and Zika.
Scientists and doctors believe other factors may help determine whether a baby develops microcephaly. Environmental and socioeconomic differences could play a role: Most women who have given birth to babies with microcephaly in Brazil are young, single, and poor. There's the possibility that co-infection — contracting Zika along with another virus — could make microcephaly more likely. And low rates of vaccination against yellow fever have been linked to microcephaly clusters, suggesting that the vaccine may offer some protection from Zika (which is in the same viral family). The Brazilian Ministry of Health recently announced it would investigate whether Zika alone is responsible for microcephaly.
Sophia has frequent visits to the doctor: Above, she's examined by a neurologist.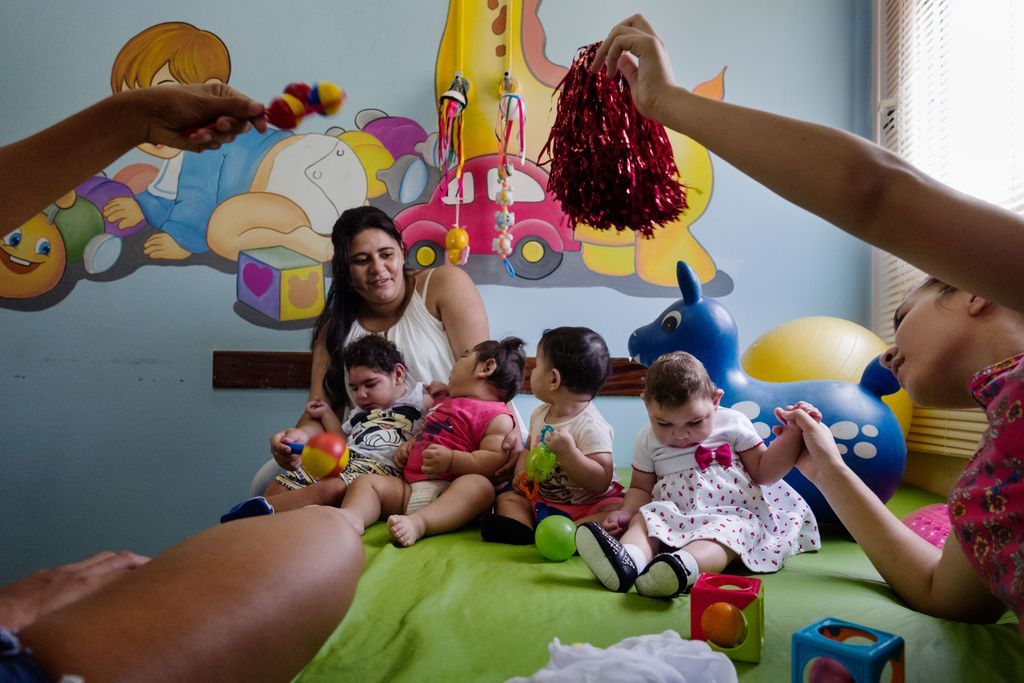 Campina Grande's health specialists have set up a microcephaly unit in a local public hospital, where they offer free physical therapy twice a week as well as donated formula and diapers. In physical therapy, Sophia works on motor development and receives sensory stimulation through toys and games; Barbosa learns exercises to do at home with Sophia. The clinic tracks her development. "It seems that Sophia does better than a lot of other microcephaly babies," Wanderley says. "So we think her case might be less severe."
For Barbosa, the government-sponsored van rides to and from physical therapy have been more than just a means of transport. Spending time together with other mothers in the same situation has made them a close-knit group. "The rides are playful; the women have become family," Barbosa says. Outside of physical therapy, they communicate via a WhatsApp group. "We message all the time," she says. "It's nice to let off steam or share concerns. Some of the mothers have babies who are a little older, so I can ask them for advice. Generally, though, the other moms remind me to be strong and have patience."
The women and their babies recently went on a hospital-sponsored trip to the beach, which is two hours away. "The doctors thought it would be good for the babies to get different types of stimulation, like the sand and the water," Barbosa says. "I've actually never been [to the beach] before, so it was my first trip too — I loved it. Sophia did not like the water, though. She cried."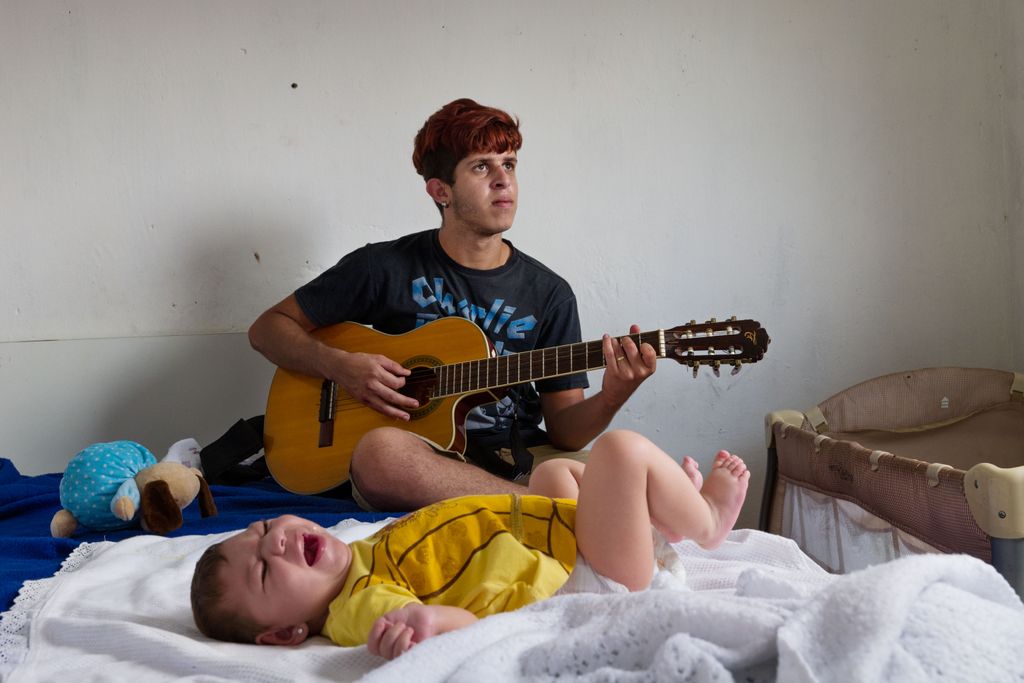 "It's humiliating for me to say, but Sophia is the one who sustains us," Wanderley says. The government provides 880 reals (about $250) a month because of her microcephaly; her condition will be reviewed every three years. Wanderley is trained as a carpenter but has been unable to find work: "I have tried in many ways, but companies today are laying off workers, not hiring." So mostly he stays home with Barbosa and the children during the day: He tries to keep Emanuel entertained and to support Barbosa, while also continuing to look for a job. The family has a hard time getting by on the government stipend. "I give my children love and affection," Wanderley says. "But a good father would also provide for them, put food on the table, and I can't do that right now."
Inspired by Sophia's condition, he hopes to go to medical school. He's beginning a nursing class in January.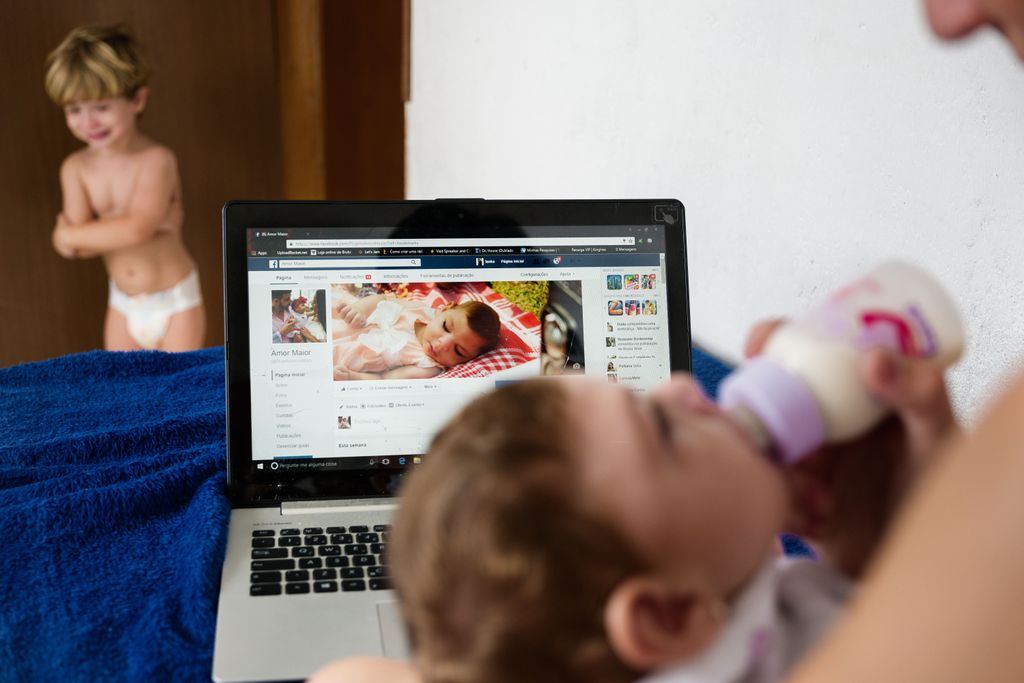 Barbosa organized an online fundraiser called Amor Maior (Bigger Love) for mothers like her using a crowdfunding platform. "I talk to the other mothers, and when I saw that we all needed financial help, I decided to try and help us all, not just my own family," she says. The first fundraiser brought in 40,000 reals (about $11,000). After deducting the cost of the platform and the bank fees, Barbosa was able to distribute 1,200 reals (about $345) to 25 mothers.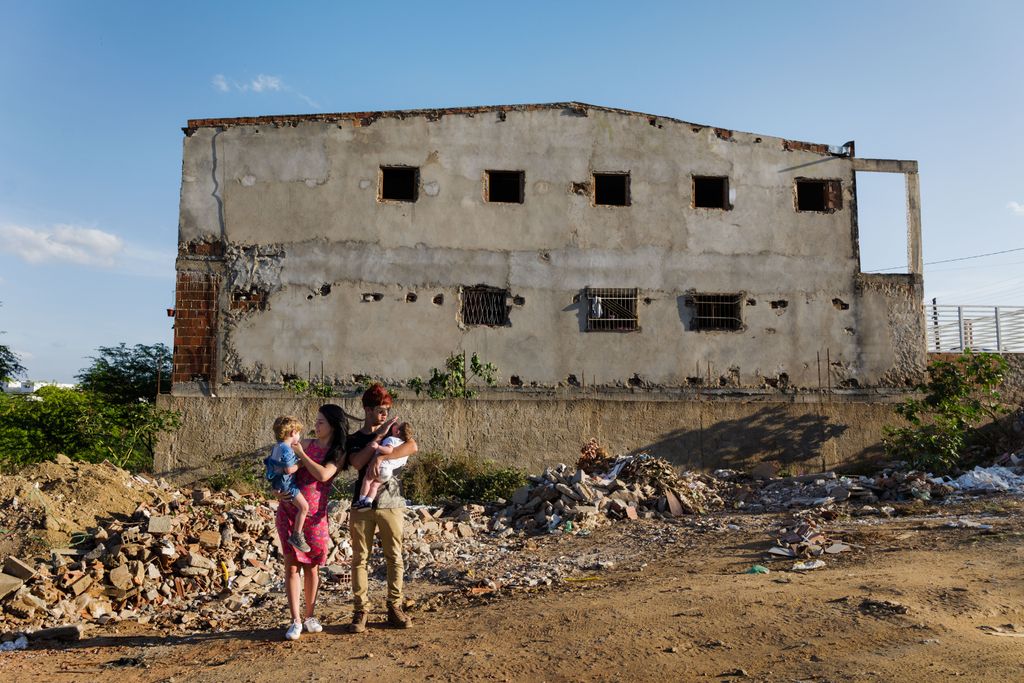 On November 18, the World Health Organization declared that Zika was no longer a "global health emergency"; instead, the organization says, it should be regarded as an ongoing, seasonal threat, like other mosquito-borne diseases. Some experts worried that the move would stall efforts to fight Zika internationally.
For the women in Campina Grande — women who have participated in studies and scans, women who offered their amniotic fluid and babies' blood up for research — Zika's effects aren't going anywhere. Their babies are growing or not growing; they think about small steps, baby steps, if walking is really a possibility at all.
"The difficult part is that while Sophia is getting help and making progress, there are things she just will never be able to do," Barbosa says. "When you have a child, it's so fun to imagine all the things they will do and see, to dream of who they might become. With Sophia, it doesn't work like that. We really don't know what her future holds."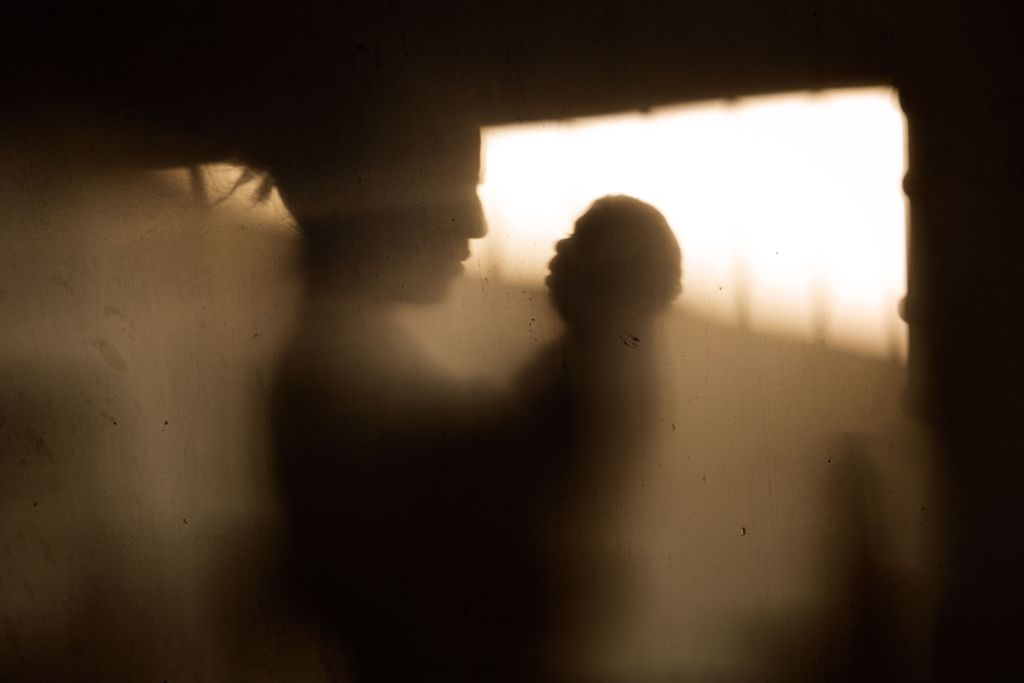 *Interviews were translated from Portuguese by Kevin Pires.