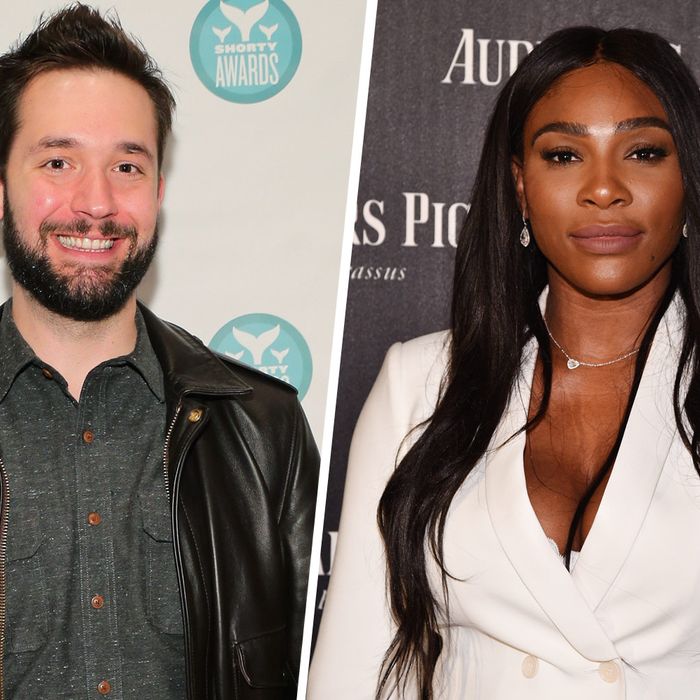 Alexis Ohanian and Serena Williams.
Photo: Getty Images
Even though we vaguely remember hearing that Serena Williams was dating Reddit co-founder Alexis Ohanian last year, we've still (naïvely) been clinging to hope that the tennis goddess would end up with Drake, her former rumored sensitive arm candy. Alas, our dreams of the ultimate American-Canadian union were shattered on Thursday when news broke that not only were Williams and Ohanian still a thing (what!?), but they were actually newly engaged as well.
If, like us, you've felt blindsided by (but after a while, also surprisingly cool with) the news of the impending marriage of the Sports Queen and Tech King, we've done some digging to find out everything we possibly could about the betrothed couple. Here's what we know.
They Met at a Lunch, But When? An Investigation
In perhaps the least Reddit move ever, Williams and Ohanian met in real life and not on a dating app. To be exact, Us Weekly first reported on their relationship back in October 2015, saying the couple actually "met at a lunch." Williams further explained in her Reddit post announcing the engagement that the "chance" meeting occurred in Rome (at the very same table where he later proposed).
That initial Us Weekly article didn't mention a timeline of when that meeting occurred, however, so we put on our fedoras, donned a monocle, and did some detective work. In May 2016, Ohanian posted a picture of Williams during a tennis match, with a caption that read "A year ago today, I became a tennis fan. One of the best decisions I ever made."
And of course, in May 2015, he posted a picture of her playing tennis at the 2015 Italian Open (in Rome! case solved), with the similar caption "Looks like I just became a tennis fan."
So, through the power of deductive reasoning, we figure they met in May 2015 at the Italian Open in Rome.
Apparently, They're Really Happy Together
While there isn't much information out there about the ultra-private couple, a "source" told E! News that Williams's friends are thrilled for her. "They've never seen Serena this happy before with a man. It sounds cheesy, but it was love at first sight. They laugh non-stop and that really fuels their relationship," the source said. "They are on the same page in life and are excited to start something great with each other."
They Were Probably Already Together When the Rest of Us Thought Williams Was Dating Drake
In July 2015, Drake was having the time of his life at Wimbledon as he cheered on Williams, one of the greatest athletes of all time. The pair were also spotted by dubious "sources" kissing in the clubhouse at Wimbledon. However, also in July 2015, Ohanian posted an early-morning picture of his laptop on Instagram, showing that he had woken up early to also cheer Williams on from afar.
Clearly, he was either just a devoted Williams fan (aren't we all?) at that point, or possibly sending her flirtatious bat signals.

They Worked Out Together at Least Once
On Saturday, October 24, 2015, Williams reportedly brought Ohanian to her workout at the Los Angeles School of Gymnastics, where he called her "babe" and they "held hands," according to Us Weekly. So that means, if he participated in the workout, the entrepreneur was actually brave enough to work out with a woman whose sheer athletic prowess is so intimidating, the mere thought of doing something athletic around her causes the rest of us to break out in hives.

He Seems to Be Adequately Obsessed With Her
Being worthy of a Williams sister is not an easy task — they are brilliant, determined, talented, successful, beautiful, and so on and so forth, just superior to the rest of us, blah blah blah — but it appears that Ohanian is obsessed with our heroine to an appropriately high degree, and thereby potentially deserving of her attention (we'll see).
His Instagram is largely full of Reddit-related snaps, but also of sweet pictures of Williams (and things that remind him of her) that warm even our cold, bitter hearts.
They Wore a Cute and Surprisingly Non-Nauseating Couples Costume at Halloween
Normally, couples costumes make us dry-heave, but this year Williams and Ohanian dressed up in a bear-related costume and actually looked adorable.
That's amore!