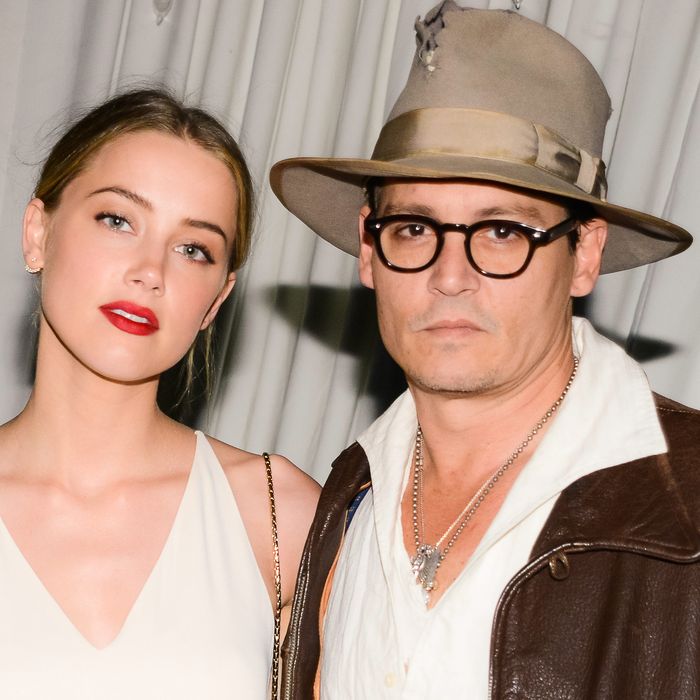 Photo: Madison McGaw/BFAnyc.com
Amber Heard filed for divorce from Johnny Depp in May and their financial settlement was agreed upon months ago. Yet it turns out Depp has apparently failed to pay Heard the remaining $6.8 million owed according to the divorce settlement the two parties agreed upon. Heard, for her part, isn't having anymore of the delay. Her lawyers filed a court order on Wednesday to force Depp to pay the balance owed and kick up the pace on divvying up the rest of their assets and property, according to E! News and the Daily Mail, which first reported the story.
Heard's team filed a Request for Order with the Los Angeles Superior Court this week as a way to speed up the remaining divorce proceedings. The team also requested attorney fees totaling up to $35,435, according to E! News. Heard announced earlier this year that she would be donating the entirety of her divorce settlement to two charities, the ACLU and Children's Hospital of Los Angeles. Depp then followed that up and made the initial $200,000 payment of the settlement to the charities instead of Heard, something she slams him about in the court documents.
As to why Depp has reportedly stalled on the settlement, it might have to do with Heard's recent PSA on domestic violence and her letter in Porter magazine about coming forward as a survivor (not a victim!) of assault. Terms of the settlement included a confidentiality agreement that prohibit Heard from bad-mouthing Depp in public. Though Heard didn't name Depp in her PSA or open letter, Depp's team reportedly believes they're in violation of the agreement, according to the court documents Heard's lawyers filed.

There's been plenty of back-and-forth bitterness between the two as each has tried promoting their own version of events in the press and the saga is likely to continue, albeit with more direction from the court.