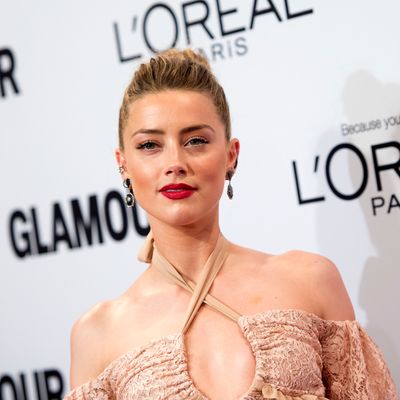 Amber Heard.
Photo: VALERIE MACON/AFP/Getty Images
By her own account, Amber Heard is not fond of the label "victim." At least, it's not one that she was by any means eager to adopt or accept when others tried applying it to her own history as a survivor of domestic violence. The sensitivity around what language is best used in such situations is just one of many topics Heard touches on in an essay published Monday on Net-a-Porter's Porter magazine, a bimonthly print publication. In the essay, Heard discusses the challenges many women face when they come forward with accounts of domestic violence, only to be "met with hostility, skepticism and shame."
While the actress has been involved this year in a bitter divorce from Johnny Depp and has publicly spoken out about the alleged domestic abuse she suffered in their relationship, she does not mention Depp specifically in Porter, according to E! News — which, as pointed out by TMZ, might be a breach of her settlement's confidentiality clause with Depp. Regardless of any direct mentions or not, it's easy to see echoes of Heard's own experiences in the public after her accusations against Depp surfaced. That she was sometimes met with skepticism in the press is something she frankly acknowledges is not unique. "Let's start with the truth — the cold, hard truth," she writes. "When a woman comes forward to speak out about injustice or her suffering, instead of aid, respect and support, she will be met with hostility, skepticism and shame. Her motives will be questioned and her truth ignored." Though Heard doesn't refer to her high-profile relationship, it's little secret that she's faced her own share of speculative stories about whether she had ulterior motives in divorcing Depp (hint: money). She helped shut down those rumors by announcing her settlement would be split among charities.

Activists can have many reasons for eschewing the term victim and favoring survivor in cases of sexual assault and domestic violence (or doing away with them altogether). Heard, however, had her own reasons for resisting the label. For one, she writes, she didn't want to be "rescued." She writes (per E! News): "I was raised to be independent and self-reliant. I was never given nor wanted the burden of dependency. I never felt like anyone would or could rescue me, so naturally I resented the label of 'victim.'" This isn't the first time that Heard has made an effort to let others know they're not alone in overcoming domestic violence. She also filmed a PSA on domestic violence in November as part of the GirlGaze Project.