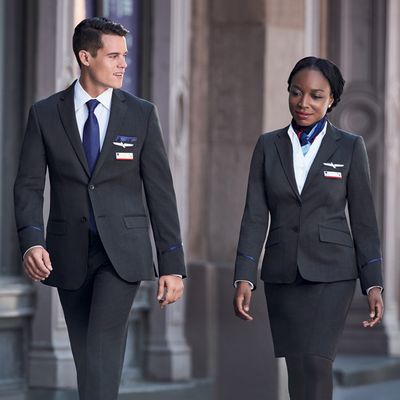 American Airlines uniforms.
Photo: American Airlines
It seems that American Airlines's fresh new uniforms are causing some problems. After introducing new designs for its more than 70,000 consumer-facing employees in September, the airline started getting complaints about itching, hives, and headaches. Now the flight attendants' union is calling for a full recall of the uniforms.

The union wrote in a memo that it had "received over 1,600 flight attendant reports of suspected uniform reactions that include headaches, rashes, hives, burning skin and eye irritation, itching, and respiratory problems — to name a few."
The union is asking for the uniforms to be recalled until it can conduct joint testing with the airline. American says it's already done three rounds of testing, with normal results so far. Still, they suspect wool fabric might be an issue, so they've ordered 600 non-wool versions of the uniforms. They've also allowed 200 attendants to wear their old uniforms instead.
From the union's perspective, "a remedy that excludes a full recall of the uniform fails to adequately protect our members," but they'll be participating in another round of testing nonetheless. Say what you will about your job, but at least it doesn't make you itch.