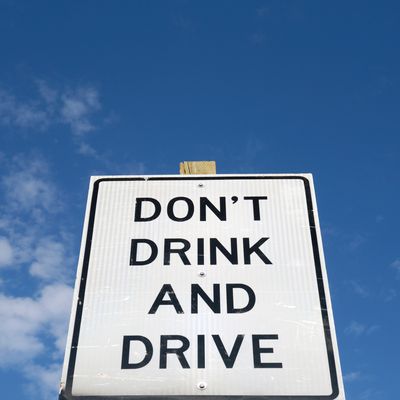 Photo: Getty Images/First Light
The U.S. is extreme with boozing: A little under a third of American adults don't drink at all, another 30 percent does about a drink a day, and the top 10 percentile downs a staggering 74 alcoholic beverages a week. Yet, despite all that sloshiness, Americans are drinking and driving less.
New federal stats highlighted by Christopher Ingraham at the Washington Post show that 11 percent of Americans over age 16 self-reported that they drove drunk in the past year. This is for 2014, the year with the latest data — and that's down from 15 percent in 2002. The number of people driving while on an illicit drug fell from 5 percent to 4.1 percent, and the "cross-faded" few who motored under the influence of both fell from 3.3 percent to 2.4 percent. Predictably, males ages 21 to 25 had the highest drunk-driving rates, because young men are stupid.
As Ingraham notes, there's statistical "squishiness" here because self-reports are notoriously optimistic — people rate themselves as more attractive, more moral, and better discerners of humor than they actually are. They also all think they're above-average drivers. Combine that with social desirability bias — the tendency to give answers that make you look good — and things look even squishier. At least the trend is going in the right direction. You can toast to that.