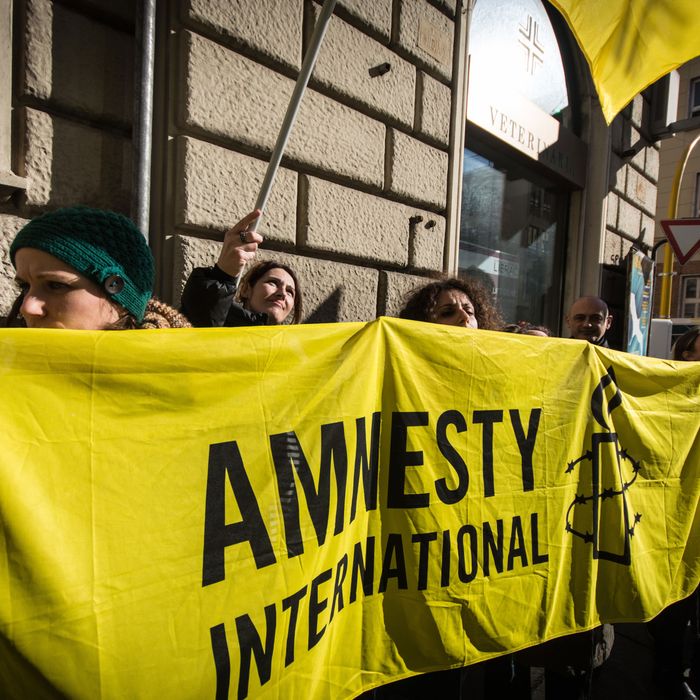 Amnesty International.
Photo: Pacific Press/LightRocket via Getty Images
Amnesty International USA has signed on as a co-sponsor for the Women's March on Washington, which will take place on January 21, the day after Donald Trump's inauguration. The announcement makes Amnesty the 29th partner organization for the event, joining groups including the National Organization for Women, NAACP New York State Conference, Muslim Women's Alliance, and many more.
In a Friday statement, AIUSA's executive director, Margaret Huang, explained that the group opted to become a co-sponsor to send a "loud and clear message" about human rights. "We're proud to stand with people from all across the country to declare that women's rights are human rights and to demand that the new administration and Congress protect everyone's human rights," Huang said.
More than 150,000 people have already RSVP'd to the march's Facebook page, with another 236,000 indicating that they're interested in attending. AIUSA noted in a press release that it was also calling on its members across the U.S. to attend the event.
"The march is a grassroots-driven effort being organized by a number of individuals. Cornerstones of the march are protecting human rights, dignity, and justice," AIUSA said in a press release. "Organizers have been clear that all people are invited and welcome to participate in the march."
While the march won't be held at the Lincoln Memorial as originally hoped, organizers on December 12 announced that they secured a different location: the intersection of Independence Avenue and Third Street SW, which is right by the U.S. Capitol.
According to a statement, the organizers are working closely with the National Park Service, Metropolitan Police Department, Homeland Security, Capitol Police, and other agencies "to ensure a safe march with all logistics in place to accommodate the number of people we anticipate convening." However, for security reasons, further details about the logistics won't be released until a later date.