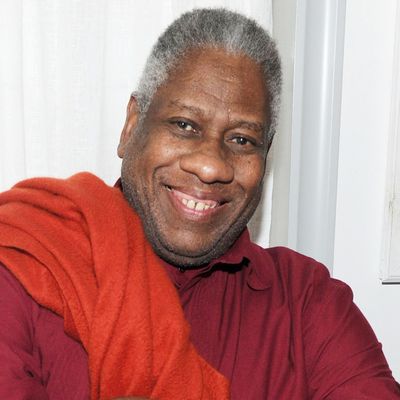 André Leon Talley.
Photo: Craig Barritt/Getty Images for New York Magazi
It turns out, there was quite the shakeup among André Leon Talley's friends earlier this year when he said some very nice things about one Melania Trump. "I hope there will be a great great Trump presidency," he told the Daily Mail in November, adding that "Melania will be one of the great stars in the administration."
Now, given that Talley is Vogue's former editor-at-large/current contributing editor and that the magazine endorsed Hillary Clinton (a first for the publication), it's understandable that his circle of friends might not have taken kindly to news of his remarks. In fact, in an interview with New York Times columnist Maureen Dowd, Talley recounts how one of his friends wrote him an email saying, "Oh my God, you have gone to the Evil Empire!!!!!" But as Talley tells Dowd in the interview, he's far from a being a supporter of Donald Trump and says he voted for Clinton in North Carolina after going "through hoops of fire" to get his absentee ballot. And while he's not a fan of Mr. Trump, he still has some more (overall) nice things to say about Melania.

Here's a sample of what he told the Times about the Trumps:

On how his stance differs depending the Trump in question:

"She's a nice person. I do not endorse Trumpism on any level. So why can't one be positive and want her to shine? I mean, it's good she cares about napkins, crystal, dinner plates with gilded edges to the point of over the top, and abundant flower arrangements. In the end, why pick on her when they should be picking on her husband's billionaire cabinet and his seeming readiness to turn the country back towards oppression, anti-Semitism, anti-culturalism, etc."
On Melania's style on the campaign:

"Melania, who opted at 3 a.m. for a palazzo jumpsuit, with one arm exposed and a flounce over the other — it seemed to me too Mar-a-Lago, a huge, full-volume jumpsuit. Trying too hard. And I am so tired of the long hair falling on both sides of her face. She has to upgrade her coiffure."
On whether or not to judge Melania for her nude photos:

"You can't judge a person by pictures. … She was a model. She took pictures."
On what style Melania might bring to the White House:

"She has those impossibly high four-inch, towering stilettos," he said. "Clearly, her clothes will cling in the right places, accentuate her figure and her model-style long tresses. Get ready for super-cinched waists, hourglass silhouettes and pencil skirts. She is already into one-shoulder, which Jackie Kennedy wore by Oleg Cassini. Melania likes monotone matching coats and beige dresses, but that hair will always be flying once she goes down the stairs of Air Force One."

On Melania's preference for privacy:

"She's very private. She just wants to be a mother. It's very similar to Jackie O, who also wanted to keep her kids out of the fray. When Barron was first born, she used to say: 'I'm going off to play with Barron. I just want to spend time with Barron.' So, in a way, I think that she's maintaining her privacy with him and maintaining a kind of dignity because she's not making statements. I don't think that she would try to change the White House in any way. I don't think that's what she's interested in."
Read the whole interview at the Times.