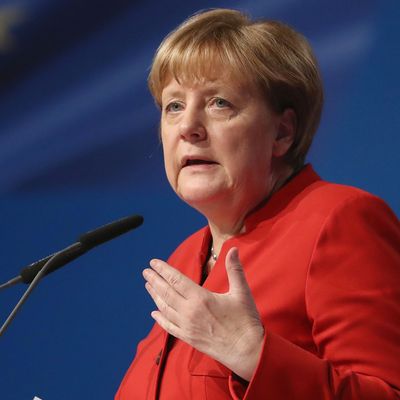 German Chancellor Angela Merkel called for a burka ban in her pitch for a fourth term.
Photo: Sean Gallup/Getty Images
In a speech to launch her bid for a fourth term, German Chancellor Angela Merkel called for a ban on burkas, the full-body veil worn by some Muslim women. "The full-face veil is not acceptable in our country," she said. "It should be banned, wherever it is legally possible." According to the Independent, her comments were met with "rapturous applause."
Merkel has served as chancellor for 11 years, but she's come under fire this term for her handling of the refugee crisis. About 890,000 asylum-seekers arrived in Germany last year after Merkel decided to let migrants who were stuck in Hungary into the country, The Telegraph reports. On Tuesday, she said the crisis "should not and must not be repeated … That was and is our, and my, declared political aim."
The burka ban was first proposed in August by Thomas de Maiziere, the country's interior minister and one of Merkel's confidants. "We all reject the full veil — not only the burka but also other types of full veil that only leave the eyes visible. They have no place in our society," he said at the time. He added, "showing your face is essential for our communication, co-existence and social cohesion."
Merkel spoke out in support of the ban at the time, saying, "From my point of view, a fully veiled woman in Germany has barely any chance of integrating."
If Germany does ban the burka, it will be one of a handful of European countries to do so — burkas have been banned in France since 2004 and in Belgium since 2011, and other countries such as Spain and the Netherlands have imposed restrictions on where and when Muslim women can wear burkas.