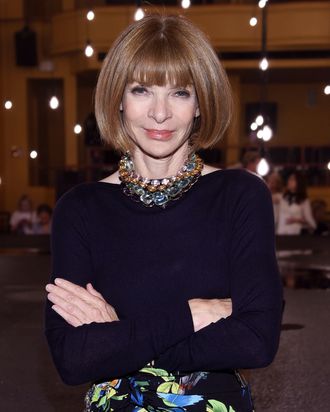 Anna Wintour.
Photo: Dimitrios Kambouris/Getty Images for Marc Jacobs
If you've been spending the past month and change talking about the election results whenever and wherever — at dinner, to your cat, on a crowded train — you're not alone. But after Anna Wintour, a slightly more conspicuous public figure, was reportedly overheard criticizing President-elect Donald Trump in the latter location, she issued an apology.

Per the Mirror, the Vogue editor-in-chief reportedly criticized the Trump Foundation specifically, saying, "Trump's foundation has done nothing." She also reportedly said that he would use his presidency to "profit personally for himself and his family."

After she was contacted by the tabloid, Wintour, a notable Hillary Clinton supporter, said, "I immediately regretted my comments, and I apologise. I hope that President-elect Trump will be a successful president for us all." A spokesperson for Vogue confirmed that quote.

Ever since Trump won the election, many have speculated about how the fashion industry would deal with his presidency. Now we're starting to find out.